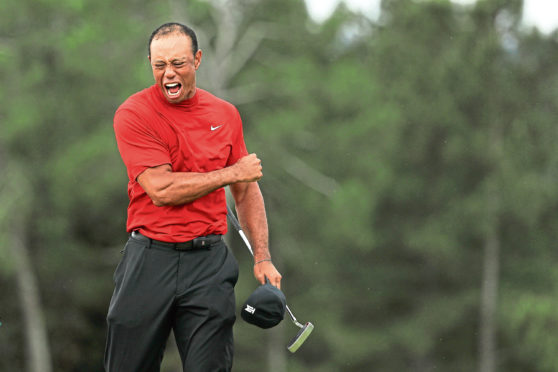 Ewen Murray has had the privilege of commentating on some of the most exciting moments in golf during his years at Sky.
But he knows that events at Augusta National last Sunday were something truly remarkable.
Tiger Woods' first Major for 11 years produced scenes rarely witnessed at a golf course.
And Murray believes it may not be very long before we see something similar.
That fifth Green Jacket was Major No. 15 and now Woods is only three behind Jack Nicklaus' record of 18.
That had seemed under lock and key – but it is suddenly in Woods' sights once again.
With the US PGA being played at Bethpage Black in New York next month, and the US Open at Pebble Beach in June, the 43-year-old will tee it up on courses where he has already won Majors.
Murray is not expecting him to rest on his laurels.
"Tiger probably has five years and 20 Majors to beat Jack's record," he says. "That means he has to win 20% of them.
"I certainly don't expect The Masters to be his last.
"One thing with Tiger Woods that my Sky colleague, Butch Harmon, has always told me is that if you want to get Tiger to do something, you tell him he can't do it.
"I would now expect him to follow up with a win at Bethpage. That course and city should suit him down to the ground.
"The US Open and then The Open at Royal Portrush are two different things. The wind at Portrush could be a real challenge.
"But I would be disappointed if he does not win one of those three.
"His performance last Sunday was some of the finest golf I have ever seen. The technique, course management, patience, plotting his way round – it all came together.
"I had tipped him the month before to win The Masters because of the way he was swinging. It was technical perfection.
"And you never doubt Tiger Woods' nerve and desire.
"He needed the nerves and adrenaline to perform at his very best, and he got that at Augusta, which is holy ground for him.
"It all came to fruition last Sunday and it was a joy to watch."
After plumbing the depths in both his personal life and golfing career, Tiger rose again to the heights with one of his finest-ever displays.
While Murray may have predicted a Woods triumph at The Masters, it was unimaginable two years before when Tiger missed the tournament and was preparing for a make-or-break fourth operation on his back.
At that point, there was certainly no way that Sky Sports' voice of golf was expecting to see him as a Major winner again.
"I have a close friend who is a back specialist on Harley Street, and he told me Tiger would never be able to come back and play on full power," Murray reveals.
"I thought he might win a tournament again if he stayed healthy. But I didn't think he would be strong enough for long enough to win another Major.
"Tiger honestly thought the operation was to improve his quality of life as much as his golf.
"He had his doubts, so what he has done is simply remarkable, an amazing achievement."
After all that excitement at Augusta, Ewen is taking a few weeks off before picking up the mic again for the British Masters at Hillside next month.
But since returning to these shores from the United States, the 64-year-old from Edinburgh has seen the sheer impact of Woods' win.
"So many people have been inspired by Tiger," he says.
"Neil Warnock used him as an influence for Cardiff City to avoid relegation in the Premier League when football is normally so insular.
"People at the supermarket were talking to me about Tiger and a number of them don't even play golf!
"So many will tune in to the US PGA next month who wouldn't normally watch, and regular golf fans will have their clocks set for it.
"Tiger has rejuvenated the sport at a time when golf needed it and we can use this to inspire the next generation.
"That is his legacy."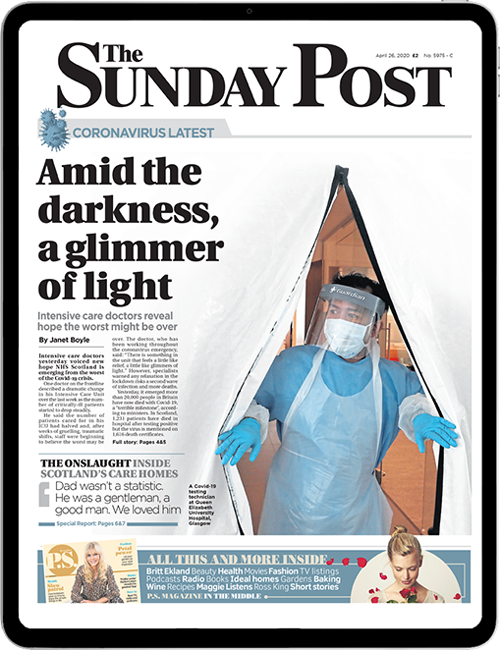 Enjoy the convenience of having The Sunday Post delivered as a digital ePaper straight to your smartphone, tablet or computer.
Subscribe for only £5.49 a month and enjoy all the benefits of the printed paper as a digital replica.
Subscribe