THE recent Scottish heatwave has seen crowds flocking to the west-coast beaches, meaning the amount of waste and litter reported has increased along coastlines.
But while Ayrshire's public beaches like Troon, Ayr and Saltcoats are managed by councils who control the clearing of rubbish and plastic pollution, no one is officially in charge of clearing its wild beaches, meaning they have been hit particularly hard by plastic pollution and litter.
Wild beaches, also categorised as undeveloped or undiscovered beaches, are not developed in the way public beaches are with steps, signposts, walkways or easy access. They are valued for their untouched beauty and preserved nature.
In spite of this, 940 bags of litter and plastic have been collected along the wild sections of Ayrshire's coast this year already. 
From Dipple Beach to Dunure Beach in Scotland's south coast, over 125 tonnes of rubbish and plastic pollution has been collected over the last ten years. This accumulates to over 7.5 thousand bags of waste along what has come to be known as the Ayrshire Coastal Path.
The Ayrshire Coastal Path contains over 19km of wild beaches, and its chairman and founder, Dr. Jimmy Beggs, believes it's now down to the public to help save them from the effects of pollution.
He said: "When we set up the Ayrshire Coastal Path, we were walking along beautiful beaches, knee deep in plastic bottles and rubbish, which had accumulated over years with no-one to remove any of it.
"We couldn't have invited anyone to come walk the path in the state it was in, so we took it upon ourselves to look after the beaches and clear the waste."
The Ayrshire Coastal Path spreads from Glenapp to Skelmorlie and runs 100 miles along one of the UK's most panoramic coastlines.
With views across to the Isle of Arran and the firth of Clyde, the Ayrshire Coastal Path is steeped in history and teeming with wildlife. Yet, as Dr. Beggs is urging the public to realise it is under threat.
"The thing is, these beaches, they don't belong to anyone," he continued.
"Theoretically, farmer's land will end at the high water mark, but farmers have a hard enough time scraping a living, without scraping other people's rubbish off their beaches.
"There's two types of rubbish affecting the beaches: what's washed up, which can come from anywhere, and what's left by the great dirty British public. But no councils are going to clear up that trash, the way they would at public spots.
"Leaving this rubbish on the beaches can affect wildlife, habitats and have all sorts of implications for the coastal environment."
Along with a number of Ayrshire rotary clubs and volunteers, Dr. Beggs now maintains and clears the beaches along the Ayrshire Coastal Path.
He also plans to install bins at each end of the wild beaches, to encourage visitors to recycle and avoid leaving rubbish on the shores.
A number of other local groups are also working together to help clean up beaches on the Clyde coast, including at Irvine, Troon, Stevenston, Ardrossan, Largs, Croy, Inverkip and Barrassie.
---
To help save Ayrshire's wild beaches, visit ayrshirecoastalpath.org.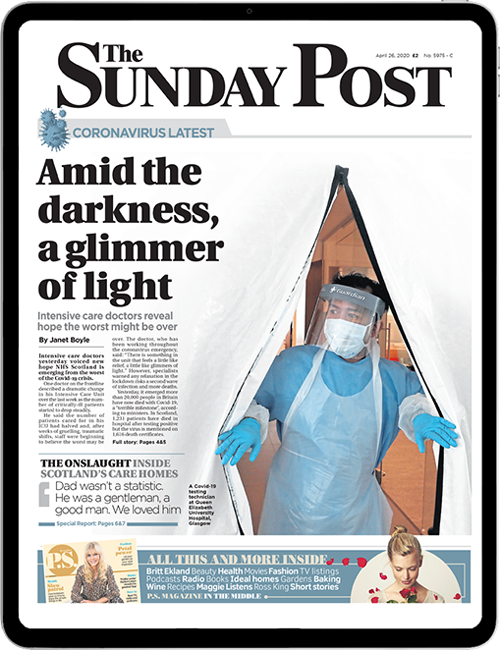 Enjoy the convenience of having The Sunday Post delivered as a digital ePaper straight to your smartphone, tablet or computer.
Subscribe for only £5.49 a month and enjoy all the benefits of the printed paper as a digital replica.
Subscribe