Scotland's museums will be marking an International Museum Day (IMD) with a difference amid the coronavirus pandemic.
Unable to welcome visitors through their doors during lockdown, many have moved their services online.
It's hoped that Monday's celebration of the work museums do will highlight the important role they play in society, especially during the current crisis.
Jo Meacock, curator of British Art for Glasgow Museums, said: "The pandemic has shown that people need museums more than ever. They've been drawn to the arts and to culture to give some kind of solace and inspiration. To de-stress and escape a bit from the reality around us.
"Museums offer so many opportunities in terms of learning new skills and learning about collections and our heritage, offering opportunities to be creative, and to be inspired.
"We're a lifeline for people at the moment who may be feeling isolated. For families as well, trying to home school and looking for resources and creative activities. Museums really stepped in there to help out.
"Museums have also been collecting or starting to think about collecting to represent for future generations this crisis, so we can tell a story to people in the future about this unprecedented time."
IMD was established in 1977 by the International Council of Museums (ICOM) to increase public awareness of the role of museums in the development of society, as well as the challenges they face.
In 2019, it had record-breaking participation from around the world, with more than 55,000 museums hosting events across 150 countries.
Each year has a theme, this year's being "Museums for Equality: Diversity and Inclusion".
Under normal circumstances, there'd be lots of events taking place surrounding IMD.
But, with restrictions in force around the world, times are a little different, and many celebrations will now take place online.
"Hopefully this day will really emphasise the important role that museums play," Jo adds.
"A lot of cultural institutions are struggling at the moment and even more so with the pandemic. We really need people's support so hopefully that will draw attention.
"We need museums, they're part of our culture and society, part of who we are. They  hold our national collections, our local collections.
"We offer such a range of activities, learning opportunities, creative opportunities, fun things to do and we're really at the heart of our communities.
"It's been proven that museums have such an important part to play in improving people's lives and wellbeing and mental health."
Glasgow Museums will be joining Museums Galleries Scotland (MGS), the national development body for the Scottish museum sector, in their #MuseumsSparkJoy campaign.
They're encouraging people to share online their memories and moments from visiting Scotland's vast array of attractions, and what they love and miss about museums.
Lucy Casot, CEO of MGS said: "Museums and galleries across Scotland are continuing to be active participants in their communities, through providing access to digital collections and a wide range of activities, filled with creativity and care.
"#MuseumsSparkJoy is a chance to celebrate the fantastic museums and galleries across Scotland and the important role they play in our lives.
"I have so many happy memories of time spent in museums and galleries and with the passionate workforce who care for the diverse collections that tell the story of Scotland and beyond.
"I am looking forward to getting back out to our amazing museums and galleries again when we can safely do so to revisit old favourites and explore new ones."
---
---
How museums across Scotland are marking the occasion
Aberdeen | Aberdeen Art Gallery and Museums
Those who were looking forward before the lockdown to visiting the recently reopened Aberdeen Art Gallery and Museums can still explore the fascinating museum through a free digital tour on the Smartify app.
---
Ayrshire | Scottish Maritime Museum
While the Scottish Maritime Museum's doors are closed they are very much open online. Their fantastic art collection and 3D models are available to view online, along with virtual tours of their vessels, which can even be viewed in VR with a headset.
---
Dumfries and Galloway | The Devil's Porridge Museum
The fascinating Devil's Porridge Museum continues to tell the story of HM Factory Gretna and the military history of the Solway coast through their website, podcasts, and social media. For children there are educational resources available to download and some of their popular weekly clubs are continuing online, including Book Bug sessions and The Young Historians Club.
---
Dundee | Dundee Museum of Transport | D'Arcy Thompson Zoology Museum | Discovery Point
During lockdown the Dundee Museum of Transport staff and volunteers have created an online magazine The Klaxon for transport enthusiasts. The museum has also recently announced that they will be holding their popular Dundee Motor Show online.
You can explore the University of Dundee's museum through short films by the curator on some of the highlights of the collections, 3D scans of zoology specimens, and a virtual tour of the museum.
Although nothing quite compares to stepping foot onto RRS Discovery, the Discovery Point website is full of information about the incredible voyages the ship has taken.
---
Edinburgh | National Museum of Scotland | National Galleries Scotland | National Mining Museum
Take a virtual walk around The National Museum of Scotland, build a pyramid, or get up close to the Lewis Chess Pieces, all possible through the National Museum of Scotland website. The museum has been digitally brought to life through virtual tours, 3D scans of objects, online games, and hours of activities for adults and children to explore the diverse stories in the collection.
The curriculum is creative at National Galleries Scotland as the Learning Team have been encouraging children and families to make their own discoveries about art.
And the museum may be closed, but The National Mining Museum is open online with activities that celebrate mining heritage. To support home-schooling they have put together fun learning resources and children who take part can receive a 'Mine of Information' certificate. The mine can even be visited from the comfort of your home through the world of Minecraft!
---
Fife | Andrew Carnegie Birthplace Museum | Scottish Fisheries Museum
The Andrew Carnegie Birthplace Museum may currently be shut but their award-winning family programme has gone online.
Whether you are home-schooling, spending more time online or miss visiting museums, The Scottish Fisheries Museum has been transformed their latest exhibition  for online viewing from the comfort of your own home.
---
Glasgow | Glasgow Women's Library | David Livingstone Centre
Social distancing doesn't have to be unsocial, as Glasgow Women's Library shows through their lively website and social media channels, which bring visitors together remotely to chat and participate in activities, events and discussions.
Travel back in time with The David Livingstone Centre through a whole host of online activities for adults and children.
---
Highlands and Moray | Timespan | Elgin Museum | Highland Folk Museum
Timespan are helping to keep the Helmsdale community entertained during lockdown with a number of clubs delivering regular online sessions to various different age groups.
The history of Moray has gone online as the team at Elgin Museum have been reaching out to their visitors to continue to enjoy the rich heritage of the area through online activities for children, fascinating insights, and star objects in the museum collection.
During lockdown, Highland Folk Museum are continuing to work remotely on researching and developing its shinty collections. You can follow along with their discoveries through blogs about the project, including a recent look at shinty through the wars to mark the 75th anniversary of VE day.
---
Orkney Islands | Pier Arts Centre
For budding artists, the Pier Arts Centre has just the ticket with their virtual Children's Open Exhibition. Children were invited to send images of artwork they created to the arts centre and the work will be exhibited virtually from Monday 18th May, just in time for #MuseumsSparkJoy!
---
Outer Hebrides | Museum nan Eilean
Their doors may be closed but Museum nan Eilean are continuing to educate and entertain online. Unusual objects from their collection are being shared on social media with the community and visitors getting involved guessing the object and sharing recollections.
The rich heritage of the area is continuing to be enjoyed as Museum nan Eilean share blogs and videos, including a video of the Sailor's Hornpipe dance, made by the Claire Wilson School of Dance as part of the museum's Heritage of the Sea project.
---
Perth and Kinross | Perth and Kinross Museums
Perth and Kinross Museums are keeping visitors entertained and educated during lockdown, through podcasts and sharing star objects on social media.
---
Shetland | Shetland Museum and Archives
Shetland's heritage is alive and well thanks to the team at Shetland Museum and Archive who have put together a whole host of activities for children and adults.
---
Stirling | The Stirling Smith
Experience art outside of the gallery with The Stirling Smith. They are running Mindful Art sessions in collaboration with mindfulness coach Louise Cullen from the Stirling-based studio Tranceform Therapies.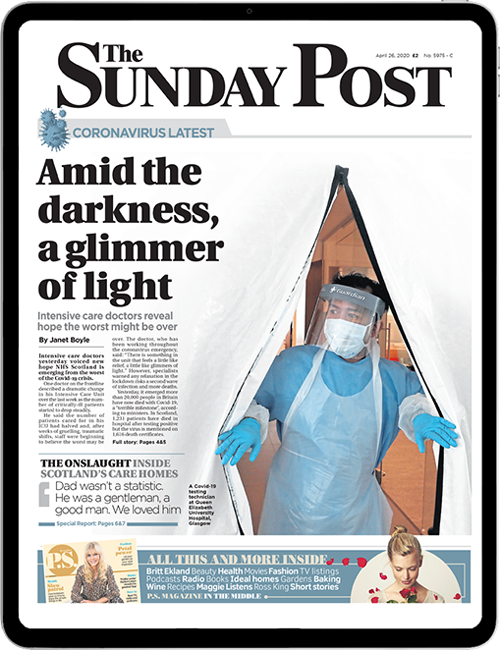 Enjoy the convenience of having The Sunday Post delivered as a digital ePaper straight to your smartphone, tablet or computer.
Subscribe for only £5.49 a month and enjoy all the benefits of the printed paper as a digital replica.
Subscribe