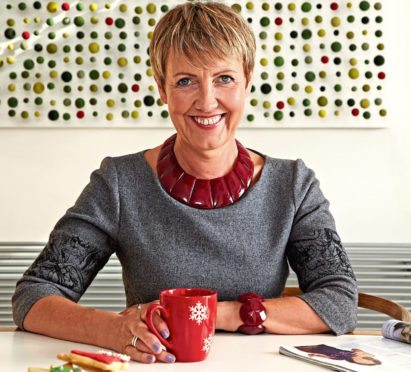 As Covid-19 lockdown eases and Scotland gets to grips with a return to work and school, people are keener than ever to reduce the risk of taking the virus from public spaces into their homes.
Fears that it can stay on some surfaces for up to 72 hours and can be carried on our clothes and shoes mean that being in the know about cleaning and, when necessary, disinfecting, are important.
So who better to share her top tips than Scotland's own Queen of Clean, Aggie MacKenzie? Aggie – who became a household name as co-presenter of Channel 4's How Clean Is Your House? – reckons going back to basics and cleaning like our grannies did with hot soapy water is the way to go.
Aggie, who grew up in Aviemore, tells P.S: "I'm not a scientist, but I do know a thing or two about trying to keep homes germ-free.
"You don't need much in the way of lotions and potions, you just need to stay on top of your cleaning and washing down of surfaces. I am a believer in using good, old-fashioned soap and water – just like our grannies did."
Scientists have found that once the soap molecule penetrates the outer coating of the virus, it splits it apart, breaking the virus open and releasing its contents into the surrounding soapy water, which eventually carries them away.
For divorced mum-of-two Aggie, 64, that's good news. She reveals: "I am not in favour of chemical sprays that I believe are bad for the lungs and for the environment. I prefer microfibre cloths and mops that don't require any product and can be washed in the washing machine at 60 degrees centigrade afterwards. I'd advise that during the current pandemic, people use them with soapy water. They are widely available and pretty cheap and can be washed time after time."
Aggie, who, just over three years ago, downsized from her family home to a smaller, detached house in North London where she lives alone, says cleaning routines will vary depending on the size and type of household.
She explains: "If you're a retired person living alone, you won't need to clean as often as say a family of four who are at work and school all day and using public transport.
"I certainly don't clean my house every day. Key areas for everyone though are kitchens and bathrooms, and floors need to be cleaned more frequently if there's a lot of traffic, or if there are young children crawling and playing on them.
"Focus your efforts on cleaning the areas where germs are more likely to spread, such as the kitchen and toilet. Soap and hot water rinses the germs away, but if you are really worried you can use a disinfectant afterwards to kill anything that might remain. It's a good idea to clean germ hotspots after use, rather than weekly and to dry surfaces like worktops and chopping boards with a clean, dry cloth because germs thrive in damp and humid places."
---
Aggie's top tips
How to clean floors
Any floor can be a breeding place for dirt and germs. So clean floors with warm water and detergent to remove any visible dirt. A microfibre mop with detachable cloth is more hygienic than traditional mops and can be washed in the machine after use. However, if there is vomit, urine or faeces, clean it using a kitchen paper and warm water, then disinfect the area thoroughly. If carpet or soft furnishings are involved, it can be laborious and time-consuming. To prevent the spread of infection, steam cleaning is the best route.
Surfaces to clean daily
Doorknobs and handrails
Table surfaces
Hard dining chairs (seat, back and arms)
Kitchen counters
Bathroom counters
Toilets (seat and handle)
Light switches
TV remote controls
Game controllers
How to clean a bathroom
Use hot, soapy water (followed by disinfectant if needed) on the following areas of the bathroom:
Toilet seat
Toilet handle
Toilet rim
Bath
Sink and taps
Shower tray
It's a good idea to keep tiles and grouting clean and to wash shower curtains frequently. Use a separate cloth for the toilet and wash all cloths in the machine at 60 centigrade after use. Wash bathroom mats. Toilet brushes are full of germs so I don't use them. Instead, I use bleach to remove dirt and flush. If it's stubborn, I use bleach and toilet tissue to remove.
Wash clothes to keep virus threat at bay
It's thought Covid-19 can remain on clothing for up to two days. So if you're using public transport or working with others it's a good idea to remove clothing as soon as you get home and put it in the wash. We don't know how long the virus lives on floors and shoes, so if you're worried take them off too.
When it comes to the wash, do not shake dirty laundry before washing. This will cut the risk of dispersing the virus through the air.
You can wash clothes in accordance with the manufacturer's instructions but use the warmest water setting. There is no general health reason to separate clothes, although there may be some items you might want to wash separately at a higher temperature with a bleach-based detergent (such as biological powder for whites).
These include clothes that come into contact with a lot of body fluids as they will have more germs on them, such as sportswear. Shared towels in your home can also harbour germs and could spread coronavirus. They should be washed often and at 60 degrees centigrade. If there is someone self-isolating or at risk, they should have their own towels.
Don't forget to dry laundry thoroughly. Germs like moist areas and will spread there if they get a chance to.
Once you've finished the laundry it's important to clean the outside of your washing machine and any containers used to carry the laundry in. Remember to wash your hands often to prevent the spread of germs.
And don't forget to clean or replace your cleaning utensils too. Using the same cloths and sponges over and over again can spread the germs around other surfaces.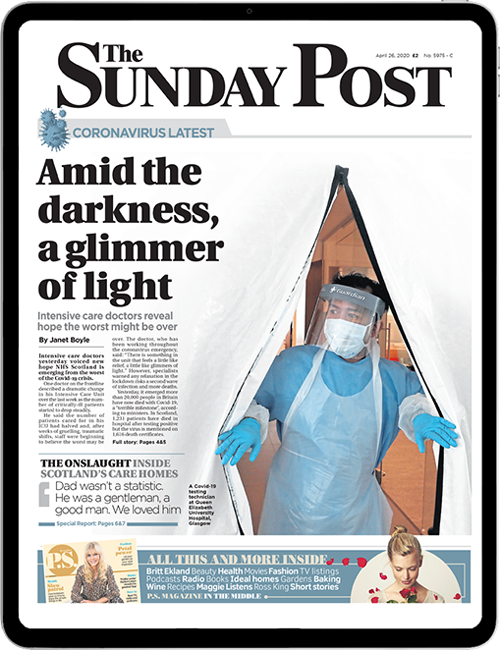 Enjoy the convenience of having The Sunday Post delivered as a digital ePaper straight to your smartphone, tablet or computer.
Subscribe for only £5.49 a month and enjoy all the benefits of the printed paper as a digital replica.
Subscribe