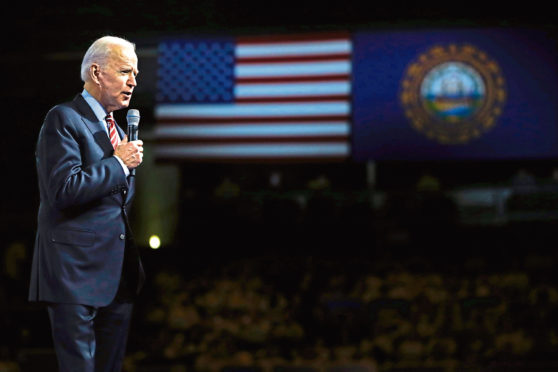 In the former mill town of Manchester, New Hampshire, the weather was gloomy.
Almost as gloomy, it seemed, as Joe Biden's chances of realising his dream to become president.
The state was poised to pick fellow Democrat Bernie Sanders as its presidential candidate, with fresh-faced Pete Buttigieg in second place.
Veteran BBC journalist Jim Naughtie has been covering US politics for five ­decades and in February he watched as 77-year-old Biden eventually limped home in fifth place.
"It was clear he was sinking in the New Hampshire contest to become the Democratic nominee," says Naughtie. "The Bernie Sanders forces had outgunned him.
"I went to a ­firefighters' union meeting, and Biden was going to drop by. It wasn't going to be a big meet-and-greet session – all that was expected was he'd turn up, shake a few hands then head on his bus to South Carolina where he was expected to do better. The omens for Biden at that point were not good, yet he turned up smiling, looking svelte in sunglasses and a leather jacket, and held an impromptu and unmoderated press conference.
"It was absolutely fascinating because he was fighting for his life, wondering how to turn things around. But it was also clear that here was an old pro at work.
"'I cannot wait to debate Donald Trump. I cannot wait!' he said, and he believed it.
"Someone mentioned one of the other challengers, Pete Buttigieg. Eyes alight, Biden said, 'Listen, he's a bright kid. Is he going to be President of the United States? Come off it!'. There was a wonderful sense that here was the old campaigner who's been doing this for 50 years."
The irrepressible Joe Biden was ­eventually chosen – with the help of Southern states – as the party's presidential candidate, and now stands at the cusp of a stunning ­victory. His journey to the threshold of the Oval Office has taken five decades.
In 2016, Donald Trump pulled off a ­triumph of his own thanks to support in places such as Pennsylvania, a former industrial state where the white working-class population felt abandoned by traditional politics. Although voters here, scarred by years of economic hardship, may not fully agree with Biden, he does have an advantage that could be key to winning the election on November 4. "His whole being is rooted in those north-eastern former industrial states," explains Naughtie. "Pennsylvania, Ohio, Michigan, Wisconsin – they know him. He can talk to them. He speaks their language.
"When he became a senator, he would go home every night on the Amtrak train and he became the guy people knew on the train who would travel economy class, not club class. That's a big deal. He's always had this role of being the regular guy. He's from a working-class, industrialised background. And he's well known in part of the country that may well decide matters."
This presidential campaign is ­especially atypical, according to Naughtie, as it seems like a reversal of the usual presidential race. "If you look at the way this race has unfolded – the noise, the language, the grammar – Trump appears to be the challenger," he says. "Trump is asking, what about Hunter Biden [Joe's son who has been the subject of allegations over drug and alcohol addiction]? What about China? What about Obamacare?
"Biden is sort of sitting there saying, 'Oh come off it' and, instead, is talking about what he'll do with jobs in the first few years of his presidency.
"Trump seems to be running against himself in a way. He's the one being angry. Usually it's the challenger who's angry.
"What Biden is doing is asking where civility, decency and calmness is. He's saying that you may not agree with me but we'll argue about that later, and that what people want is to stop this madness."
Naughtie suspects Biden, should he win, will try to bring a kind of serenity to the post-Trump Oval Office. "At home, it will all be about calm," adds Naughtie. "Reassuring people about Medicare, Obamacare, huge decisions about whether to increase the number of seats of the Supreme Court. But you can't really have calm in the Oval Office because stuff happens.
"He'll have a honeymoon period, but if he wins there will be an enormous ­explosion of anger on the white nationalist right, at the extreme end of the spectrum – the Proud Boys, for example. That will be a huge test. But Biden is confident America doesn't want that. He believes that if these guys go over the top he will have the country behind him."
Other western democracies will also be likely to rally to Biden's cause after four years of Trump's erratic foreign policy, and his praise of Vladimir Putin's Russia.
"His priorities will be resumption of normal service," explains Naughtie. "His first instinct will be to say the US is back in business – with Nato, with the Paris Climate Agreement, with the Iran Nuclear deal. And he would have a queue of foreign leaders, except Mr Putin, perhaps, outside the Oval Office saying they're very much looking forward to working with President Biden."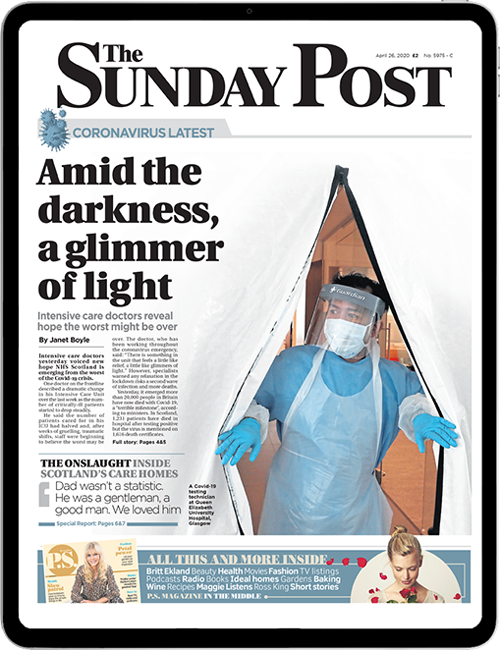 Enjoy the convenience of having The Sunday Post delivered as a digital ePaper straight to your smartphone, tablet or computer.
Subscribe for only £5.49 a month and enjoy all the benefits of the printed paper as a digital replica.
Subscribe