YOU'D think most of our current sniffles would be the fault of "the Beast from the East" and all the snow we've had.
But an airborne allergies expert reckons it's actually "upside-down hay fever".
With the current unpredictable weather, creator of HayMax Max Wiseberg has noticed a new phenomenon.
"Our current alternating weather conditions are triggering what I term 'upside-down hay fever'," he explains. "You'd expect hay fever to calm down when the sunshine disappears and it rains, but for some, it's actually the reverse.
"Upside-down hay fever sufferers typically experience their symptoms starting at the 'wrong' time. When it's sunny and there's lots of pollen, symptoms can actually reduce. But on rainy days, it's at its worst.
"I believe I've worked out why. Typical advice is to avoid going out in the morning and evening when pollen levels are high.
"The reason is that grass releases pollen in the morning, and as the ground heats, the air rises, taking the pollen with it.
"The point where it's lifted the pollen to head height is when we get hit most. But later on, the air rises, taking pollen with it, so it's above head height. As evening comes, everything cools, so the air sinks, bringing the pollen back to head height.
"Now, imagine a day when everything happens as usual but after the pollen has risen above head height, it rains. The air cools, and rain and air movement brings pollen back to head height. Wallop! Here comes your hay fever.
"And imagine a super-hot day. Air rises earlier in the morning, taking pollen with it. By the time you're outside, the pollen is already higher than your head height.
"Since it's warm, the air doesn't cool and bring pollen down to earth until after dark. That's why you get upside-down hay fever.
"The best way to deal with any kind of hay fever is to avoid pollen," explains Max.
"Wherever you go, carry a small pot of organic allergen barrier balm such as HayMax.
"You can pop it on your nose and around your eyes, and that'll stop a whole load of pollen going up your nose.
"This is often enough to keep you below your sensitivity level — the amount of pollen you can tolerate in your body without it reacting."
So what else can you do to reduce those irritating sniffles? Well, scientists have found that avoiding certain foods can help, too.
Max adds: "Snack sensibly, which sounds like an oxymoron. Sorry, but if you're serious then you need to avoid chocolate. I know!
"After all they said — it's good for your heart, gut and just about everything — chocolate apparently contains histamine, the chemical that sets off allergy symptoms in your body, and I'm a bit of a chocoholic myself.
"You should also avoid margarine as researchers reported that it increased the risk of nasal allergy symptoms and wheezing.
"This is believed to be related to the fact that it is made with unhealthy fat that boosts inflammation.
"And drink responsibly, too, as beer, wine and spirits all contain histamine.
"As well as avoiding these foods and drinks, avoiding pollen can prevent or reduce symptoms — less pollen equals less sneezing.
"If you have a pet, it would be wise to remember it could be a walking pollen bomb. Pet fur is perfect for trapping pollen so if you have one, it's imperative to wash and brush them regularly.
"And on a serious note, your hay fever could make you unfit to drive," adds Max.
"A survey by a car insurance comparison website found that 64% of sufferers admitted to driving after taking medication. Some 55% stated they felt drowsy, while 4% said they had been involved in a road accident as a result of driving after taking hay fever medication."
By the way, did you know that bumblebees' perfect pitch makes pollen explode?
You might have noticed bees sound different after they've landed in a flower. They unhinge their wings and vibrate their bodies in the pitch of middle C — the same as the "Hey" in The Beatles' Hey Jude — causing the plants to explosively release pollen.
Famous hay fever sufferers include Jon Bon Jovi, who might be best to stick to indoor arenas rather than outdoor enormo-domes, and actors Scarlett Johansson and Orlando Bloom — which makes his surname a bit ironic, when you think about it.
And spare a thought for Tiger Woods. When your job basically consists of walking about on freshly-mown grass all day, having hay fever must be a nightmare.
HayMax allergen barrier balms retail at £6.99 per pot.
For more information call 01525 406600 or visit www.haymax.biz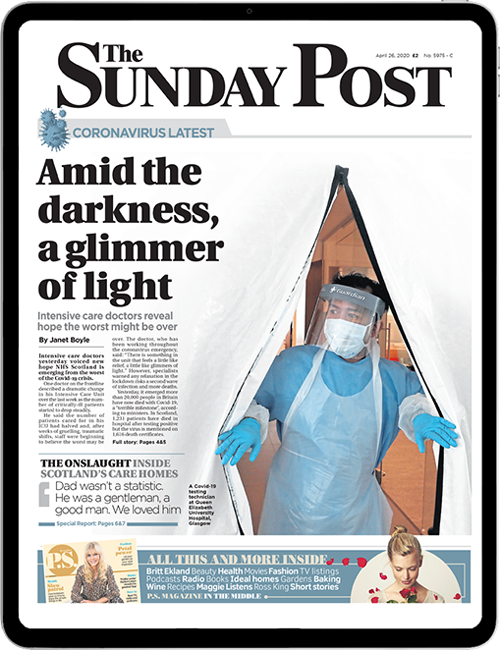 Enjoy the convenience of having The Sunday Post delivered as a digital ePaper straight to your smartphone, tablet or computer.
Subscribe for only £5.49 a month and enjoy all the benefits of the printed paper as a digital replica.
Subscribe