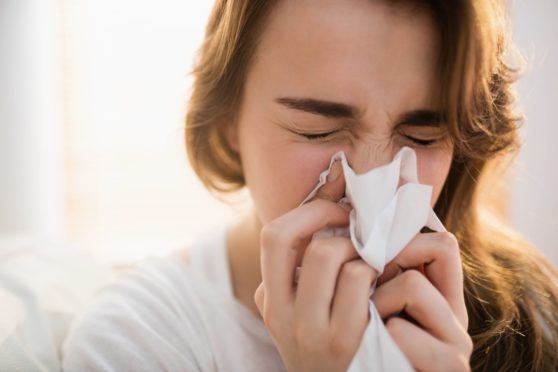 Summer has arrived, with recent high temperatures sending people into parks and gardens for picnics and barbecues.
But while soaking up the sun is a joy for most, for hay fever sufferers it can be a nightmare of persistent sneezing, sore throat, runny nose and itchy eyes.
And with this year's hay fever season coinciding with the pandemic, doctors are worried sufferers could confuse their symptoms with those of coronavirus, risking further spread of the infection.
The warning from Royal College of GPs (RGCP) comes hard on the heels of Met Office alerts. It flagged recent high temperatures which can spark "pollen bombs" with hay fever symptoms worsening for sufferers.
With the grass pollen season at its peak, doctors say that while they don't want people to be unduly anxious about their hay fever, they do want to make sure that they don't go out and about, assuming they have their usual allergies, when they may actually have coronavirus.
Dr David Shackles, joint chair of RCGP and a Tayside-based GP, said: "Typically, hay fever will give sufferers a runny or itchy nose, sneezing, watering red and itchy eyes, sore or scratchy throat and headaches or a feeling of pressure.
"Allergy symptoms tend to be milder and fluctuate depending on the time of day as pollen levels are often higher in the afternoon and evening. Similarly, wet weather may lead to milder symptoms.
"If patients' symptoms differ from the sufferer's usual, or if patients feel worse and are not responding to their usual medication, and are developing a temperature and feeling unwell then self-isolating and PCR testing is appropriate. As these patients are symptomatic, lateral flow testing is not sufficient.
"Patients who regularly suffer from hay fever will be familiar with the symptoms they usually experience and the severity of them. We don't want anyone to be unduly alarmed when suffering from their usual symptoms of hay fever, though we appreciate that symptoms can often be debilitating.
"However, in instances where a patient experiences a significant deviation from this, or has specific symptoms of Covid-19, such as a new, persistent cough and a high temperature, I would urge them to follow government advice to self-isolate and obtain a PCR test.
"If symptoms persist or worsen, patients should seek medical advice from the NHS 111 service, who will advise if they need to see their GP."
He added: "There is currently a lot of hay fever around due to the warm temperatures and high pollen levels however it is difficult to say whether this is more than the seasonal norm.
"In my own practice, patients have certainly been requesting their repeat hay fever medications using the usual channels. Many of our patients are also accessing treatment via the community pharmacy."
And he countered fears that Covid-19 vaccines could see those who had never before had hay fever, suddenly developing symptoms. He said: "I am not aware of any scientific evidence behind the suggestion that the vaccine may predispose patients to hay fever.
"Most hay fever sufferers will be aware of their usual symptoms and triggers so if symptoms differ from these or they have additional Covid symptoms, they should get a PCR test.
"New onset cough, fever and loss of taste and smell are the cardinal symptoms. Hay fever is common but with escalating levels of Covid in the community, increased testing is required and of course, patients can have hay fever and coronavirus at same time.
"In line with latest Scottish Government guidance, we would urge the public to consider twice weekly at home lateral flow testing if you are asymptomatic for Covid (that means you would test even if you don't have symptoms).
"Of course, if you are concerned that you may have Covid-19, the advice remains that you should self-isolate immediately and obtain a PCR test."
Hay fever symptoms can usually be controlled with antihistamines or nasal sprays. However, if Covid-19 is suspected, sufferers should stay at home for 10 days from the start of their symptoms and arrange to be tested. T
hey should not go to their GP, pharmacy or hospital, but should remain at home until they get the result of the test and then follow the advice given based on the result.
The main signs of hay fever are: 
Sneezing and coughing
Runny or blocked nose
Itchy, red or watery eyes
Itchy throat, mouth, nose and ears
Loss of smell
Pain around temples and forehead
Headache
Earache
Feeling tired
Hay fever will last for weeks or months, unlike a cold, which usually goes away after one to two weeks.
There is currently no cure for hay fever and you cannot prevent it, but you can ease symptoms when the pollen count is high.
Use Vaseline around your nostrils to trap pollen, wear wraparound sunglasses to prevent pollen entering eyes, when inside wash pollen off by showering and changing your clothes, keep windows and doors closed as much as possible and vacuum regularly, dusting with a damp cloth. Pollen filters are also available for your vacuum and car.
Similarly you should avoid spending too much time outside when pollen is high and avoid letting pets into the house as they carry pollen. Smoking should also be avoided as this worsens symptoms.
The main Covid symptoms are:
A high temperature – you feel hot to touch on your chest or back
A new, continuous cough – coughing a lot for more than an hour, or three or more coughing episodes in 24 hours
A loss or change to your sense of smell or taste – you've noticed you can't smell or taste anything, or things smell or taste differently
If you have any of these symptoms, get a PCR test (a test sent to a lab) to check and stay home until you get your result.
About 1 in 3 people with coronavirus do not have symptoms but can still infect others.
This is why everyone is advised to get tested regularly.
Stay at home guides for households in which coronavirus is present can be found online at nhsinform.scot.
Most people with Covid-19, most people can manage their symptoms at home with paracetamol and plenty of fluids.
However, if symptoms worsen during home isolation, especially if the suffer is in a high or extremely high-risk group, or if breathlessness develops or worsen, or if symptoms haven't improved in 10 days,
call 111.
In an emergency phone 999 but tell them you have coronavirus symptoms.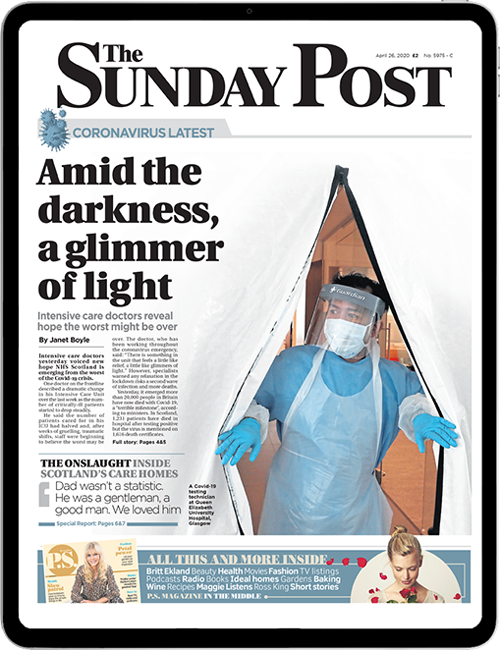 Enjoy the convenience of having The Sunday Post delivered as a digital ePaper straight to your smartphone, tablet or computer.
Subscribe for only £5.49 a month and enjoy all the benefits of the printed paper as a digital replica.
Subscribe