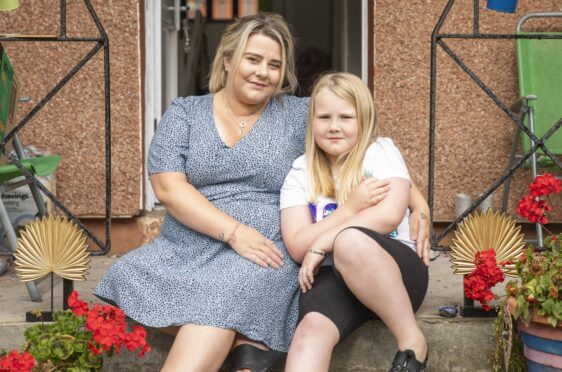 Thousands of Scots living in poverty are on a cliff edge as the end of a benefits lifeline and furlough threaten to topple many families into crisis, experts warn today.
The widening gap between poorer and more well off postcodes will almost certainly widen even further in the years ahead, shortening the lives and curtailing the life chances of children from socially deprived neighbourhoods.
Analysis suggests every aspect of life for those living in poverty could worsen, with physical and mental health, education and employment prospects all seriously impacted.
This winter threatens a perfect storm for families on the brink as UK ministers threaten to cut the £20 a week uplift in Universal Credit while the Scottish Goverment winds up the furlough scheme supporting workers and firms through the pandemic plunging more people into poverty.
Morag Treanor, professor of child and family inequalities at Heriot Watt University, said the potential impact on some of Scotland's most vulnerable families cannot be underestimated.
Writing in The Sunday Post today, she said: "There are currently many people who are just under the water and keep managing to dip their head above the water occasionally and grab a breath, that's how I would describe the general experience of poverty.
"There are some who are ­frantically treading water and just keeping their head above the water. And there are some who are floundering quite a way under the surface. They are going to be dragged under and swept away."
About 480,000 people in Scotland will lose £1,040 per year when the uplift ends, and in three areas of Glasgow it will affect more than half of households.
Energy bills are also set to rise by £139 per year when the price cap for default domestic energy bills is raised on October 1.
Scottish ministers are now under increasing pressure to double the Scottish child payment – currently £10 per week for each child under six where a parent receives a qualifying benefit – as soon as possible rather than sticking to its commitment to do it before the next Holyrood ­election in 2026.
Without decisive action, experts have warned that the Scottish Government is also likely to miss its interim target of cutting the number of children living in poverty by 8% before March 2024 by a significant margin.
Research carried out by the International Monetary Fund into five previous 21st-Century pandemics and epidemics – Sars, MERS, Ebola, H1N1 and Zika – has also predicted the gap between rich and poor will have increased slightly during Covid-19.
But it is in the five years after a pandemic that inequality will widen most, as the poorest could lose 12% of their income while the richest see theirs increase by a quarter.
David Gordon, a professor of social justice and director of the Townsend Centre for International Poverty Research at the University of Bristol, led a landmark study into poverty in Scotland published in 2014.
He said: "What we know from pandemics and epidemics in the 21st Century, which we've known from previous centuries, is that the rich tend to increase their wealth because they continue with their work and there are new opportunities for them, and the poor were the most vulnerable and the hardest hit.
"Unless something dramatic is done by the government, then you would expect for the next five years poverty to increase and inequality to increase massively.
"If you think it's bad now, you haven't seen anything yet. The tide has been held back but it's going to get worse. What we've seen during the pandemic is only the start.
"Since about 2010 inequality has been rising tremendously, and it rose tremendously in the 1980s and '90s. So we're now approaching levels of inequality, before the pandemic, that go back to before the welfare state, so we're talking pre-Second World War levels.
"If the pattern is followed in the UK which the IMF has shown happened in other countries that experienced these medical shocks, and much lower than the coronavirus shock, then we're going to go back to Downton Abbey levels of inequality.
"During the pandemic, because of the furlough and because of the uplift on Universal Credit, I don't expect there was a massive increase in poverty. But I expect that to happen this winter.
"People have lost money and people are in a far worse situation than they were a year ago, but it wasn't as bad as it could have been.
"I can't see there's any plan in place to stop a catastrophe happening, but the UK Government may come up with one and the Scottish Government may come up with one.
"The political classes in Scotland won't want to see a 20% growth in the gap between the richest 10% and the poorest 10% in Scotland but it's whether they've got the political will to do something about it."
Figures released by the National Records of Scotland this month showed the death rate in Scotland's most deprived areas was nearly twice as high in 2020 than in richer places, with a "huge gap in healthy life expectancy for people in the most and least deprived areas".
Other major studies have shown the impacts of the pandemic will have been felt unequally, with the poorest being more likely to die from coronavirus, more likely to have experienced negative impacts from lockdown restrictions and will have borne the economic brunt.
One in five people had to cut back on essentials – food, clothing, medical care and housing – last year. Five million people in the UK were food-insecure, up from two million before the pandemic.
Katherine Smith, co-author of a book called The Unequal Pandemic and professor of public health policy at Strathclyde University, said: "The pandemic kills unequally and we've seen that really clearly in this country. It's also experienced unequally.
"People were more vulnerable because of co-morbidities they already had and the extent of the health inequalities, which are really high in Scotland and the UK.
"They were more exposed because of working conditions and transport to work.
"Then higher transmission within the neighbourhoods and homes because of people being closer together.
"Most people do understand if you talk about it that if you live in really rubbish housing with a damp problem that impacts your mental health as well as your respiratory health then you're more susceptible to thinking about engaging in something like drinking or it might be drugs or it might even be just have a few sweet treats to distract yourself from that environment.
"You see how everything comes together and it's so difficult to escape if we aren't changing those fundamentals of getting people living in decent housing and having enough income so they're not constantly stressing about whether they can pay the basic bills and provide for their kids.
"I feel like Scotland's health ­inequalities were bad before, it's been exacerbated by the pandemic and we really need to have a conversation on fundamental things like improving housing, investing much more in the early years services and schools for more deprived communities.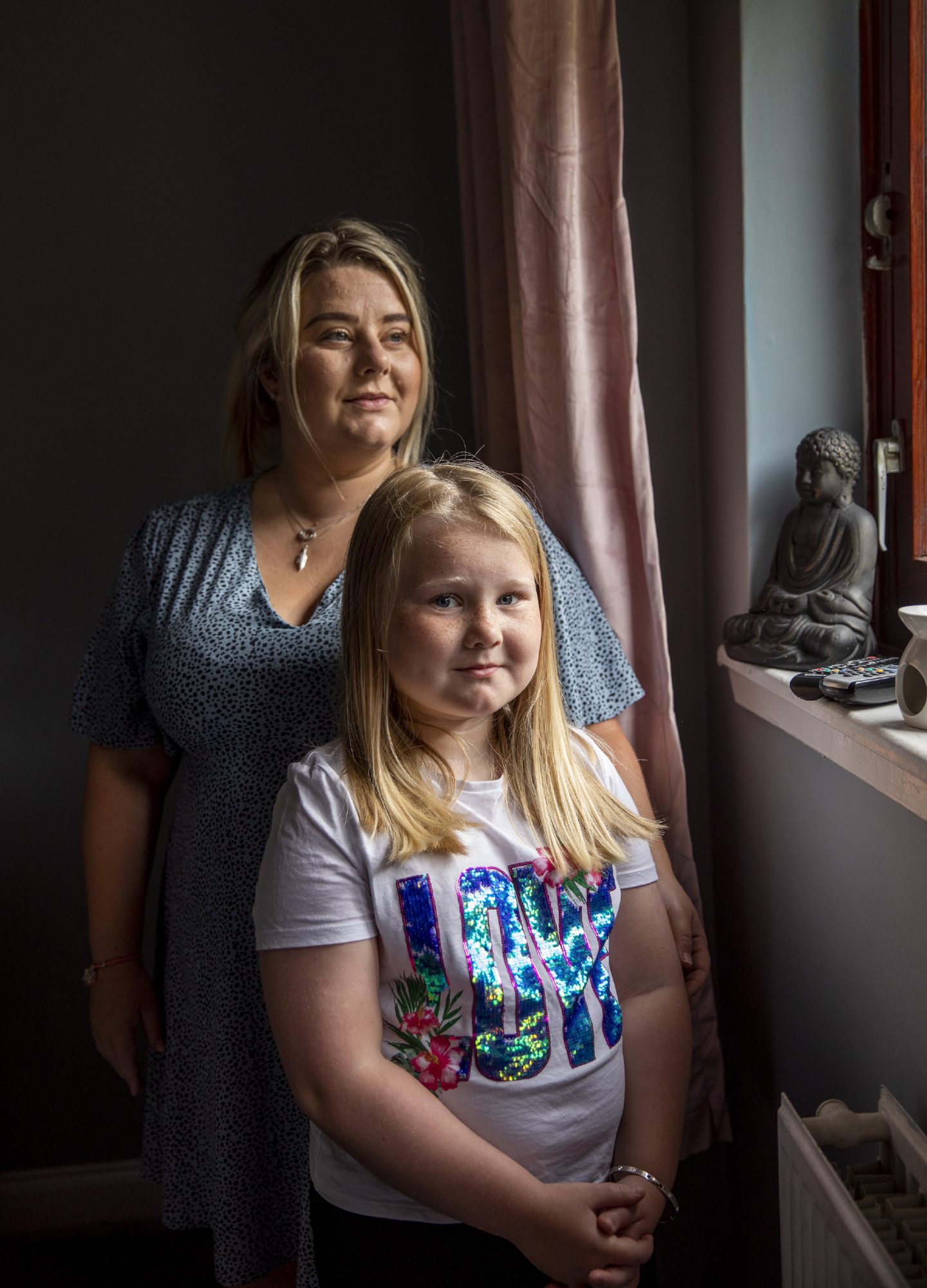 "They don't need just the same resources, they need more resources."
Meanwhile, John Dickie, director of Child Poverty Action Group Scotland, said the pandemic had thrown into sharp relief the financial insecurity of many families who had to rely on charity handouts to buy the basics.
Research by the organisation showed 22,000 children in Scotland were protected from poverty by the uplift in Universal Credit, and he said massive damage will be caused to children by it being axed.
He added: "It's also at a time with furlough ending and people not knowing if they will have jobs to go back to. We know that those in the ­lowest-paid and most insecure jobs are most likely to lose their jobs.
"The damage and cost to ­individual children and families is massive, but there's a massive cost to all of us as a society in terms of picking up the pieces of that poverty.
"The direction of travel by the UK Government isn't looking good at the moment but there is time yet to reverse that decision and maintain the uplift to Universal Credit and that has to be the number one priority.
"Here in Scotland, we have seen a more positive approach. The planned roll-out of the Scottish child payment has gone ahead and there have been hardship payments to low income families.
"The response has been positive in Scotland and the good news is that's continuing and there's the commitment to doubling the value of the Scottish child payment.
"We would be making real progress on child poverty if the Universal Credit credit uplift was maintained and the Scottish child payment was on top of that."
Social Justice Secretary Shona Robison said: "The UK Government should reverse their indefensible decision to cut the £20-per-week uplift to Universal Credit.
"We have urged the UK Government to halt the senseless harm they are about to inflict on already hard-pressed families which we estimate will push 60,000 people in Scotland into poverty, including 20,000 children.
"We plan to significantly increase the level of the Scottish Child Payment, following the planned rollout to six to 15-year-olds in order to maximise the impact on child poverty, with the full £20 payment being achieved within the lifetime of the Parliament.
"We have taken unprecedented action as part of our national mission to tackle child poverty, investing nearly £1 billion a year in support families with children and we have introduced the SCP to tackle child poverty head on.
"Ahead of its increase to under-16s, we are also investing £77 million this year and next through our bridging payments. These payments, worth £520 a year, will provide immediate support to about 145,000 children and young people from low-income families.
"This is in addition to the Best Start Grants we have introduced, our recent increase to the value of Best Start Foods and, of course, other actions to support families, such as the increase to the hours of free childcare and provision of free school meals."
---
It's hard to know that I can't take my daughter out like other families
Leanne Bolam has found coming to terms with being unable to treat her daughter Mila one of the hardest parts of life in the poverty trap.
The 34-year-old single mother relies on Universal Credit to cover all her costs and is left exhausted by trying to make ends meet.
She is studying a part-time college course for an HNC in community development but feels locked out of the jobs market because of her childcare commitments to eight-year-old Mila.
Her daughter's age also means she is not yet entitled to the Scottish child payment as it is currently only paid to those with children under six.
Bolam, from Glasgow, endures constant worry of an extra expense such as a broken appliance, and uses a local pantry scheme to reduce the cost of her food shopping.
She said: "It's the fear of if your washing machine breaks or you need a new tyre.
"I live month to month, I haven't got any savings so if anything went wrong within my month I've not got anywhere else to go.
"If I had any extra it would go back into the economy anyway. I would maybe be able to take my daughter out for a meal so it would be a treat but it would still go back into the economy.
"It's virtually impossible. I pay my bills and that's it. I attend a local pantry as well for food which is a massive help, as the food shop is expensive for me and my daughter.
"It's a struggle. It is a worry just getting through month to month. I feel as if I'm stuck in a rut. I don't have any savings whatsoever."
She added: "It affects people's mental health as well. Even socially it really holds me and my daughter back because her friends and my friends go out, and it's hard to think I can't take my daughter out.
"Just to go to a play area it can be £40 by the time you've had something to eat.
"It's just things that you should be able to do, not all the time, but for a treat. I think everybody is entitled to a treat now and again, but not being able to do it just holds you back so much."
---
We'll have to decide how much heating or electricity to use this winter
A couple who already experienced financial crisis during the pandemic fear they will be unable to cope once they lose the £20 Universal Credit uplift.
Before Covid, Neil and Joanne – not their real names – provided for their two children, aged five and two. Neil earned the minimum hourly rate at a factory and they received child benefit and child working tax credit.
Joanne said: "We could afford our living costs and rent, and make the payments on our car."
But Neil was furloughed on 80% of his salary and they could no longer get by.
The charity Action For Children (AFC) provided food parcels and emergency funding.
Then Neil was paid off. The family, from Dumfries and Galloway, applied for AFC Covid emergency funds while waiting for their Universal Credit claim to be processed.
They secured an advance Universal Credit payment but that must be paid back monthly.
They also fell into rent arrears and couldn't afford payments on the car. Joanne said: "It had to go back to the dealer and we live 30 miles from the nearest town.
"We wouldn't have managed without the AFC food parcel delivery. We put the £20 uplift on the Universal Credit towards our rent arrears. We used the charity's community swap shop to get clothes."
"For most people losing £20 a week wouldn't be hard. For us it is. This winter we'll have to decide each day how much heating and electricity we can use."
---
I go without food so my daughter can eat
Christine, a mum of one, often goes without food so her one-year-old daughter can have three meals a day.
She fears she will not be able to juggle her finances when the uplift to Universal Credit ends and that her mental health will deteriorate. She receives less than £1,000 a month to cover all outgoings.
The single parent from Glasgow already must find money to pay back a loan taken through Universal Credit when she had to replace her fridge freezer.
Earlier this year, she began working in a shop, but adjustments to her benefits as a result meant she was only banking an extra £3 a month.
Christine – not her real name – said: "It's really bad. You're having to stress and worry about money and budgeting.
"I hardly eat. My daughter gets three meals a day but I'm lucky if I get one.
"I was working for an extra £3 a month but it took me away from my daughter 80 hours a month.
"I was basically working for my dignity. It's horrible. I have always worked. My anxiety was sky-high. Every person that I know is struggling.
"My daughter is growing so I'm buying clothes and shoes every three months. You have to pick between your needs and your child's needs, and you want the best for your child.
"It's so hard, and when the Universal Credit is cut it will be overwhelming."
---
When the cut happens I know I'll be short every month
Keira has already been left so short of money that she has resorted to cutting the feet off her one-year-old daughter's sleepsuits to make them last longer as she has grown.
She has also gone without food so her daughter, who has medical needs, could eat – when her Maternity Allowance ended she only had £200 a month for three months until Universal Credit picked up the shortfall.
Kiera, a single parent from Edinburgh, said: "I had no idea how I was supposed to live and how to provide for my child. For three weeks, I didn't eat."
Her daughter had grown out of her clothes but Keira – not her real name – couldn't afford new ones. She added: "I remember feeling like a failure as a mum because I didn't have enough money."
Before Covid hit, she'd started to build a support network, but that was taken away. "I didn't reach out to people. How do you say you're struggling?" she said.
"I had to borrow money from my mum, but after the first month I kept saying, everything's fine. I felt kind of ashamed."
Kiera still suffers anxiety attacks when payments are due and is worried about the end of the uplift. She said: "I know for some people £20 doesn't seem a lot, but that's milk, bread, £10 maybe on the electric or the gas.
"When the cut happens I know I'll be short every month. I'll have to cut back even more on food for myself. I'll be going backwards to eating just my daughters' leftovers."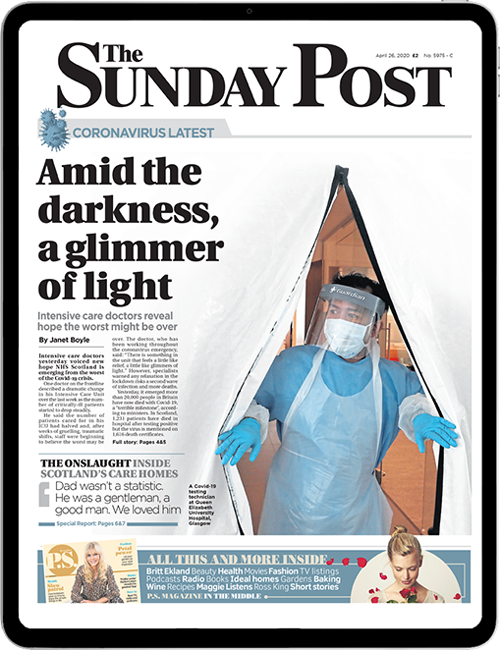 Enjoy the convenience of having The Sunday Post delivered as a digital ePaper straight to your smartphone, tablet or computer.
Subscribe for only £5.49 a month and enjoy all the benefits of the printed paper as a digital replica.
Subscribe