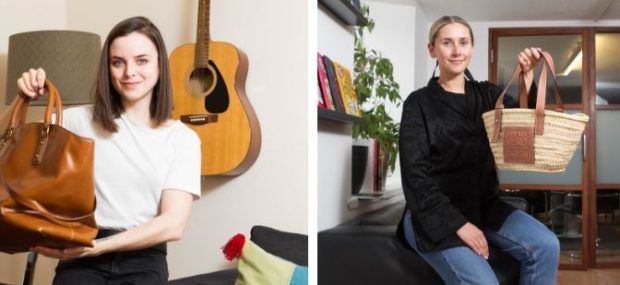 Peek inside any woman's handbag and you're likely to find a purse, keys, maybe make-up and often a few crumpled receipts – but what about a spatula or a pot of sea salt?
Great British Bake Off winner Nadiya Hussain recently raised a few eyebrows when she revealed some of the more unusual items stashed inside her designer shoulder bag.
Posting to her Instagram page, the 34-year-old chef and TV presenter shared pictures of typical handbag fillers, including hand sanitizer, a cardholder, perfume and headphones, but also admitted she always carries a pot of red pepper spice mix, a tin of Maldon sea salt, and a miniature spatula.
And according to a recent study, Nadiya isn't alone in carrying a bulging bag.
In their survey of 1,000 people, luxury handbag brand Aspinal of London found the average UK woman carries a whopping 17 items with them on a daily basis, amounting to more than 3kg in weight – or the equivalent of three bags of sugar.
The findings also revealed Glasgow women carry an average of 1.79kg in their bags, while Edinburgh residents topped the scale at a slightly lighter 1.7kg. Carrying over-sized, heavy handbags has been linked to an increase in back pain and strained muscles, with one celebrity sports physiotherapist even saying the weight could be seriously damaging for our health.
Doug Jones, whose clients include Strictly Come Dancing star Catherine Tyldesley, said: "Today many women's handbags are getting much heavier – 10 years ago most bags would contain the usual items of make-up, perfume, keys and hairspray.
But now with hectic lifestyles and various demands, often handbags are bigger, bulkier and we carry heavy items including keys, books, shoes, mobile phone chargers, phones and iPads.
So, are we really a nation of handbag hoarders? Carrying everything but the kitchen sink?
Here, we spoke to three women who carry some unusual items in their bags.
---
I like to use a big structured handbag… nothing floppy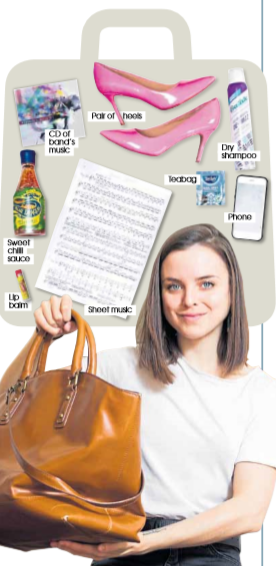 Laura Wilkie, 28, from Glasgow, is a freelance musician
As a musician, I tend to travel and drive from gig to gig, so I do have to carry a lot of stuff – and my car works as a second handbag, too.
If I'm working that day, my bag will usually contain a keep cup for coffee, pain killers, a reusable plastic fork, rosin for my fiddle, and a CD of my band's music. It's good to have a copy of my work to hand out.
I like to use a big, structured handbag that's not too floppy, so I can see everything and get bits and pieces out when I need them. And it's good to be able to fit a pair of shoes inside – I wouldn't usually wear trainers to gigs, but I often have to get somewhere quite fast, while carrying everything on my back, so heels aren't the best.
I have a little pack on my fiddle for holding my sheet music, but if I'm in a hurry I quite often have to just pop it inside my bag. I usually carry a bottle of sweet chilli sauce around with me, too. As well as dairy, there are loads of other things I, annoyingly, can't eat, so if I have to settle for something bland, I know I can make it taste OK.
---
My friends laugh at the amount of stuff I carry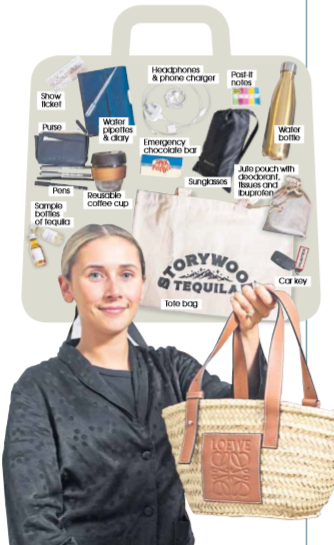 Abigail Donaldson, 27, from Dundee, works in PR
I don't just carry one handbag, I have two.
As well as a small cross-body bag that holds all my essentials – including a cardholder, keys for my office, house and car, lipstick and two mobile phones – every day I also bring a "main bag" with me, holding lots of larger items.
Today that amounts to two small sample bottles of tequila, a reusable coffee cup, a water bottle, headphones, receipts, numerous pens, a tote bag, sunglasses, an emergency chocolate bar, a phone charger, and a little jute pouch with deodorant, tissues and ibuprofen inside.
The most unusual item I carry around with me is my own pipettes, which
are used to add water when tasting whisky. I work with a few different Scotch whisky brands and clients, so they come in very handy for tastings.
Surprisingly I've not had many odd looks when I've brought the pipettes out. I was actually at the Gleneagles Hotel a few weeks ago and got chatting to the bartender about whiskies. I took out my pipette to add a bit of water, and he was quite impressed – I don't think he was expecting me to have my own supply!
My friends do laugh at the amount of stuff I cart around.
---
I carry some of my most treasured possessions in mine, things that I like to have with me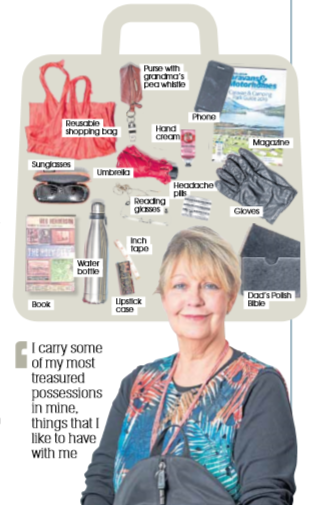 Kasia Sinclar, 60, from Thornhill, Stirling, is in media advertising
I absolutely love handbags. From silk and sequin clutches to designer ones including Mulberry, Louis Vuitton, Gucci and Prada, it's probably fair to say I have quite a collection.
Despite the array, I'm quite particular in my choices. I like real leather and bright, cheery colours.
For work though, I use a much more practical rucksack, largely because there's a fair bit of walking involved in my commute. It's great for all the essentials like my phone, cardholder, book, magazine, water bottle, sunglasses, lipstick, umbrella, reusable carrier bag, reading glasses and lunch. But I also carry some of my most treasured possessions in my handbag, things that I like to have with me all the time.
Like my Montblanc pen, a birthday gift from my husband when I worked in real estate in Dubai. And a Polish Bible that belonged to my father, Stanley. He was Polish and used it for church every Sunday. I can't speak a word of Polish but since my dad passed away suddenly in 1997, I just like to have it with me. It never comes out of the bag, but if it's in there, I feel like a part my dad is with me.
My grandma's pea whistle lives in my purse. My grandfather gave it to her in the 20s when she joined him in India when he was with the British Army. People say my handbag is like a treasure trove, and it probably is.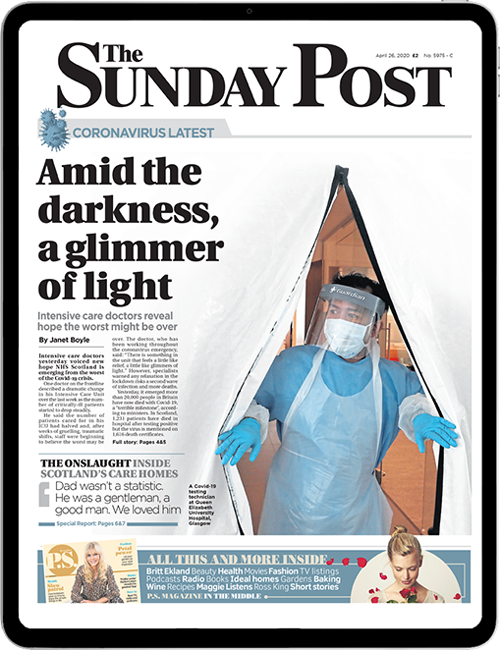 Enjoy the convenience of having The Sunday Post delivered as a digital ePaper straight to your smartphone, tablet or computer.
Subscribe for only £5.49 a month and enjoy all the benefits of the printed paper as a digital replica.
Subscribe