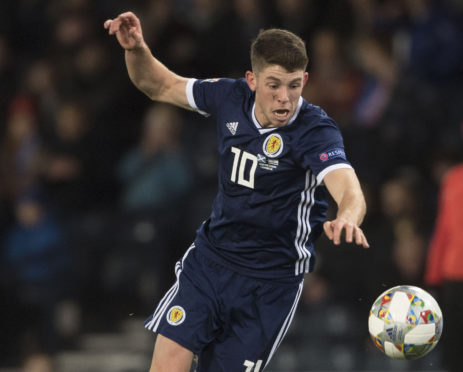 If the loss of three central defenders is the cloud on Steve Clarke's preparations to face Russia and Belgium over the next week, the successful recuperation of an attacker sidelined by a defender is very much its silver lining.
For his opening games as Scotland boss back in June – at home to Cyprus and away to Belgium – Clarke had to make do without the services of Celtic star, Ryan Christie.
The 24-year-old was still recovering from the fallout of a horrific aerial collision with Aberdeen's Dom Ball, which left him with multiple fractures of the eye socket, jaw and cheekbone.
Thankfully, as far as both club and country are concerned, the start of the 2019-20 campaign has seen him not only back, but flying, with eight goals from midfield in his first eight games.
"Ryan has been terrific," said Clarke, a broad smile underlining his sincerity as he looked ahead to the latest of the Euro 2020 qualifiers.
"He really deserves his place in the group because he has done so well to recover from the injury at the end of last season.
"He's come back in a really good place.
"When you look where he was this time last season, he's really grown into that Celtic team.
"He is quick, direct, excites you, gets at people and likes to shoot.
"Celtic found a little position for him before Brendan left where he played a sort of inside-left, free position getting forward.
"I remember going to Celtic Park with Kilmarnock and getting spanked 5-0, which wasn't very nice.
"But for me, Ryan was the catalyst for Celtic at that time.
"He did really well, and kept that form going before picking up his injury against Aberdeen."
As plenty of players have discovered over the years, the international game is a more demanding arena than that of the domestic club game.
With the best will in the world, Christie is not going to enjoy the same sort of time and space playing for a Steve Clarke Scotland team as he does in a Hoops team dominating provincial rivals.
The manager, though, is confident he will do what he has been doing repeatedly in the last few years – rise to the challenge presented him.
"Sometimes you have a No. 10 who is a luxury player. I think Ryan's a little bit more than that," said Clarke.
"If you watch him play, it's not a free role in there behind the strikers because when he hasn't got the ball, he goes chasing after people all the time.
"He's not a tackler, not a ball-winner. But he's always ratting around people. When he loses the ball, he gets after them, he chases around.
"He wants the ball, and never hides.
"Even on a bad day, he will keep looking to get on the ball, and look to make things happen in the final third of the pitch, which is great.
"Sometimes he maybe overplays a little bit in areas where he shouldn't.
"But as he gets older and wiser, Ryan will learn when to play and when not to play.
"But we have good options in the midfield and forward areas."
One, at the opposite end of the experience scale, is Steven Naismith of Hearts, who is hoping to win his 50th cap across the double header.
"Steven is on 49 appearances and nine goals, so it would be great if he could move those numbers to 50 and 10, wouldn't it?" said Clarke.
"I think he's a terrific player. When Hearts don't have him in the team, they're not quite as good.
"I actually tried to sign him twice – the first when I was manager of West Bromwich Albion, and again at Kilmarnock. But we couldn't get it done either time.
"When I got the job with Scotland, he popped in to see me to apologise for that!
"He was injured at the time, but came in to say how desperate he was to play again for Scotland.
"He told me that as soon as he was fit, he wanted to be involved.
"It's always nice when you have someone who is desperate to play for you."
"I know Steven quite well, and he's as good as gold."
In addition to the pledges of players eager to help the cause, 56-year-old Clarke revealed he has also been receiving the support of his managerial peers in the international arena ahead of what he describes as "10 days of madness" across the training camp and matches.
"I have bumped into Gareth Southgate, Ryan Giggs, Michael O'Neill (coaches of England, Wales and Northern Ireland respectively) when I've been out at games – and none of them have told me to get lost yet! So that's good.
"I've known Gareth a long time, and I had tussles with Ryan on the pitch. Michael is a great guy, too.
"They are all good people, and we've all got a little bit of empathy because we're all doing a similar job.
"If we can help each other, great. And if we get drawn against each other in the future, we'll deal with that at the time.
"They have been telling me how intense it will be, and what to do with the down time.
"I'm picking up bits of experience like that, trying to get my teeth into the job.
"It'll be full-on, but I'm looking forward to the challenge.
"I want to make the Tartan Army happy and qualify for a major tournament. That's the goal."
It is an ambition which, as the last 20 years have shown, is easier talked about than achieved.
The games against Russia and Belgium, on Friday and Monday week, are both at Hampden Park.
However, with Belgium topping Group I with a perfect four wins out of four, and Russia second top with three victories out of four, the country will – somewhat unusually – not go in too overburdened by the weight of expectation.
"I wouldn't say it helps us that we're not expected to win these two games," insisted the national coach.
"Why? Because we're going to put ourselves under pressure to get points from the next three games.
"The number of points we get from these matches, plus Russia away after that, will determine whether the last three group games will be about pushing to qualify or preparing for the Nations League play-offs.
"It's difficult to say exactly how many we will need.
"If we go down the route of saying, 'We have to get this', then don't get it, you end up disappointing yourself.
"Everyone will say, that's us done. But you never know what will happen in the next few games.
"Hopefully we'll pick up enough points to stay in contention, then we can attack the final games with relish.
"Russia are a good team, who did very well at their home World Cup.
"But we have to think and believe that we can cause them a lot of problems, especially at Hampden.
"If we can get as many people at the game as possible to get behind the team – realising how important these games are for us – the bigger the belief it will give the players."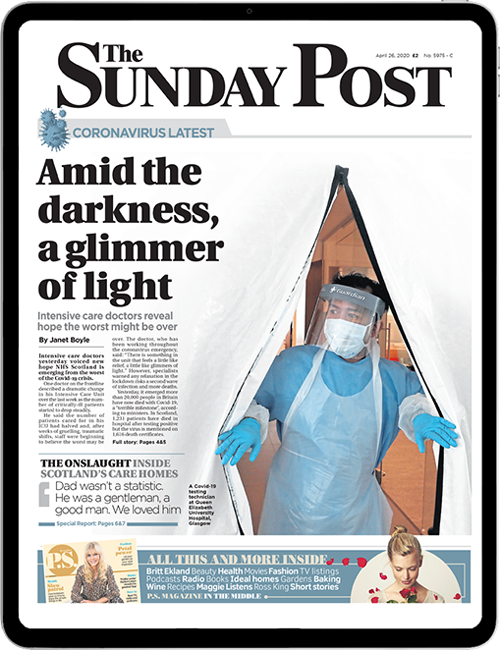 Enjoy the convenience of having The Sunday Post delivered as a digital ePaper straight to your smartphone, tablet or computer.
Subscribe for only £5.49 a month and enjoy all the benefits of the printed paper as a digital replica.
Subscribe