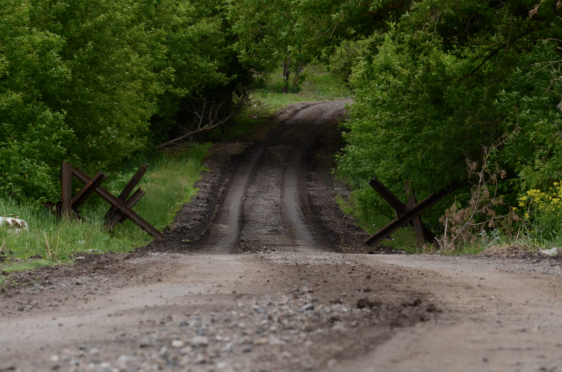 Trying to salvage what's left of the wrecked and ruined homes in villages around Kharkiv is hard enough but for many, far worse than the bomb damage and threat of mines hanging over them, is fears for missing relatives.
Anatoliy Shkuro, 67, should be at home in Vilkhivka, spending time with his little granddaughter Daniela. Instead he is 100 miles away in Russia.
He was one of up to 90 villagers who were taken by Russian troops across the border at the end of March. The soldiers had told them they were about to bomb the village as Ukrainian forces approached, and the residents thought they were going to safety in a Ukrainian town nearby – only realising what was happening when it was too late.
In Russia their phone sim cards were taken away. Some were told not to contact relatives in Ukraine. But Svitlana Shirina, 36, did manage to speak to her father shortly after he arrived in the Russian city of Belgorod. "He really cried that day, especially when he heard the voice of his granddaughter," she recalled.
The little girl is four years old. "He said he's afraid that he might never see her again."
While some of the Vilkhivka residents taken to Russia have managed to make it back to Ukraine in a circuitous route through the Baltic states, Shkuro is, for now, stuck in Russia. He doesn't have his passport.
Trying to piece together what really happened on March 28 in Vilkhivka is made difficult by the fact that very few people remain in this shattered village. Of those who do, many are too scared to speak. "What if the Russians come back, and I've been talking to you?" a man shouted, giving voice to a common fear here.
Another difficulty is that Vilkhivka was completely cut off during the Russian occupation: phone masts were sabotaged, no news in or out. So, when Svitlana's father was being put into a military truck bound for Russia, she didn't know. After enduring weeks of Russian occupation and shelling, she'd taken her little girl and fled to a city to the west of Kharkiv on March 10. Anatoliy wouldn't go with them.
"He wanted to stay with the house, feed the dog. He said he was too old," she explained.
Nearly three weeks after she left, she got a call. "A guy from a neighbouring village said they'd taken all these people – including my father. I cried and cried."
The family have relatives across the border – like so many here in north-east Ukraine, Svitlana is half-Russian. Movement across the border used to be common, family and trade ties strong. Her father ended up being taken in by a cousin in Gubkin, north of Belgorod.
"On the one hand I'm just so happy he's alive," she said. "But he's afraid he'll have to stay there a long time. He just wants to come home. My father still doesn't understand why they did this," she added, furious. "And I don't understand. For what purpose?"
The Sunday Post found some residents in Vilkhivka who managed to escape the deportation, realising the artillery warning was a trap. Irina Polevik, 70, was having lunch with her family on Studencheska street when the Russian soldiers came and said they were going to conduct an airstrike on the village that same day, and everyone should leave immediately.
"They said it would just be a few hours," Polevik said. Abandoning their meal, they were herded to the end of the street by Russian soldiers. There, at the edge of the village, about 80 people were waiting anxiously. None had time to pack a suitcase – some, like Anatoliy Shkuro, didn't even have their documents. He'd left in such a panic, his daughter explains, that he hadn't been able to find the bag with the passport in it.
Also in the crowd was Nikolai Mukhin, Polevik's neighbour. The quiet 64-year-old was in tears as he described that day. His granddaughter, eight years old, took his hand. "She was afraid. She said, 'Granddad, are they coming to kill us?'. I calmed her down."
The soldiers, he said, told them they'd be put on a bus to a safe place – a school or a kindergarten – just while the bombing lasted, but that they should go first to a neighbouring village. This meant a nearly-four-mile trek north along the dirt track to Verkhnaya Rohanka.
They passed trenches, checkpoints and tanks, unaccompanied but watched by silent Russian soldiers from the roadside. "They were sitting behind their armoured vehicles," Mukhin said. "Just the helmets visible. They looked like mushrooms."
For Polevik, the memory of the long walk is traumatic. "There were old people, leaning on sticks. How did they manage? My heart was aching. Invalids too. It's impossible to describe – I can't speak without tears," she said.
In Verkhnaya Rohanka the promised buses did not materialise, and the two neighbours grew suspicious. "We told the people waiting: Don't go, they're taking you to Russia," Polevik recalled. They and about 20 others left, slipping into local houses to hide.
Mukhin says he watched from behind a fence as, 20 minutes later, two Russian military trucks with canvas rears arrived and the people from Vilkhivka were loaded on.
It seems the villagers were then taken to a Ukrainian town – albeit one under Russian occupation – as Shirina recalled from conversations with her father. But in this town, Vovchansk, they were transferred to buses, and then went straight to Belgorod without stopping.
"The Russians made documents for them at the border," she said, but added that Shkuro, her father, has refused refugee status, and is waiting with growing desperation for the temporary documents he needs to get out of the country.
"Some of those who had documents got to Germany, Estonia, Latvia, Poland," she explained.
Outside the village hall, which is badly damaged by shelling like almost every structure in Vilkhivka, a line of people waited for humanitarian aid. Asked about the deportation rumours, a woman breaks down in tears. "They took my aunt and niece," she whispers, and can't talk further. A man told The Post that "whole families" were taken on the trucks and then buses, ending up in filtration camps in Voronezh.
The practice of removing Ukrainians to Russia – whether in the guise of taking them to safety, or as outright deportations – has been well-documented in places like Mariupol already, and evidence has emerged that some are sent to remote corners of Russia, making it hard for them to get home. The Ukrainian Parliament's commissioner for human rights, Lyudmyla Denisova, claimed that almost two million people have now been taken to Russia.
Russia maintains that the removal of Ukrainians to Russian soil has been part of evacuation efforts.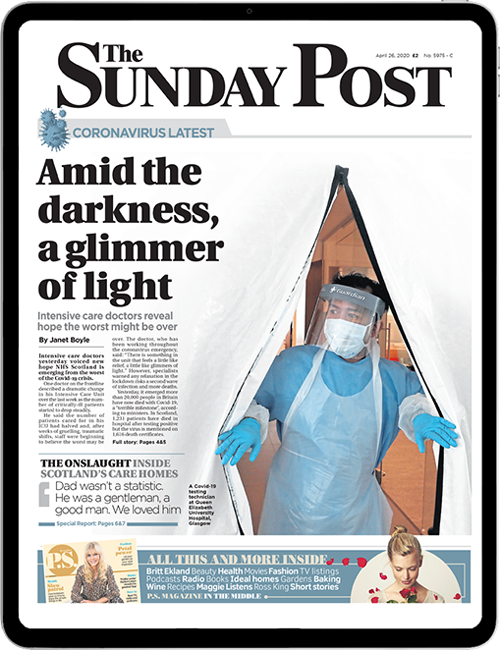 Enjoy the convenience of having The Sunday Post delivered as a digital ePaper straight to your smartphone, tablet or computer.
Subscribe for only £5.49 a month and enjoy all the benefits of the printed paper as a digital replica.
Subscribe