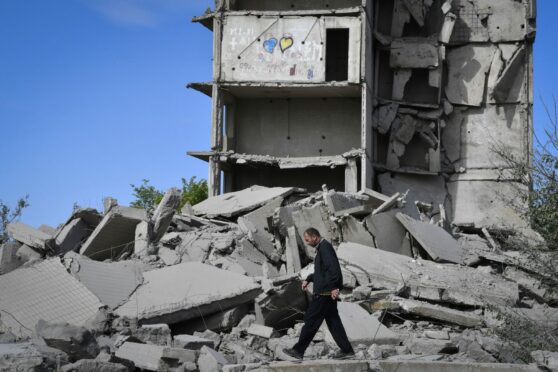 A Ukrainian MP has issued a desperate plea for more military support from the West as Russia intensifies attacks on land and from the air.
There has been fierce fighting and airstrikes across the contested Donbas region and near Odesa in the south west where two people were injured. Russian troops have blown up bridges and shelled apartment buildings as they fight to capture Severodonetsk and neighbouring Lysychansk – the last major areas of Luhansk province still held by Ukraine.
Russian strikes killed four people, including a mother and child, in the nearby village of Hirske, regional governor Serhiy Haidai said.
And a huge fire broke out in the wooden Sviatohirsk Lavra Monastery. A Ukrainian army officer, Yurii Kochevenko, posted a photo of the burning monastery on Facebook, with the caption: "Another crime of Russian barbarians for whom there is nothing sacred."
The latest Russian attacks are central to the Kremlin's reduced wartime goal of seizing the entire Donbas region, where Moscow-backed separatists have fought Ukrainian forces for eight years and established self-proclaimed republics.
In an intelligence update, the UK's Ministry of Defence (MoD) said Russian air activity remained high, with both guided and unguided munitions used, resulting in civilian casualties.
Inna Sovsun, former education minister, renewed calls for the West to supply fighter jets. She said: "We need to control the sky…we just got reports this morning of Russian planes hitting targets in the south as well as in the north east. We don't have the planes to control the skies." The MP also appeared to criticise delays in sending multiple launch rocket systems, or MLRS – mobile units that can simultaneously launch multiple missiles.
There were concerns in the West that sending the long-range weapons which could reach into Russia could escalate tensions between Moscow and Nato.
Sovsun said: "We are getting a lot of weapons from the West – from the US, the UK, the EU – but it's still no match for what the Russians have.
"What we're basically having is this war of technology, of equipment. We, unfortunately, do not have superiority right now and that is very clear in the east. We need MLRS and we have been asking for that for months now. Unfortunately, only now this discussion has been held. I'm absolutely sure, if we'd got those a month ago, the situation in Severodonetsk and other cities and towns in Donbas would have been very, very different.
"But trust me when I tell you we have no plans to hit Russian territory. We are in a defence war and the only thing we're doing is defending our land."
The MoD said yesterday that Russian stocks of precision-guided missiles have likely been depleted but air activity remains high.
In an intelligence update, it said: "With its operational focus switching to the Donbas, Russia has been able to increase its employment of tactical air to support its creeping advance, combining airstrikes and massed artillery fires to bring its overwhelming firepower to bear.
"The combined use of air and artillery strikes has been a key factor in Russia's recent tactical successes in the region.
"The increased use of unguided munitions has led to the widespread destruction of built-up areas in the Donbas and has almost certainly caused substantial collateral damage and civilian casualties."
Ukrainian President Volodymyr Zelensky said last week that enemy forces now controlled almost 20% of the country's territory. Before the war, Russia controlled 7%, including the Crimea Peninsula and parts of the Donbas. But in a video message marking the war's first 100 days, Zelensky made it clear Ukraine would not submit easily.
"We have defended Ukraine for 100 days already," he said. "Victory will be ours."
US President Joe Biden, meanwhile, believes there's going to have to be a negotiated settlement to end the war. Asked if Ukraine should give up territory in exchange for peace, the president said: "It's their territory", adding: "I'm not going to tell them what they should and shouldn't do."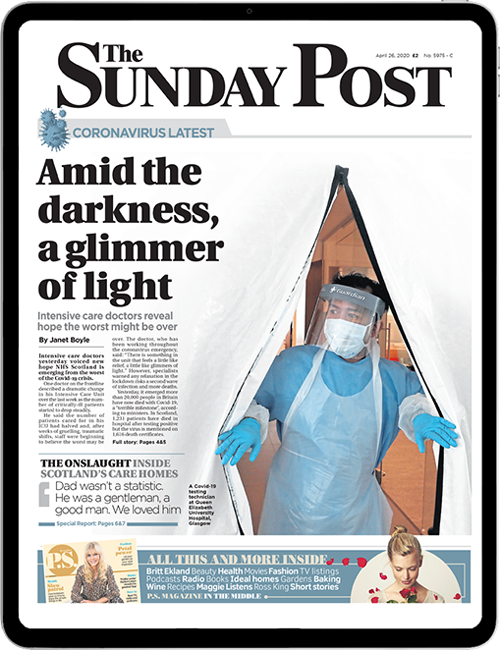 Enjoy the convenience of having The Sunday Post delivered as a digital ePaper straight to your smartphone, tablet or computer.
Subscribe for only £5.49 a month and enjoy all the benefits of the printed paper as a digital replica.
Subscribe