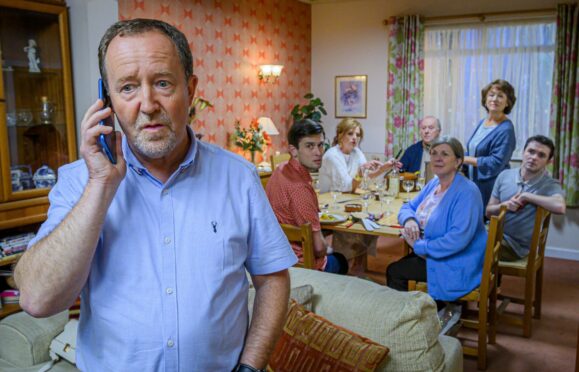 They were the self-styled king and queen of Latimer Crescent. Colin and Cathy – smug, boastful, selfish, rude and often wholly inappropriate – were guaranteed to make their neighbours and viewers squirm in hit sitcom Two Doors Down.
But now Cathy, played by Doon Mackichan, is gone and, according to Jonathan Watson, who plays her long-suffering but almost as insufferable husband, her exit means a new era for his hen-pecked, humiliated character.
Based in the south of England, the time spent away from home filming the series in Dumbarton led Mackichan to make the tough decision.
He said: "It was after we finished the fifth series that Doon called and told me. It was disappointing to see her go. As an actress I've a huge amount of respect for her and I really loved working with her, but I've been in this career for a long time and had jobs where people fancy a change of direction or whatever, and you have to respect that and move on.
"The writers, Simon Carlyle and Gregor Sharp, knew for some time that she wouldn't be joining us, so it wasn't a rush job trying to think of the storylines. It gave them a new-found freedom with Colin and they got a lot of new ideas and inspiration from it."
Now in its sixth series, the comedy about the residents of Latimer Crescent became a favourite on iPlayer during lockdown, with each new series securing bigger viewing figures on BBC2, where it airs across the UK.
In this week's opening episode, Colin is a mess without Cathy. He's not looking after himself and the empty bottles are building up around the house, until the long-suffering Beth and Eric – played by Arabella Weir and Alex Norton – invite him round and attempt to spark new life into him.
"With what has happened to him, viewers will see another side to Colin, which was good fun to play. It's very much a different journey from before, but Simon and Gregor gave me great storylines, which I loved. I think you'll soon see bits and bobs of the old Colin coming back – it's fair to say he finds his feet quite quickly."
With the announcement that another star of Scottish screen and stage, Siobhan Redmond, will join the cast mid-series, there is mounting speculation that Colin might even find a new love.
He is enjoying the drama and happy about the show's slow-burning success after it debuted at Hogmanay in 2013.
Initially, Watson believes the response might have been a little muted because of another BBC Scotland comedy juggernaut, Still Game.
"When the first series came out, it was around the same time that Still Game was rebooted and I think a lot of the focus was on it and we suffered as a result," he said. "We didn't get the coverage we maybe deserved.
"We always did not too bad in the ratings – before Covid, it was the most-watched comedy on BBC2, so it's always had a good fan base – but certainly in the past three years it has taken a jump. It was a bit of a slow burn but things have accelerated. During Covid, a lot of people discovered it on iPlayer, including the 18 to 25 age group latching on to it, and that has helped it to build and build.
"I can't believe the number of people who stop me in the street to talk to me about it. I was in Wales doing Doctor Who during Covid, and I was walking along the street with a mask on, my glasses on, and all hooded up, and people stopped me to ask when it was coming back. The only other time I've had anything like that was in the late 1980s and early-90s with Naked Video if I was down in London, but this now is a different level."
Two Doors Down isn't the first long-running TV show Watson has been a part of alongside his co-star Elaine C Smith, with whom he graduated from the Royal Conservatoire in 1979.
He said: "Elaine and I are fortunate. The first network success we had was Naked Video and there were so many offshoots from that, like Only An Excuse? and Rab C Nesbitt, and also City Lights to an extent, as its writer Bob Black was involved in Naked Video's writing team."
Watson, who has been married to wife Celine since 1999, was part of the initial Two Doors Down line-up, which was intended to be a one-off for Hogmanay.
"When I met the writers for the role, I had a pretty good idea of how I wanted to play the character and it fitted in with what they were after, so I got it straightaway," he continued. "It wasn't a pilot episode but it went down so well that the series was commissioned and then Elaine joined us for that, which was a wonderful addition."
This has been a busy time for Watson. He is working on two dramas that will be completed by Christmas but which he cannot name as he hasn't been officially announced for either yet, and he also has a few jobs to look forward to after the festive period.
"So we're in a good place – we always keep chuntering along," he added. And he's hopeful of yet more series of Two Doors Down to come.
"You never want to tempt fate but as long as the scripts are there and everyone enjoys doing it, why not? I'd certainly be more than happy to be a part of it for some time to come."
---
Two Doors Down, BBC2, Wednesday, 10pm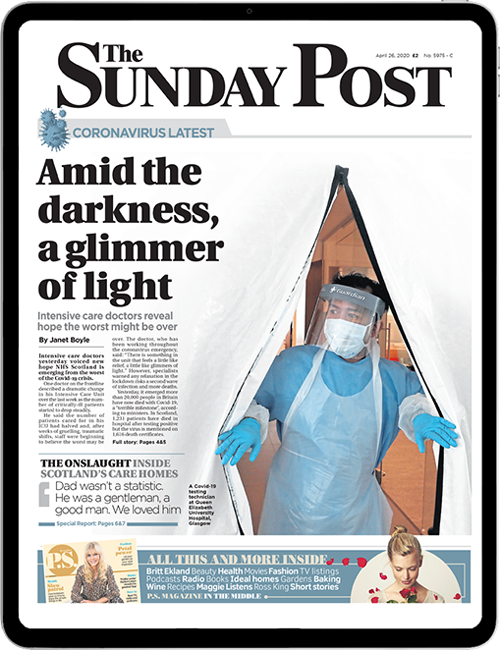 Enjoy the convenience of having The Sunday Post delivered as a digital ePaper straight to your smartphone, tablet or computer.
Subscribe for only £5.49 a month and enjoy all the benefits of the printed paper as a digital replica.
Subscribe