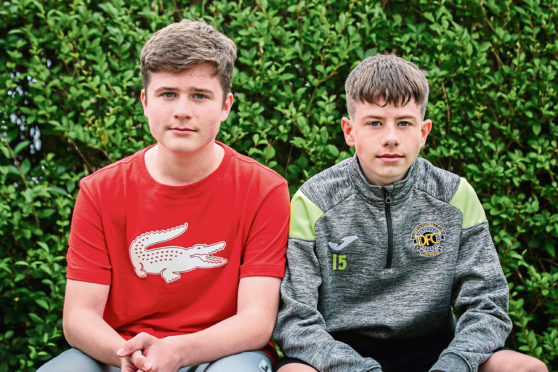 When twins Declan and Calum Ring's mum Claire died from cancer, the brothers made a promise to honour her memory by doing their very best in life.
Claire lost her battle against breast cancer in July, leaving 14-year-old Declan and Calum, and younger brother Charlie, 11.
The boys are now being looked after by their dad Darren.
Now the older boys, who attend St Andrews High School in their home town of Coatbridge, have spoken movingly about their loss and their determination to do the best for themselves and others, in her memory.
Declan is keen to talk about his mum, saying: "We were expecting mum to pass away after the news that she wouldn't survive.  It prepares you in some way to cope.
"It helps to speak about her.  We all promised that we would work hard and pass exams for the courses and jobs we want to do.
"I want to be a paramedic and help others in a medical emergency.  It would be a really rewarding job where you made a huge difference to other people's lives.
"We have to accept that nothing can change that she has died. Now we have to do something really good with our lives."
Calum is focussing on using his love of maths to get a career in joinery or engineering.
"I am interested in the way everything in life is constructed and a lot of maths goes into that.
"It's just about getting the grades to get into those kind of jobs. We were prepared for mum passing away, if anyone can ever be prepared."
Calum plays right back for Dunbeth, his local football club, and is happiest on the football field.
"Some teams are tough opposition but we win our share of games."
Dad Darren, 46, said: "Claire was diagnosed five years ago and survived the cancer until late last year when it returned.
"She had bilateral breast cancer and the diagnosis was terminal as it had spread extensively. There was little that cancer treatment could do.
Although he and Claire were separated, he is still very much grieving for his loss and what his boys are having to endure.
But even as they deal with their loss, they have been trying to focus on helping other families dealing with a terminal illness.
They have been raising money for their local hospice, St Andrew's in Airdrie.
Darren said: "Claire never got to spend any time there because she felt it was better to shield from Covid by staying at her parents' home. "However, we are acutely aware of what other families go through and helping them is our way of coping."
Testament to that has been the twins' climb of Ben Ledi for other families facing the same heartbreak.
Last Sunday Declan and Calum posed along with friends at the summit or Ben Ledi, their first big hill climb.  Once at the summit of the 2,880 feet Corbet, they took a few moments to cheer and celebrate that they had helped others.
"It was tough for those of us who are not used to hill climbing," said Darren.
"But it does make you want to scale more.  If you get decent weather the scenery over the Stirlingshire hills is stunning."
The ascent was led by the football team's parents, including family friend and team coach Scott McCloy.
"I knew Claire and Darren since we were all teenagers. She is missed immensely by everyone who knew her."
The football team has also been helping the boys cope, joining in fundraising for St Andrew's Hospice and giving the boys a holiday after Covid, with a total of £4,000 collected so far.
"They have been kindness themselves," says Darren.
"It's at times like these you value the kindness and support of friends.
"They make it so much easier to bear an I know the boys feel the same."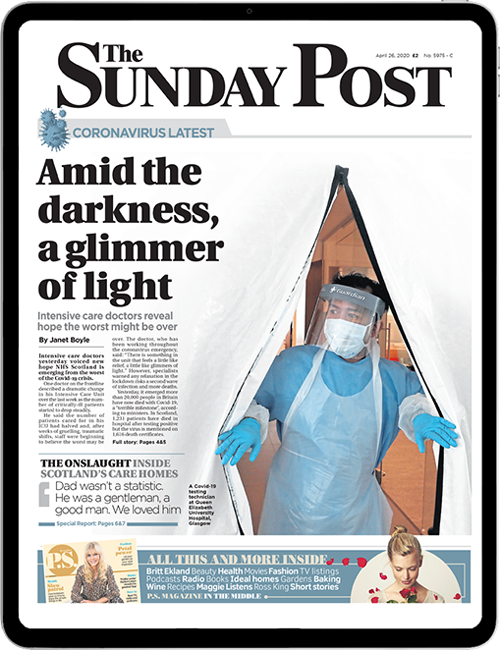 Enjoy the convenience of having The Sunday Post delivered as a digital ePaper straight to your smartphone, tablet or computer.
Subscribe for only £5.49 a month and enjoy all the benefits of the printed paper as a digital replica.
Subscribe