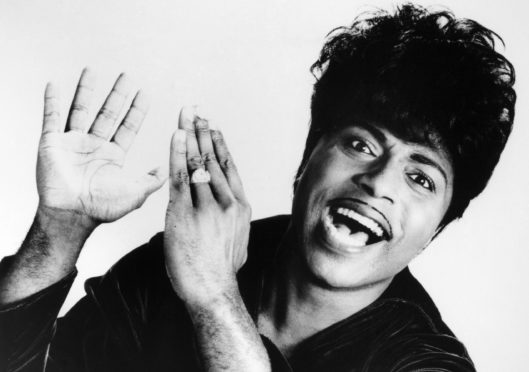 Superstars hailed rock'n'roll legend Little Richard yesterday after his death aged 87.
The trailblazer, who recorded a string of classics including Tutti Frutti, Long Tall Sally, and The Girl Can't Help It, inspired a string of musicians.
His towering pompadour, make-up, dance moves, and high-energy stagecraft secured him a place in the all-time pantheon of rock 'n' roll greats.
And yesterday some of the world's biggest stars saluted the singer, known as the Georgia Peach and the self-proclaimed architect of rock 'n' roll, after his death of cancer at his home in Nashville, Tennessee.
Rolling Stones guitarist Keith Richards said: "So sad. There will never be another! He was the true spirit of rock 'n' roll!"
His band's frontman Mick Jagger said Little Richard had "contributed so much to popular music" and told how he would "watch his moves" to learn from them when they toured together.
Sir Elton John said the pioneering rock 'n' roller was "without doubt my biggest influence".
In Scotland, artist and writer John Byrne, 80, paid tribute to the star, real name Richard Penniman, whose biggest hit he borrowed for the title of his acclaimed TV series Tutti Frutti, starring Robbie Coltrane and Emma Thomson, and telling the story of Scots rock 'n' rollers The Majestics. The song's famous "Alopbopaloobop Alopbamboom" became a rock 'n' roll clarion call.
He said: "He will be sadly missed. He was a brilliant musician, a brilliant player and brilliant singer. I loved the song Tutti Frutti so I decided to borrow the name from him. The song was exactly the type of rock and roll music which the band in the series played.
"Little Richard was a rock 'n' roller par excellence. His music was raw, dynamic and wonderful.
"People like him and Chuck Berry were the inspiration behind so much which followed. They had such an influence on so many people. His death is a great loss."
Little Richard's high-velocity music, that mixed soul, rhythm and blues, and gospel, his dance moves, and his sex appeal, inspired a raft of superstar acts from The Beatles and Prince to James Brown and Jimi Hendrix.
Veteran singer Sydney Devine revealed he once came second in a talent competition – to rock wildman Alex Harvey who performed a version of Little Richard's Long Tall Sally.
Sydney, 80, said: "I remember doing a competition when I was about 15 or 16 to find Scotland's answer to Tommy Steele, who was the big thing at that time.
"Most of us were singing blues songs – and then a fellow called Alex Harvey came in and launched into his version of Little Richard's Long Tall Sally. He just wrecked the place with it.
"Alex came first and I was second but I have to say his performance was memorable. Little Richard was such an influential artist.
"He was at the forefront of so much, along with people like Fats Domino, and had such an influence on the careers of so many people, including me.
"He contributed so much and, who knows, without Little Richard there may not have been an Elvis Presley or The Beatles."
Creation Records founder Alan McGee, the man who discovered Oasis, said: "Sadly one of the real rock n rollers is gone." Born on December 5 1932, in Georgia, Little Richard was one of the rock 'n' roll pioneers launching a string of hits with Tutti Frutti in 1956.
A fireball – later found to be the launch of a Russian space satellite – he took as a sign from God saw him give up music the following year and he veered from religion and gospel to drugs and rock 'n' roll through the decades to come. His place amongst the greats was secured by the incandescence of his early hits.
Never knowingly modest, he once said: "I am the originator. I am the emancipator. I am the architect of rock 'n' roll!"
He still performed periodically in his final years and passed away yesterday, his death confirmed to Rolling Stone by his son Danny Penniman.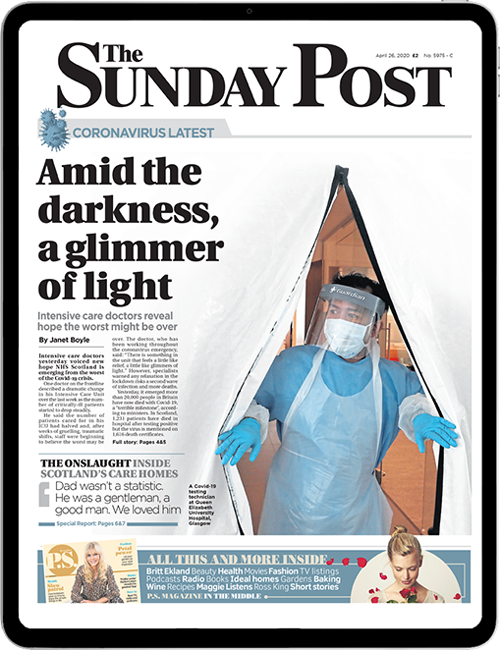 Enjoy the convenience of having The Sunday Post delivered as a digital ePaper straight to your smartphone, tablet or computer.
Subscribe for only £5.49 a month and enjoy all the benefits of the printed paper as a digital replica.
Subscribe