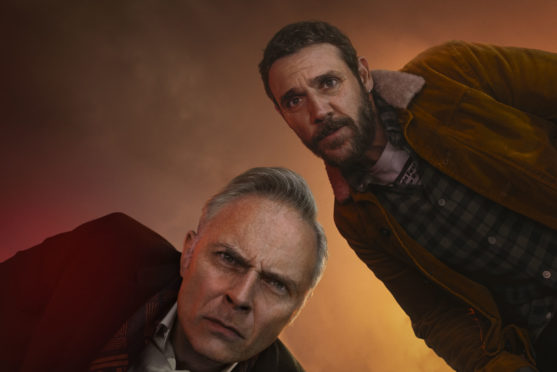 It will celebrate its first birthday tomorrow but will viewers be wishing the BBC Scotland channel many happy returns?
There have been hits, like the acclaimed drama Guilt. And there have been misses – WonderBall, for example, described by one critic as the "worst game show ever". But most critics think the channel has made a fist of it in an increasingly competitive contest for viewers.
With an annual budget of £32 million to produce five hours of TV each night, the channel's mission was to showcase Scotland's culture and diversity, with a flagship hour-long news show at 9pm.
But, despite some worryingly low figures for shows including The Nine, the digital channel has cause to celebrate its first birthday, according to media experts.
The latest figures from the British Audiences Research Board show the channel is watched by 2.6% of TV viewers in Scotland. Industry expert Max Goldbart, of Broadcast magazine, said: "That doesn't sound a lot but it is the top-performing digital channel in Scotland outside BBC1, BBC2, STV, Channel 4 and Channel 5. In its first 12 months, that's a pretty good effort."
Mr Goldbart said both BBC Scotland's first original drama, Guilt, and documentary, Inside The Murder Trial: The Disappearance Of Margaret Fleming, had been well received and later shown UK-wide on BBC2. Meanwhile, BBC Scotland-commissioned programmes such as Test Drive, a motoring-based quiz show hosted by comedian and wrestler Grado, have been sold overseas by their production companies.
He said: "The main area BBC Scotland will be keen to improve, certainly in terms in ratings, is The Nine. It is getting pretty low ratings of between 20,000 and 30,000 people a night, which doesn't come anywhere near the number of people in Scotland watching BBC News at Ten.
"People's viewing habits at 9pm tend to be driven towards watching a drama or returning series. If it was to move to 10pm, it would be in direct competition with the UK-wide News At Ten, and you can't imagine that is going to happen anytime soon. The Nine has been a bit of a problem, but one of the main reasons for the formation of the BBC Scotland channel was to have dedicated news."
BBC Scotland director Donalda MacKinnon announced her retirement last week not long after director general Tony Hall signalled he was also stepping down as the BBC hurtles into a period of turbulence as Downing Street promises renewed scrutiny of the licence fee.
Mr Goldbart said any threat to replace the licence fee with a Netflix-style subscription could be perilous for BBC Scotland. He said: "The BBC has already been clear nations and regions programming would be hit if it moved to a sub model. The government has been quite clear a subscription model is a very long way away, but I think BBC Scotland would be one of the first channels or departments in the firing line."
But David Hutchison, honorary professor in media policy at Glasgow Caledonian University, said BBC bosses in London would be wary of cutting resources north of the border.
Prof Hutchison said: "If we got into a situation where the BBC was really short of revenue, then they would have to look at everything they do. But I think it would be politically extraordinarily difficult for the British Broadcasting Corporation to close the BBC Scotland channel. The politics of that would be dreadful. I suspect it might be the last thing to go."
He feared BBC Scotland had not been given enough money for quality programming when launched a year ago, but said: "Like many others, I thought this channel wouldn't have the money to produce drama because it is so expensive. But Guilt was well received."
In 2008, a Scottish Broadcasting Commission recommended a digital channel north of the border with a budget of £50m-£75m a year.
Prof Hutchison said: "BBC Scotland is running a channel on half of what the commission thought was necessary over a decade ago."
He suggested the Scottish Government could help to boost the channel's budget. He said: "One doesn't see more money coming from the BBC for the Scottish channel, but there is nothing to prevent Holyrood subtly finding ways and means of making money public money available for the enhancement of television and film production."
Scottish Conservative media spokesman Maurice Golden said: "It's clearly not been the opening year BBC bosses and licence fee payers would have hoped for. The next 12 months really need to see an improvement in viewing figures. There are some very talented people working at the BBC, and their work deserves to be seen by more viewers."
The BBC said: "BBC Scotland has been watched by 825,000 every week since launch, which is above the BBC's own projections. Channel programmes received five BAFTA Scotland awards just months after it launched.
"Overall, the channel is adding a more socially diverse audience to the BBC portfolio and requests to view BBC Scotland programmes on the iPlayer have risen 125% to more than 62 million in 2019."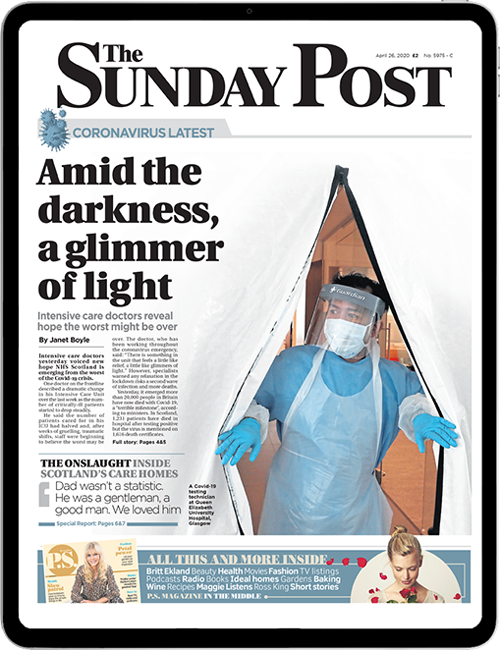 Enjoy the convenience of having The Sunday Post delivered as a digital ePaper straight to your smartphone, tablet or computer.
Subscribe for only £5.49 a month and enjoy all the benefits of the printed paper as a digital replica.
Subscribe