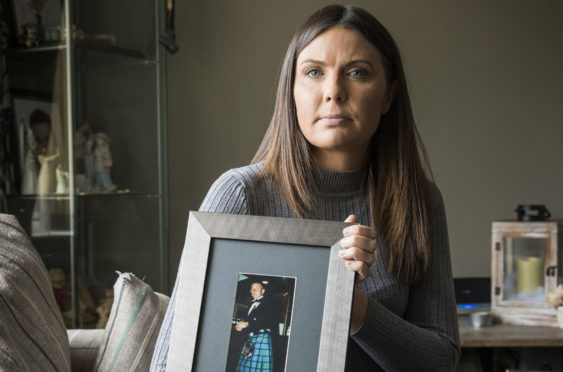 The daughters of a worker dragged into heavy machinery while resurfacing roads are ­calling for his death to be ­re-investigated 18 years on after new information emerged.
John Woods was just 37 when he was killed while working on a road at an explosives plant at Ardeer, Ayrshire, in April 2002.
A Fatal Accident Inquiry found John's death was an accident, but concluded it "may never be known" how he was pulled into the machine.
John, from Hurlford, died instantly, crushed to death by the heavy tungsten teeth of the machine that digs down into the road surface and lifts the top four-inch layer.
But his daughters – Natalie McKeown and sister Dionne Chance – have been given fresh hope after new witnesses came forward following their emotional speeches at a memorial last April for the 531 Scottish workers who have died doing their jobs in the past 20 years.
Mum-of-two Natalie, 36, said: "We've never been able to come to terms with what happened to our dad because he was always extremely safety-conscious, and that just did not add up with how he was killed.
"His death was such a shock, we found it very hard to speak about it. But when we were asked if we wanted to address last year's memorial for workers killed doing their jobs, we decided the time was right.
"We believe we have new evidence regarding the safety operation of the plant machinery, and we will be asking the Health and Safety Executive to re-examine the case."
John was a foreman at Ayrshire firm Hamilton Tarmac. The inquiry heard only one other worker was present when he died.
In his findings, Sheriff William Dunlop said: "No dangers were anticipated as the drum was covered by a guard and it was impossible to come into contact with it unless one practically lay down in front of the machine."
He said that the one witness saw the respected foreman dismount the machine as it was moving slowly backwards.
John, who was carrying a shovel, "disappeared" into the front of a machine, and a scream was heard.
Sheriff Dunlop said in his ­summary that the witness "was able to stop the machine by operating a lever, but did not know, and had not been instructed in, how to stop the drum". The evidence showed John had been killed instantly.
No defects were identified on the machine. But Natalie said: "After our speech, two former road workers came forward and gave us evidence that appears to contradict some of what was said at dad's Fatal Accident Inquiry.
"We are in the process of ­pressing government safety investigators to see if his death can be reopened to consider what we have been told about the operation of safety aspects on plant machinery. Dionne and I were not invited to be at the FAI, so all we have are the papers that say dad was pulled into the road planing machine and crushed to death. But we believe the new evidence we have found is strong enough to merit a new investigation."
The girls say they remain "deeply traumatised" by the death of their loving dad. Natalie said: "Losing him in such a horrific way has left a gaping hole in our lives which we still feel every single day.
"What happened was so traumatic, it broke us. We believe dad would want us to continue fighting to have the circumstances fully investigated, not just for him, but for other road workers who could be affected by what we have discovered."
Natalie and Dionne are being supported by ­campaigner Ian Tasker, of workplace safety charity Scottish Hazards.
He said: "We believe there are still a number of unanswered questions that need to be looked at in light of this new evidence. John's daughters have been excluded and let down by the justice system."
The tragedy meant John never got the chance to walk either or his daughters down the aisle. And now Natalie and Dionne are both mothers, they feel the pain of not having their dad around to see his grandchildren grow up.
Natalie said: "Our mum had to walk us down the aisle instead of dad. And knowing he never got a chance to play with his grandchildren hurts."
Kenneth Balfour Long, of law firm Mellicks, for Hamilton Tarmac, said: "The tragic events when John Wood, an employee and friend of Hamilton Tarmac, died during the course of his employment will never be forgotten by all those affected, and in particular John's family.
"Hamilton Tarmac participated fully in the subsequent Fatal Accident Inquiry. Having fully explored the facts, it made no adverse finding against Hamilton Tarmac."
Patrick McGuire, senior partner at Thompsons Solicitors said: "John Woods's daughters have already waited far too long for their questions to be answered. We are actively pursuing every avenue for them."