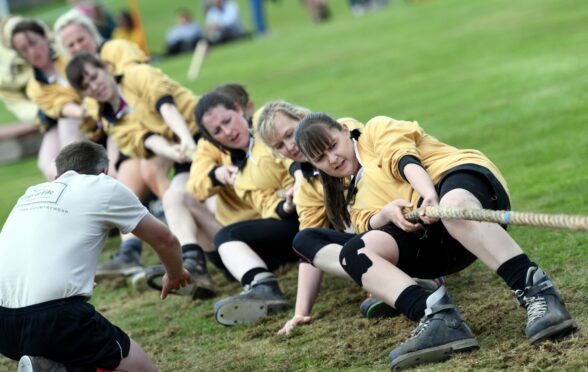 Images of huge, burly men with sweat dripping down their grimacing faces yanking each other to the ground has often been more than enough to drive women away from joining their local tug o'war teams.
But, in Cornhill, something different is happening.
"We have more women involved than ever before," said Catherine Bain, who has been pulling in tug o'war teams for 25 years.
"We actually have more people on our women's team than on our men's team, which is unheard of. In previous years I would drive all the way from Aberdeen for training and there would be three or four of us there."
Cornhill women's tug o'war team is made up of 18 women with ages ranging from 15 to 50, weights from 50 kilos to over 100 kilos and professions from farmers to financial advisers.
Not one of the 18 is afraid to get their hands dirty – literally – for a sport they love.
"We don't have nice, ladylike hands. They're all rough and calloused from the rope," said Catherine. "We clean our hands with white spirits after we have had sticky stuff on them for grip, but if you don't get it all off properly you end up in work the next day with everything sticking to you."
A common misconception about tug o'war is that the skill is in upper body strength, but Catherine explained why that is not true.
"Your arms only really keep you attached to the rope," she said.
"It's all about having strength in your legs and working together so that we all step back at the same time. We train by pulling a barrel filled with weights up and down a pulley system on a tree. We've been doing it on sand recently – that really burns."
Catherine thinks the high numbers the Cornhill team is enjoying could be due to the popularity of the sport in the Young Farmers community. She said: "Tug o'war is a big thing in the Young Farmers world so a lot of young women come to it through that. I think there's a bit of a buzz for it in the north-east at the moment. But there are also a lot of older people who just found it as a way to keep fit."
Another reason why Cornhill specifically has been so successful in signing up, and keeping, women is its success rate.
At the recent Scottish Tug of War Championships at the Stonehaven Highland Games, Cornhill tug o'war team won all five men's weights and all four ladies' weight categories for the first time ever. This means both will now go on to represent Scotland at the British and Irish Championship in Elgin in August and then the World Championship in Switzerland just three weeks later.
"We've been training really hard," said Catherine. "And because we have so many people turning up, training is better. We're not begging people to come and help us, we have the best people who want to be here."
Catherine first stepped in to help a struggling Cornhill team in 2008. At the time, she would drive more than four hours there and back from her hometown of Halkirk for training.
When she moved to Aberdeen in 2011, it seemed the "natural" move to become a permanent team member.
Catherine's retirement from the team in 2016 did not last long as she missed it too much. The inclusive and welcoming nature of the team meant even the birth of her daughter didn't prevent her from rejoining.
"We've got multiple mums on the team. One of my closest friends has three kids under the age of seven," said Catherine.
"At training on Monday we had the children all there and running around. There's a playpark where we train so they can go and entertain themselves. I live in Aberdeen so my daughter falls asleep on the drive home.
"It can be hard to fit it in, but you have to be committed. And if you want to make it work, you will."
This commitment stretches further that just training sessions – which are now taking place three times per week in preparation for the forthcoming championships. Team members exercise and diet between sessions to ensure the teams can be as competitive as possible in each weight category by squeezing more people into them.
If they are willing to embrace this level of dedication, Catherine encourages anyone who wants to give tug o'war a go to dive right in.
"You need to come along to a training session, get right into the banter," she said.
"People can come even if they haven't done it before. We all have to start somewhere. It's amazing how quickly you can build up the strength.
"It's not just for lads – the sport is changing. Last weekend I was drafted into the men's team to help make up a weight limit. That wouldn't have happened before.
"Once you try it, you'll get the bug for it. I was bitten 25 years ago and I just keep coming back."
Having pulled with Cornhill tug o'war team since the age of 15, 52-year-old David Mckenzie is one of the team's longest-serving members.
"It's a sport you can do to a good age because it's non-contact," he said.
"I think it has helped me keep in a good physical condition. It helps me with my work too because I've hardly ever had a day off and my boss reckons that's the tug o'war. I'm a whisky cooper – I make whisky barrels."
David's dad was in the team before him, and he, too, is keeping the tradition in the family.
He said: "It's quite family orientated. It always has been. I think that's because it's so tough mentally. My daughter and wife were pulling in the ladies, I've pulled alongside four sets of brothers. There can be a number of generations."
Over the years, David has seen numbers rise and fall and, though numbers are currently sustainable, he said the team is struggling to get new men on board.
"It was always a natural thing to be involved in the village," he said.
"But things have changed. People are into their phones and computers nowadays. The start is hard, but if people stick at it then it gets easier, like most sports."
David also coaches the women's team and is proud of all they have achieved in recent months. He, too, is keen to make sure people know the sport is open to all.
"It's definitely not just a man's sport," he said. "You're looking for a ratio of power to weight, and some of the ladies are pulling more for their weight than the men no problem.
"We've seen huge men come down and try for 30 seconds then give up. If you are strong for your weight and you are determined and mentally tough – because the mind gives up before the body – then you can do tug o'war."
After months of intense training, with multiple victories already secured and more hopefully to come, you might think Cornhill tug o'war team would be looking forward to a relaxing winter off.
But David said that isn't quite what they're planning.
"We do it indoors through the winter – tug o'war on mats!"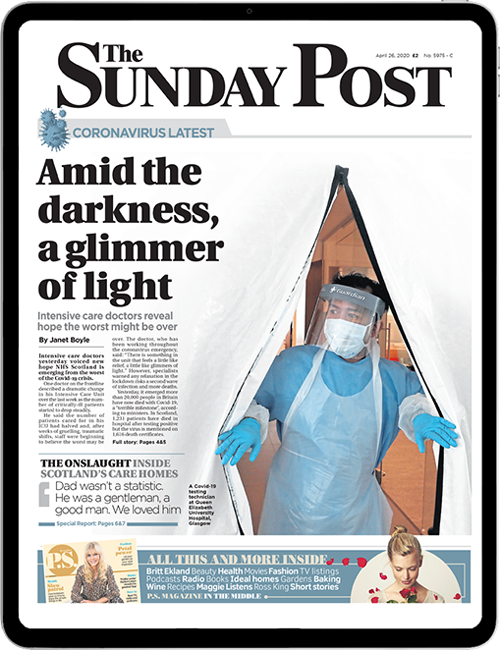 Enjoy the convenience of having The Sunday Post delivered as a digital ePaper straight to your smartphone, tablet or computer.
Subscribe for only £5.49 a month and enjoy all the benefits of the printed paper as a digital replica.
Subscribe