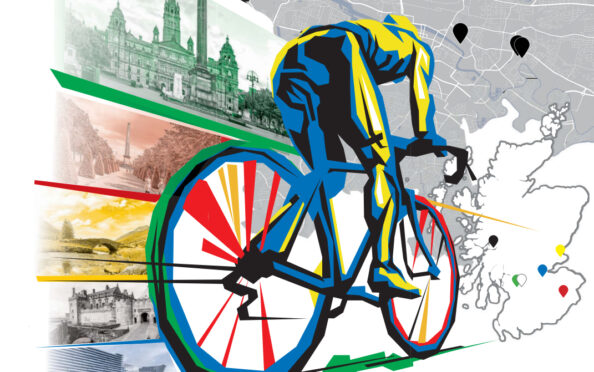 Scotland will host the biggest cycling event ever next week as thousands of competitors gear up for the UCI Cycling World Championships.
The championships, which are set to take place in Glasgow and other parts of the country, kick off on August 2 and will run for 11 days with events being held at several venues all over the country.
Around 8,000 elite and amateur athletes from more than 120 countries will compete across 13 UCI World Championships across seven disciplines for the first time.
The sporting event will see athletes competing in road, indoor and track cycling, mountain biking and BMX races.
A host of famous faces will be taking part, including the 2018 Tour de France winner, Geraint Thomas who will lead the men's road squad, competing in the time-trial, with team-mates including newly-crowned national road race champion Fred Wright, Ben Swift and 2011 road race world champion Mark Cavendish as well.
Lizzie Deignan and Sarah Storey are also competing for the British team and Canadian Middle-distance triathlon star Paula Findlay has confirmed that she will take part in the UCI to compete in the Individual Time Trial.
The championships, the first of their kind, will bring in an estimated £67m to the Scottish economy.
Traffic Scotland and Police Scotland have advised that road closures will be in place all around Scotland during the event and have urged people to check ahead when travelling and plan for any delays.
The UCI Cycling World Championships said: "We are so excited to be bringing the 2023 UCI Cycling World Championships to Glasgow and Scotland.
"There are a range of free and ticketed events as well as an exciting programme of cultural and community participation events taking place at the Go Live! sites across the 11 days of competition. With finals every day of the Championships and blockbuster weekends, there is something for everyone to come and enjoy."
"This is set to be the biggest cycling event ever. Watching them we anticipate around one million spectators to attend and engage with the Championships across the full programme, while the TV broadcast will reach more than 100 countries. The anticipated global TV audience will place Scotland on the world stage as a destination for elite cycling events and cycle tourism."
VisitScotland have said that the event has created excitement and that Scotland is ready to welcome athletes and spectators from across the globe.
They said: "Events of this scale bring thousands of visitors to our shores, in turn boosting our economy, creating jobs and sustaining communities. Meanwhile, the accompanying global media exposure will see Scotland's scenery and landscapes beamed into millions of homes, introducing our country's renowned offering to new audiences and inspiring future visits.
"This presents a unique opportunity for Scotland to establish itself as a leading cycling tourism destination, be that for a cycling holiday or cycling as part of a holiday, and this never-been-seen- before event will give us the momentum to do that."
Historic Environment Scotland have said that sites such as Stirling Castle and Holyrood Park will play an important role during the Championships.
They said: "It's fantastic that Stirling Castle and Holyrood Park will be playing a part in this year's UCI Cycling World Championships. The first event of its kind, this is a wonderful opportunity for people to engage with our heritage in a new and exciting way.
"We're thrilled these sites in our care will be providing historic backdrops to what's sure to be a truly historic event."
---
Wheely different
The weird and wonderful is taking centre stage.
As part of the UCI World Championships, cyclists are gearing up to take part in artistic cycling and cycle-ball at Glasgow's Emirates Arena.
Artistic cycling, which is described as gymnastics on wheels, will see riders perform all sorts of stunts and tricks, as far as their bodies and bikes can go. They will perform handstands on handlebars and ride their saddles like surfboards in spectacular feats of bravery, balletic balance and physical strength.
The bikes have upside-down handlebars and a saddle that is positioned far back, with the wheels closer together to make the tricks possible.
Cycle-ball is expected to be just as thrilling as riders' tenacity and technique will be put to the test in 2-a-side 14-minute matches on a small court where the most goals win.
Riders must use their front or rear wheel to control the ball. Headers are allowed and goalies can also use their hands. If a foot touches the floor, the rider must leave and re-enter the field of play.
The possession game is key and the most skilled riders keep the ball glued to their wheels to avoid losing it to a well-timed tackle.
---
Lauren's excited by home track buzz
She has previously won major cycling events in France and Poland and is now hoping for major success on her home turf.
Forres cyclist Lauren Bell is thrilled that her family and friends will be able to cheer her to victory when she competes this Thursday and Friday in the highly- competitive team sprint category in Glasgow's Emirates Arena.
She said: "I'm really excited, it's once in a lifetime having your own home track as host – Glasgow is where I learned how to ride my bike – so my parents can come and see me and my boyfriend is coming and my friends are all going. I think it makes it a bit more special.
Bell won bronze in the World Track Cycling Championships in Paris in the women's team sprint last year and earlier this year won silver at the European Championships.
"My coach says you get this buzz from the track, and it helps you with your riding and it makes you ride better. Me and the other girls in the team are so excited to have that home advantage."
Bell said that herself and her team-mates, Sophie Capewell and Emma Finucane have been training hard and are hoping to be on the podium, which will allow them to qualify for the Paris 2024 Olympics.
The 23-year-old added: "It's inevitable getting nervous before a competition because it just means so much to you, especially being at home, you want to do really well.
"As a team, we've been doing some practice races and training and everything is going really well, so we're quite excited.
"But we're trying to focus on how we're going to execute our ride rather than get too caught up on it, but I've got a good feeling about this Worlds."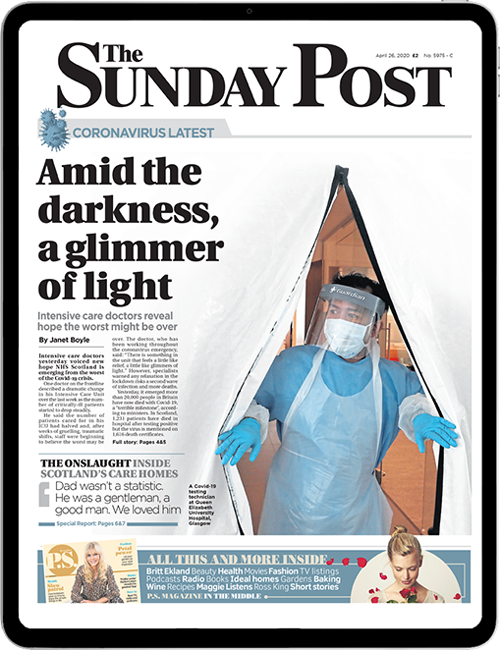 Enjoy the convenience of having The Sunday Post delivered as a digital ePaper straight to your smartphone, tablet or computer.
Subscribe for only £5.49 a month and enjoy all the benefits of the printed paper as a digital replica.
Subscribe