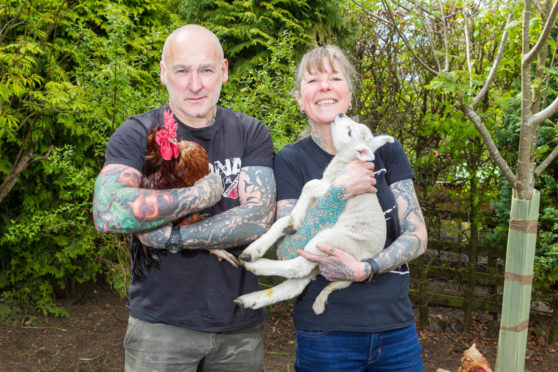 A tattoo artist has revealed how her intricate inkings help fund a sanctuary for farm animals saved from the abattoir.
Morag Sangster and husband John Ryan, both 53, have dedicated the last two years of their lives to providing a sanctuary for some of Scotland's most vulnerable animals.
The couple have rescued over 100 pigs, turkeys, cows, sheep, chickens, donkeys, goats and geese from either abuse, neglect, battery farms or slaughter.
Their Clyde Valley sanctuary provides a 'last chance saloon' for many animals that, without any further human use, would simply have ended up in an abattoir.
Selling their Edinburgh home to purchase the land, the couple have put every penny they have into providing a safe home for the animals. All the proceeds from Morag's two non-profit tattoo studios, Tribe Tattoo Glasgow and Tribe Tattoo Edinburgh, go towards funding Tribe Sanctuary, which John now manages full time.
"All animals deserve compassion and respect as the sentient beings that they are," says Morag.
"I've been a vegan since I was 13, but I always wanted to take it to the next level and actually provide somewhere for farm animals to just live in harmony and grow old.
"Some people go vegan for the environment or health reasons, but I always did it simply for a love of the animals."
Although veganism is on the rise in Scotland, with 6% of the population now shunning all animal products and 14% considering it, numbers show that mass meat production is still booming.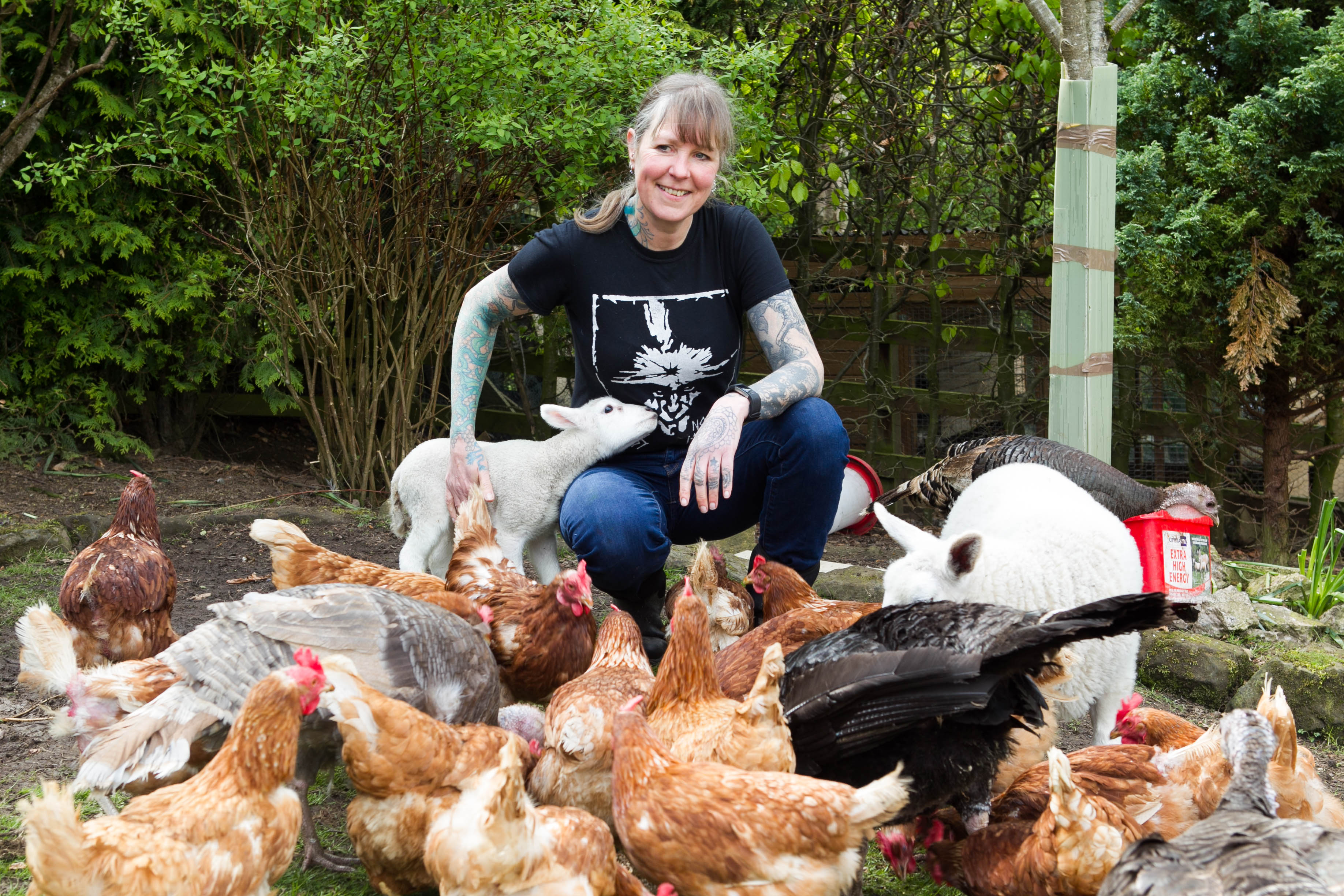 Figures provided by the Food Standards Agency show that between April 2018 and March 2019 a staggering 459,477 cattle, 1,158,199 sheep, 339,553 pigs and 40,580,246 poultry birds were slaughtered in Scotland for meat.
But in light of the huge numbers of animals still being produced and killed for human consumption, Tribe Sanctuary hopes to prove that farm animals have just as much personality and quirks as animals typically considered pets like dogs and cats. And as a result, help fuel the steadily growing trend of people choosing a plant based diet.
"One of our pigs, Francisco, actually thinks he's a dog," says John. "He even sleeps in the house with our dogs in their bed and he's so bossy and funny and friendly. I'd say he's actually more clever than the dogs."
"We've got to a point as a society where it's so hard to see past farm animals existing for anything other than our own uses," continues Morag. "But all of our animals have their own unique personalities and they can act as ambassadors for their species to the public. We really want people to see all the animals the way they see a dog or cat or a budgie.
"All the animals want to be petted and loved – dog, cat, pig or sheep."
However, the pair say the sanctuary is certainly not a petting zoo, as much as it is not a working farm. Although the hens lay eggs, Morag and John won't eat them, feeding them instead to the animals as a source of nutrition.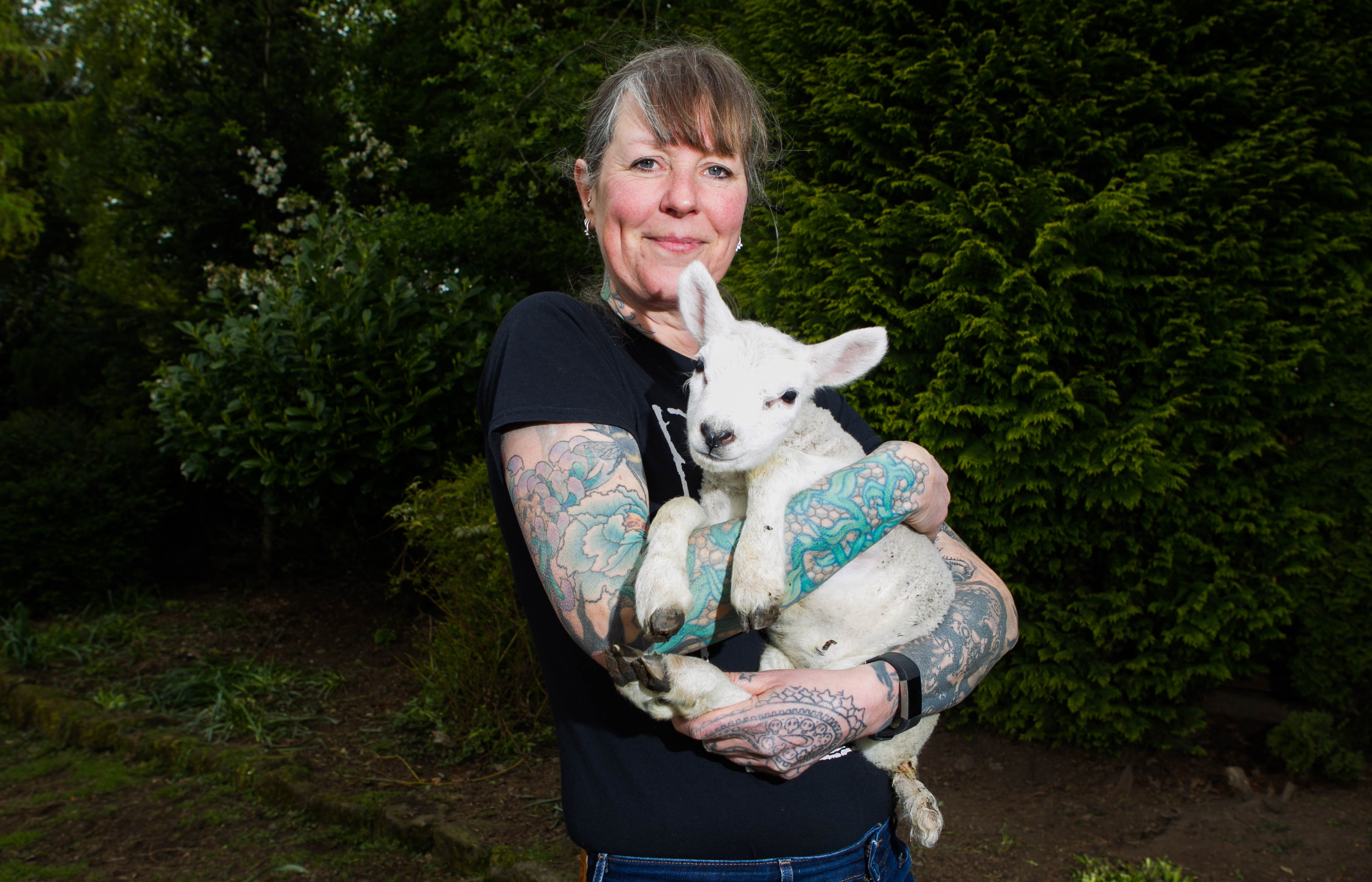 "We've been vegans for too long now to eat the eggs," says John. "And although they have perfectly contented lives here, we just don't want to use the animals in any way."
"Children are welcome to come and pat the animals," continues Morag. "But it's not a petting zoo.
"Petting zoos are essentially human focused, where cute animals are put on display for children to look at for money.
"But once those animals grow up and are no longer cute, they'll often end up in abattoirs too. We on the other hand are completely animal focussed rather than human focussed.
"Everything we do is for the animals."
And their passion for their animals is infectious. With a tattoo parlour also in their home, Morag has found herself with some unusual requests from visitors who love the animals as much as they do.
"I've actually tattooed Francisco's face onto someone," she says. "And other people have asked to have some of the sheep, donkeys and goats tattooed on them as well."
The animals at the sanctuary all have their own unique back story, from surplus lambs who were simply going to be left to die, to battery hens who had exhausted their laying cycles, with slaughter the only option remaining.
"We get the animals from all sorts of places – farmers, animal welfare charities, often just caring individuals who want to divert the animals from being killed or from abuse," says Morag.
"We've also got pigs who have been rescued from the abattoir after they were mis-sold as micro-pigs and people didn't want them after they reached a certain size.
"People know we'll take them."
And with public knowledge of the sanctuary growing, the pair only see their herds, gaggles, flocks and packs increasing as time goes on.
"We'll definitely need to look to expand at some point," says Morag. "And John has a lot to do on his own, so we might look into hiring someone else to come and help.
"I'm sure some people think we're nuts, but I just love animals and I want to protect as many as I can.
"Why shouldn't they be able to live out their lives in peace?"
---
Donate to Tribe Sanctuary at www.tribesanctuary.co.uk