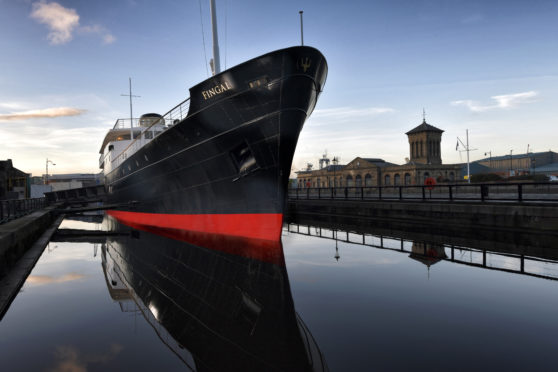 Walking up the red-carpet gangway of Scotland's luxury new floating hotel, I feel every inch the VIP.
There always seems to be excitement in the air around Leith, named one of the world's coolest neighbourhoods by Time Out.
Now the regeneration of the historic port continues apace with the arrival of the £5m Fingal in Alexandra Dock.
This stunning yacht opened as a waterfront hotel in January, but its distinguished history stretches back more than half a century.
The last vessel to be built by Glasgow-based Blythswood Shipping Company, Fingal was a working ship that served as a Northern Lighthouse Board tender, making her maiden voyage in 1963 and mainly sailing between the Isle of Man, Oban and Skye.
In a nod to its heritage, each of its 23 cabins is named after a lighthouse designed by famed Scots engineer Robert Stevenson.
Ours is the Muckle Flugga – a twin cabin with two portholes, leather-bound wardrobe and suede headboard with a map pinpointing the eponymous lighthouse's location in the Shetland Islands.
There are two extremely comfortable beds adorned with tartan throws custom-made by textile designer Araminta Campbell, whose studio sits a mere stone's throw away from the ship.
It's fascinating to explore this luxurious dockside hotel, stumbling upon the engine room – accessed by a glass corridor, akin to a floating walkway above the ship's inner workings – as well as the bridge, deck and the ballroom, the latter showcasing images of the craft before and during the refurbishment programme.
The work took almost five years to complete and was funded by the Royal Yacht Britannia group.
Decommissioned in 1997, Fingal's sister ship, Britannia, is berthed nearby.
If you have not yet set foot aboard the Queen's former floating palace, then this glamorous ship really is worth a visit, and it's sure to look familiar if you're a fan of Netflix's lavish royal drama, The Crown.
Take an audio tour and explore what has been voted Scotland's best visitor attraction, even above Edinburgh Castle. You'll be in good company as kings, queens, world leaders and A-listers have all been entertained on board: everyone from Nelson Mandela and Winston Churchill to Frank Sinatra and Bill Clinton.
Nearby, the Ocean Terminal complex is home to more than 60 shops.
The vast complex is open until 8pm Monday to Friday so no excuses for not finding the time to squeeze in some retail therapy.
As well as all the leading high street names, Ocean Terminal also houses the Scottish Design Exchange, a community retail space showcasing the work of local creative talent.
So if you're looking to pick up a few quirky, handmade gifts and souvenirs, such as purses made from old bicycle inner tubes or, I kid you not, "empowerment pants", look no further.
There's also a cinema as well as a cracking selection of restaurants and cafes and a viewing gallery, accessed via Superdry, where you can gaze out at Britannia.
If staying aboard Fingal, you can enjoy afternoon tea for £40 per head or a light supper in the Lighthouse Bar which boasts a water-effect mirrored ceiling.
I would highly recommend the salmon, smoked a few decks below, or the halibut with soft herb crust, squid ink tagliatelle, sautéed mushrooms and cauliflower cream.
Of course, in Leith you don't have to look far to find a mouthwatering array of dining-out options, including two Michelin-starred restaurants, Tom Kitchin's The Kitchin and Restaurant Martin Wishart.
Both chefs trained under some of the world's best before bringing their talents to Leith's shores.
Many cooking stars have chosen to open a business here, many other legends from yesteryear have stayed in the port, but the true star of Leith, in my opinion, is its newest arrival, floating on the Forth.
Facts
A cabin on board Fingal is from £300 per night (on a N&B basis) and up to £1,500-a-night for a stay in the Presidential suite, Skerryvore www.fingal.co.uk
Royal Yacht Britannia costs £16.50 (adults), £14.50 (concessions) and £8.75 (children)