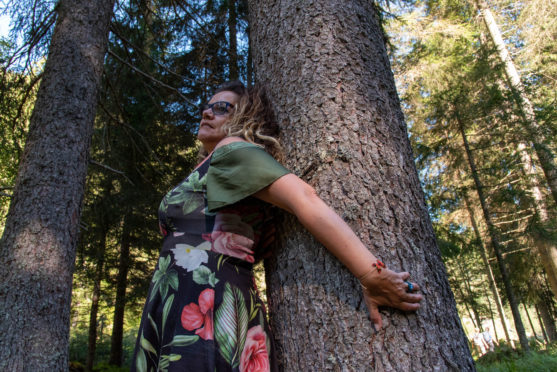 There are three ways to hug a tree. First you must stand with your legs wide open, instructs self-declared "forest fairy" Margherita De Carli.
Wrapping her arms around a larch tree in the Coler area of Trentino's Val di Rabbi, she closes her eyes and breathes deeply as if in a yogic trance, pressing her solar plexus against the scaly bark.
The other two options?
Reversing the pose, strap yourself to the evergreen, or simply lean against its towering trunk, arms folded into the small of your back.
The choice, explains Margherita, is personal.
At the beginning of the coronavirus pandemic, the Icelandic Forest Service urged people to go out and hug trees as a curative for social distancing blues.
Embracing the theme further, Finnish community HaliPuu held the world's first Tree-Hugging World Championships in August, with competitors performing remotely in three different events: speed hugging, dedication and freestyle. The winner, referred to as Italian Stefania D, was applauded by judges for her "convincingly caring and insightfully profound" way of "encountering the trees".
It might all sound barking mad, but far from it.
When the world feels destabilised and unpredictable, there's something solid, comforting and reliable about a living organism that's been rooted to the same spot for decades, it's welcoming boughs providing a safe habitat for creatures large and small.
Hard science also underpins the appeal of forest bathing.
"This area has a large amount of negative ions in the atmosphere, thanks to the presence of a waterfall," explains Margherita, pointing to the nearby Saent cascade, a torrent of pure mountain water, tearing down the steep, forested valley.
It's a theory explained by Italian bio-researcher Marco Nieri in his book, The Secret Therapy Of Trees, where he credits negative ionisation for "cleaning the atmosphere" and having a beneficial impact on "psychological well-being".
Margherita's tree-hugging tuition is the culmination of a new forest trail, where hikers are encouraged to walk barefoot over a bed of bouncy pine cones to improve posture and wade through refreshing streams to boost circulation.
Historically, these forests have always been a valuable commodity. A network of medieval castles and fortresses is testimony to fierce battles fought over the region, when armies from the Republic of Venice would come to steal timber for building ships.
Lying at the heart of the Italian Alps, between the Dolomites and Lake Garda, Trentino feels pleasingly remote.
Wooden chalets with flower-filled window boxes wind around frescoed stone churches in the Val di Sole, where I base myself in the village of Cogolo, at the entrance to Stelvio National Park. Cow bells peel from valleys bristling with conifers and sunbeams strike sawtooth peaks. But even more dramatic is the air – so clean, fresh and pure, it's a shock to breathe.
Although charming, a question mark hangs over what the future may hold. Europe's coronavirus outbreak supposedly started in neighbouring Lombardy. Given the financial and mental health implications, the idea of a repeat performance is unthinkable.
Fears for the winter season have, however, been softened by a successful summer. Young mountain guide Giacomo Bertololini tells me many Italians have discovered the mountains for the first time this year – hiking trails scented with wild thyme, waking up in 3,500m-high cabins as the sun paints ranges pink, or searching for ibex (a mountain goat)between forests and clouds.
Food is also one of the area's main attractions – this is Italy, after all. Apple orchards and vineyards line the valleys, and rifugi (mountain huts) serve local creations such as canederli (bread dumplings), grilled Casolet cheese and grappa infused with sweet spruce needles.
At Lo Scoiattolo refugio in the Val di Pejo, I eat fat, meaty porcini and delicate, buttery chanterelle mushrooms foraged from slopes in the early autumn months. Part of the Pejo 3000 ski resort, the mountain restaurant is participating in a scheme to become the first plastic-free ski area in the world. Straws and packaging have been replaced with environmentally-friendly alternatives, and in a bid to use more eco-friendly energy, solar panels have been fitted to the roof.
"These are small steps, but we are doing something," shrugs manager Marco. "We make the effort because we live in nature."
Inside the clinical spa, where doctors can prescribe a programme of treatments and water consumption, I'm wrapped in a thick cocoon of warm mud infused with muscle-easing minerals, and I lay in a bath so highly concentrated with skin-tickling natural gases, it takes my breath away.
Already at high altitude, the experience brings me even closer to the heavens. But it's the combination of water, fresh air and forest that forms Trentino's holy trinity.
Walking through woodlands later that evening, I'm struck by the enchantment of it all.
A world away from big, bad wolves and grumpy bears, there's a reason fairytales are set in forests; in the rustling of leaves and the swaying of boughs, this is where the magic happens.
It's a notion too big, bold and overwhelming to grasp. Instead, I sit back and allow the forest to embrace me.
---
P.S. Trentino boasts an array of elegant sparkling wines which make Prosecco taste like lemonade, but the region's real liquid gold flows from its Alpine springs.
Since the 19th Century, people have come here to drink healing waters, and 16th-Century documents refer to the restorative powers of the Pej baths.
---
Factfile
Rooms at the Hotel Stelvio Domina (hotelstelviodomina.it/en) start from £55 per night with breakfast. Mud Therapy with a Thermal Bath at Terme di Pejo costs £37. Go to visittrentino.info/en and valdisole.net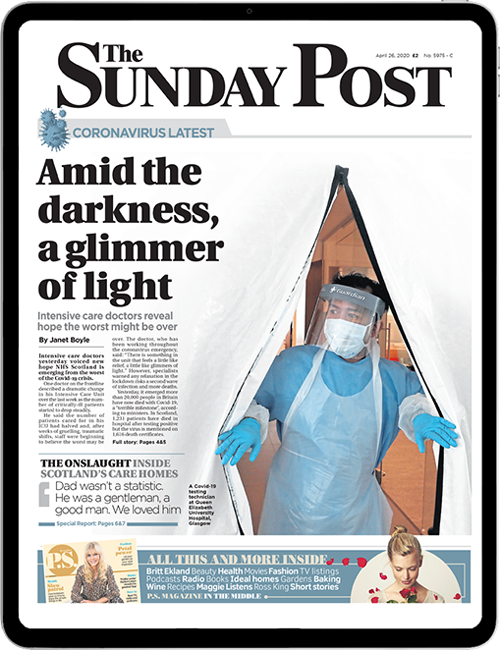 Enjoy the convenience of having The Sunday Post delivered as a digital ePaper straight to your smartphone, tablet or computer.
Subscribe for only £5.49 a month and enjoy all the benefits of the printed paper as a digital replica.
Subscribe