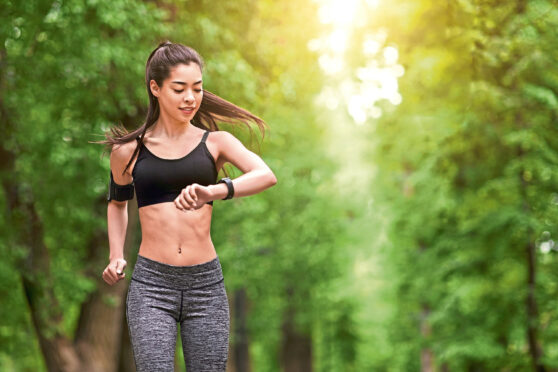 In the ever-expanding world of health and fitness tech, each day, every breath you take, every move you make, and every step you take, a gadget is watching you.
According to recent research, the global market for so-called "wearable technology" is expected to grow in value to more than $10 billion this year, with more and more people downloading fitness apps and wearing smart watches to keep track of their exercise routine and general health.
According to the latest data from YouGov, 30% of UK adults currently own and use a wearable device, marking an increase of 11% since 2019.
Whether reminding you to take a breath, keeping track of your daily goal to walk 10,000 steps, totting up the calories burnt during a sweaty gym session or assessing your nightly shut-eye, there's a range of tools and apps to help keep you motivated and achieve your goals.
"Fitness trackers have many benefits and can be incredibly useful wherever you are in your fitness journey," explained David Wiener, a training and nutrition specialist with AI-based fitness and lifestyle coaching app, Freeletics. "Typically, the device collects data and converts it into steps, calories, sleep quality and general activity you perform through the day. For many, this can be motivating and helpful to keep track of your progress and goals.
"From a health perspective, fitness trackers are also a great tool to monitor your body's vital statistics during and after a workout, track your fitness, and make sure you're working out in the right zone to meet your goals. This data can help ensure your goals are realistic and achievable. In addition, research shows that by keeping track of your day-to-day activities, you can significantly improve your health, sleep, and diet."
Health coach Victoria Repa, who founded wellness company BetterMe, agrees fitness apps have many plus points, particularly as trackers can take the guesswork out of your workout. She said: "Apps can keep you 'on track', as they make things simple for you, thanks to user-friendly design, notifications, and the ability to share your results with others.
"Regular tracking gives you a database of your own records, which may be used for different reasons, too. For example, instead of asking patients if they are sleeping better or running additional tests, doctors can simply look up a chart from their app."
She added: "The holistic approach is key to a healthy long-lasting lifestyle, that's why we should track many potential factors influencing it. For example, your water intake, quality of sleep, heart rate, mood, and period cycle. The more accurate info you add, the better results the app may provide."
There is a sense of achievement when our app tells us we've hit our step count or burned more calories than usual, but is there a risk of becoming too obsessed with numbers on a screen, rather than how we feel?
Alex Randall, founder of award-winning running, fitness, and technology blog, Revel Sports, says there can be drawbacks to apps that include a social or sharable element: "There is a temptation to constantly compare yourself to everyone else on your social media feeds.
"I do personally use fitness tracker apps, and have no problem with clients using them as well, but I do make a conscious effort to make them a small part of an overall fitness strategy."
Repa added: "It's important to find a balance between numbers and actual feelings, and it's always worth remembering the aim of tracking. If it's to become a better, more mindful, and responsible person then fitness apps and trackers will only be helpful. But if people are pursuing a fad diet, then obsession with numbers may be harmful."
Whether MyFitnessPal, an app for your smart phone that can be used to track calories, break down ingredients and log activities, or Samsung's Galaxy watch, which even offers real-time health monitoring of blood pressure and ECG, there's lots of options for tech.
Wiener, who uses an Apple Watch to record his workouts, step and heart rate during training, says fitness trackers can be a great supplementary tool, but added: "Fitness trackers should be used a motivational tool, rather than letting them have a negative effect on your life."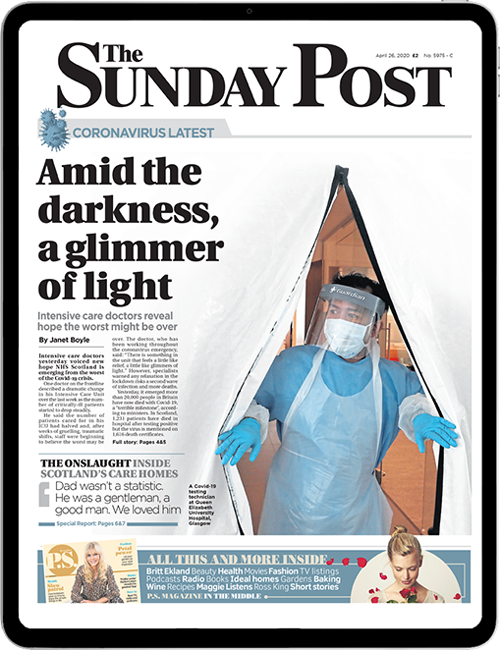 Enjoy the convenience of having The Sunday Post delivered as a digital ePaper straight to your smartphone, tablet or computer.
Subscribe for only £5.49 a month and enjoy all the benefits of the printed paper as a digital replica.
Subscribe