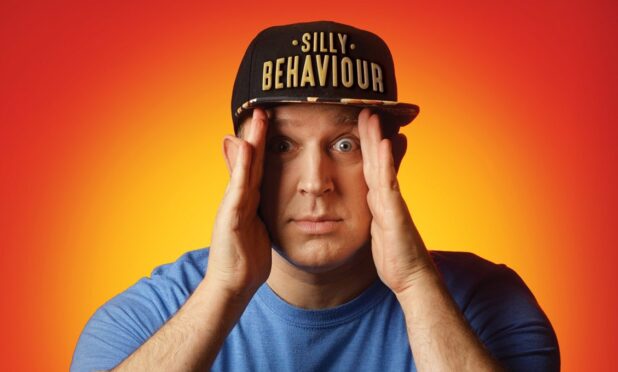 As he heads on tour around Scotland, comedian Tim Vine chats about one-liners, Highland adventures and getting stage fright.
How much are you looking forward to your Scottish dates?
Very much so. I was saying to my promoter that we've always gone to Aberdeen, but there's so much Scotland up there, let's go a bit further.
It's a little bit of an adventure for us to go all the way up to Stornoway, Ullapool and Skye. It'll be great fun.
We're playing a few 200-seaters and it's lovely. It's more my comfort zone if I'm honest, when you can see the whites of people's eyes.
Do you prefer the more intimate venues?
Even though my act is not conversational, stand-up is essentially a sort of conversation with the audience. The audience are doing the act with you. They are absolutely involved and in a club setting, which is where all stand-ups really start, that's where in a way, it feels the most natural.
But having said that, if you're in somewhere like York Opera House you've got 1000 people in and it feels like they're on top of you and it's fantastic. You can be in some places where it's 500 people and they've spread them out and the atmosphere is not good but generally speaking, I think it's probably psychological.
I'm not in the position to sell arenas mind you. Might sell an arena car park!
How has the response to the show been on tour so far?
It's been great. The show really started at the Edinburgh festival last year. I had a great month doing it. We started the tour in the middle of April and we've done it 55 times I think in England all over the place and it's been great fun, really great fun. John Archer, a comedy magician, who I always tour with, is on absolutely top form at the moment.
What's life like on tour?
It's a van with the three of us. There's our tour manager Andrew Jobbins, but we just call him Jobbins, it feels more formal. He does all the steering and I do the pedals!
We drive around, we're all friends – well at least when the tour starts we're friends. We drive off, stay in little hotels and the great thing is as well is that once you've got a show (and this is what what's so valuable about doing the Edinburgh Festival) once you've got a show that works, you really feel like you can just chuck all this stuff in the van and go anywhere. That's probably part of the thought we decided to go up to the Highlands.
What can audiences expect?
I haven't broken away to contemporary dance. I think people expect something that's akin to what I did last time. I have a table full of stupid props, some of which I made myself. Just silly things. A holdall full of more props and a head full of one-liners that I've learned. Some silly songs.
It's constantly moving between those things and doing the one-liners, picking up a prop, doing a silly song. Just keeping to the old moving target theory.
Is it tiring?
I don't find it tiring, other than the travelling. When I have guests and friends along to see the show, after the show they always say "you must be exhausted after that" and I'm never tired after the gig – the gig wakes me up, invigorates me.
Has one-liners always been the style you wanted to do?
I always loved Tommy Cooper and Ken Dodd. I never at any stage sat down and decided on a style of lots of one-liners. When I first tried them on the London circuit, it didn't really work. They groaned and I just thought, 'oh, you can't do that here'. So then I went off on more chatty styles and but I kind of ended up drifting back and I think it's a confidence thing. When you're doing very silly stuff you do have to front it out. I just ended up gradually realising I had a lot of one-liners. It wasn't a plan.
How happy are you to still be doing it?
That's genuinely the thing I'm most pleased about. I'm really delighted that there's people who want to come and see this nonsense still. I'm very, very grateful to them. There's zero message in it. Maybe there's an element of people quite liking the fact they haven't got to come with any particular viewpoint or indeed leave with one. Other than "never again!".
How has the feeling before stepping out on stage changed for you over the years?
It changed a bit in the middle. It was weird. I had been doing comedy for about 15 years and I had basically a bit of stage fright. I remember asking Ken Dodd about it actually, and somehow Miriam Margolyes was also present in this conversation. I said: 'What do you do if you go completely blank?' Ken said the answer to stage fright is to get back up on stage and that's very true. The worst thing you can do with any type of fear is to run the other way because that makes it want to chase you.
Miriam said a good thing too. She said just to slow down. Panic makes you think you don't know it. But you haven't suddenly forgotten the whole thing. Stand-up is a solitary thing – you're up there on your own and there's no one else can do it. It's not like a tag team. You've got to do your thing. The nice thing is, I know that I've been booked for a certain amount of time. I'm not going anywhere, so I'll stay out there.
I feel more relaxed about things now than perhaps I did, say, 10 years ago. I think everyone probably has that sometime in their lives. Being human means that at some point you go "ahh!" unexpectedly and that's fine.
There are moments in your life where the lines of fear and excitement get a bit closer. And once in a while the fear gets above the excitement a bit and you think, well, that's not why I got into this. I'm supposed to just be having fun.
I say this to anyone as encouragement: we're all in and out of this world like a flash, so the important thing is to remember – especially doing something like stand-up – is that it's just meant to be fun.
How would you each fare if you and your brother Jeremy switched jobs?
I remember once Jeremy came to a gig I did in the 90s and it was at Up the Creek which was tough in many ways, but I loved it because when they loved you, they really loved you.
Jeremy said just before I went on that he could introduce me. I thought: there's no way that's gonna work!
I think it might be a bit easier for him to do a version of my job, which he does with the after dinner thing, however many's the time I've been listening to him interview politicians where I think I no longer quite understand what's being spoken about! I could be out of my depth intellectually.
He sometimes asks me to do his Channel 5 show and I never really want to do it because I don't want be asked opinions about serious things. I'm not interested in suddenly being asked some serious question about death and suffering and some terrible political quandary that whatever answer you give results in abuse online! I just want to do my silly puns.
---
Tim Vine is on tour across Scotland this month. For dates and tickets visit timvine.com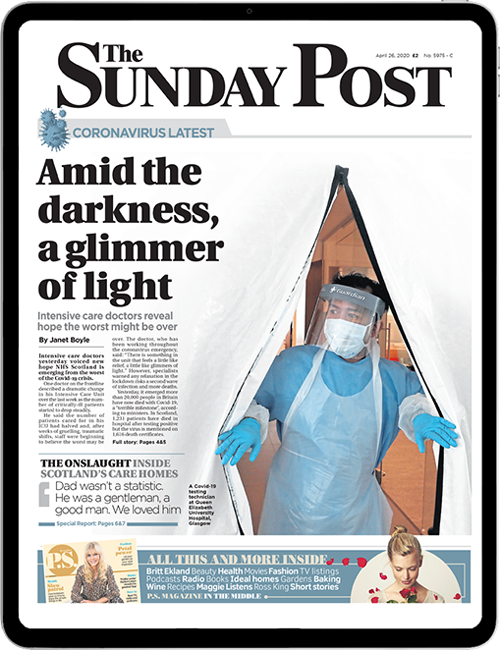 Enjoy the convenience of having The Sunday Post delivered as a digital ePaper straight to your smartphone, tablet or computer.
Subscribe for only £5.49 a month and enjoy all the benefits of the printed paper as a digital replica.
Subscribe