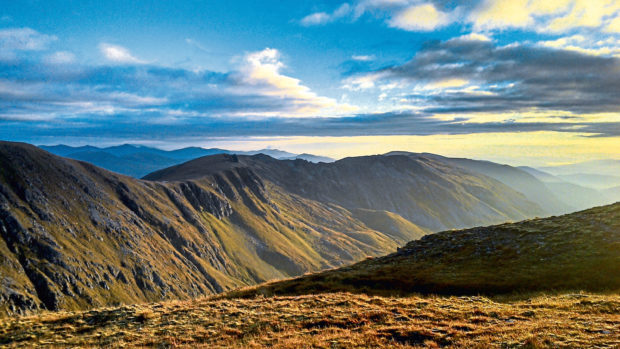 Approaching from Cannich in the east, there's a large parking area at the end of the public road in Glen Affric.
Follow the track at the road end on the north of the burn. It becomes a path. After 1.2 miles, at a junction, continue west on the main track into Gleann nam Fiadh. After a mile, stick to a higher path, climbing into Coire Mhic Fhearchair. Your aim is the col east of Sron Garbh.
From the bealach, go west on an old stalkers' path. The narrow ridge leads to Carn Eige with some scrambling, or there's an easy bypass path. From the summit, descend the north ridge over Stob Coire Lochan to the Bealach Beag. It's 0.6 miles and a climb of 558ft to the summit of Beinn Fhionnlaidh. Retrace your steps but don't cross the summit of Carn Eige. Instead it can be skirted on its western flank on a shoulder just beneath the summit. Make a rising traverse to the bealach with Mam Sodhail.
From here, a path leads south to the summit. A narrow, easy, ridge descends south-east to a col before Sgurr na Lapaich. A steep pull takes you to the summit. Continue south-east then, once off the hill, head east across boggy ground to pick up a stalkers' path that takes you near Affric Lodge. Follow the road east to the car park.
Hidden deep down Glen Affric, Mam Sodhail is among a clutch of hard-to-reach Munros. Bagging any of the peaks here demands commitment and requires long days.
Glen Affric is often described as "Scotland's most beautiful glen" and campaigners have long believed the area should be designated a national park.
The glen is home to one of the most wonderful examples of native pine forest remaining in Scotland, containing many "granny" pines – ancient, gnarled trees several centuries old.
---
Pronunciation: Mam So-ail
Meaning: hill of the barns
Height: 3,875ft; Rank: 14
OS Landranger Map 25
Summit grid ref: NH120253
(enormous hollow cairn)
Nearest town: Cannich is around 14 miles north-east. The village has a post office/shop, a campsite, self-catering options and B&Bs. There's also a pub, The Slaters Arms, where refreshment is well deserved after reaching such a remote hill.
Start grid ref: NH216242
Distance: 17.4 miles
Ascent: 6,332ft Time: 11 hrs
---
Mam Sodhail, on the north side of the glen, can be climbed as a single Munro – but the Munro of Carn Eige (3,881ft) lies less than a kilometre from the summit and doesn't involve much up and down. Most walkers will take in both hills. Keen Munro-baggers often try to include Beinn Fhionnlaidh, (3297ft) in the round – it lies 1.2 miles north of Carn Eige.
Treated as a there-and-back, this third Munro will add a good couple of hours to the day but that is balanced against the fact it's incredibly difficult to reach any other way.
The route I recommend takes in the three Munros as a day walk – a long day. It's a slight modification of a route I did with my friend Andy Buchan. We added in the Munros Toll Creagach and Tom a' Choinich which lie at the eastern end of the glen before ascending Carn Eige and Beinn Fhionnlaidh.
We camped at the Bealach Beag, at the foot of Beinn Fhionnlaidh. The next morning, we skirted Carn Eige to climb Mam Sodhail, my 200th Munro.
Whichever route you walk, I recommend including Sgurr na Lapaich, an official Munro Top of Mam Sodhail. With a separation of 2.2 miles from the main summit and reaching 3,399ft, it was once regarded a separate Munro, being deleted from the tables in 1921. Future revisions should, I believe, see it restored.
At 3,875ft, Glen Affric's Mam Sodhail is the second-highest mountain in Scotland north of the Great Glen.
It's beaten only by its near neighbour – some say twin – Carn Eige, a Munro just 6ft taller, less than a kilometre away and separated by a drop of less than 492ft.
Mam Sodhail's prominence meant it was an important peak in the early days of the Ordnance Survey's work in Scotland on the "Primary Triangulation" – the measuring of set points in the landscape in relation to one another.
It formed the basis of the first OS maps and took place between 1791 and 1853.
In 1848, surveyors spent a month on Mam Sodhail's summit. They built an enormous stone tower 23ft high. All that remains today is its base, about 6ft high. It's still an impressive structure. Hollow and rectangular inside, it can be climbed into for shelter.
---
Robert Wight's, Explore The Munros is available from dcthomsonshop.co.uk, priced £16.99.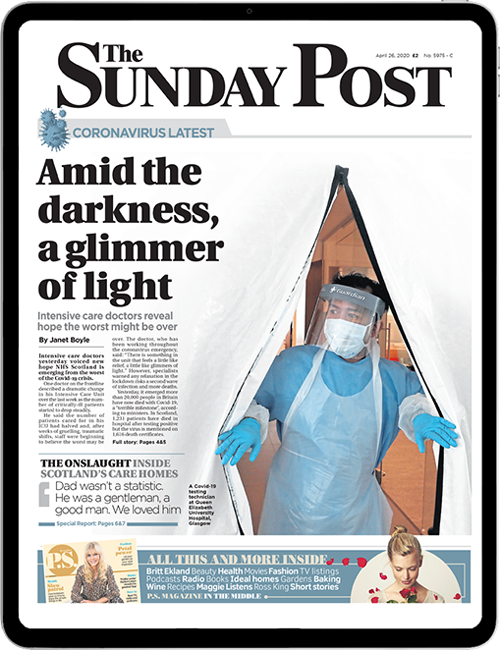 Enjoy the convenience of having The Sunday Post delivered as a digital ePaper straight to your smartphone, tablet or computer.
Subscribe for only £5.49 a month and enjoy all the benefits of the printed paper as a digital replica.
Subscribe