Rewind to 1985. Margaret Thatcher is in power, miners' strikes have dominated the headlines and the hottest ticket of the year is for Live Aid.
It's also the year Strawberry Switchblade reached number five in the charts with Since Yesterday – incredibly still the only all-female band from Scotland to ever make the top 40.
A documentary project aims to explore why no other female musical collectives from north of the border have had such mainstream success, charting the stories of the talented and bold women who picked up instruments.
Backed by a Kickstarter fundraiser, the feature-length production is co-directed by musician Carla J. Easton and film-maker Blair Young and produced by Miranda Stern.
They're hoping to use the funding received from backers to obtain archive footage and truly rewrite forgotten female acts back into musical history.
The idea originated with singer-songwriter Easton, a founding member of female four-piece Teen Canteen in 2012.
"When we started, quite quickly we were termed an all-girl band and we just thought of ourselves as a band," she recalled. "You'd get asked what it was like being an all-girl band as though you were this new phenomenon.
"In mainstream pop, vocal groups can have worldwide careers, sell millions of records and sell out stadiums, whether that be TLC, Destiny's Child, Spice Girls or Little Mix.
"But for some reason there seems to be a hurdle when it's groups of women picking up and playing.
"It's not for these groups not existing, and not having local or national support, so where's it going wrong?"
Easton found herself looking back at some of her predecessors, finding what she calls a "musical family tree" of collectives of women picking up instruments and making music.
"I wanted to make the kind of documentary that I would've wanted to see at 15," she added. "I've loved music from a very young age – I think I was in the Blur fanclub when I was eight. As a teenager I was desperate to be in bands. I remember trying to start one at school and someone found the lyrics I was writing and made fun of me.
"In TeenCanteen, I've known the drummer since I was 11 but it wasn't till I was 29 that I was like, 'Debbie, do you want to make some music together?'.
"If you see someone on stage that looks like you it normalises it. I started going to gigs when I was around 13 and I think the first time I saw a woman on stage wasn't until I was about 17 or 18."
The project began before the rise of the #MeToo and Speaking Out movements, so has adapted to not only celebrate the music and stories of all-female bands but also look at the roadblocks put in their paths and the darker side of the music industry.
Easton said: "I think people are more socially conscious on inequality within a lot of the industries. There are certain experiences that are probably more likely to happen to all-girl bands than their male counterparts, like being fired for being pregnant and sexual assault. But it's important that the documentary celebrates rather than sort of victimise.
"Strawberry Switchblade are the only all-girl band from Scotland to have a top 40 UK single. You do start to question where the progress is if that's the case. How do we measure what success is, and who gets to decide what gets carried into the future as important cultural history?"
As a musician and avid record collector, getting to track down and speak to the artists involved in the documentary has been a dream come true for Easton.
Included are members of Strawberry Switchblade, The McKinleys, The Twinsets, The Ettes, Lungleg, Sophisticated Boom Boom, His Latest Flame, The Hedrons and TeenCanteen. Also interviewed is KT Tunstall, who tours with an all-female backing band.
"It's been wonderful and it does feel like we've all become friends and bands have now started speaking to each other so it's all these lovely connections," Easton said. "It's a bit of pressure as well, we need to do these people justice.
"They're telling their stories in their own words and they've all been incredible. We're all sharing an irony that to tell these stories we're having to embrace the term girl band.
"What's also inspiring is a lot of these women have gone on to have amazing careers in the arts and academia, very much in charge of their own process and identity.
"From Jeanette McKinley in the 60s with stories of touring with The Beatles to The Ettes with their homemade drum kits. I think there's an audacity and gallusness that's really great."
Since launching on May 17, the Kickstarter campaign has raised over £19,000. The producers now hope to reach a stretch goal of £30,000 to help make the best film they possibly can.
The money raised will allow the producers to secure archive footage of performances and interviews to boost the documentary.
Film-maker Young said: "We thought that anything we could get would be great, so far it's beyond our wildest expectations. We could've made a documentary without the Kickstarter but I think it would've been very difficult.
"Part of the language of documentary is the illustration of who, when, what you're talking about. The archive from places like broadcasters is so disproportionately expensive that we could've never afforded it."
A bonus from the Kickstarter has been a more collaborative feel to the project, with backers sending in their own material from over the years.
"We had dug around quite extensively but suddenly there's an avalanche of stuff coming in," Young said. "It's instilling a sense of community. We're getting photographs and footage sent through which we would never have found through our own research."
Young was delighted to get involved with the project, having first worked with Easton on a TeenCanteen music video.
"It's been fantastic to turn the skills I have to something socially worthwhile," he said. "Over the past couple of years there's been a lot of great celebrations of the incredible music legacy Scotland has.
"We recognised that there was one area that didn't really ever get focussed on, partly because it never had the chance to be successful in the first place. Despite the wealth of women out there pioneering it, there wasn't a clear successful model in place for them to follow in the footsteps of.
"That's the bands we want to celebrate, the women who just went and formed bands, made the music they wanted to make in the way that they wanted to make it.
"The most important thing is shining a light on the bands themselves and the music. It's drawing the lines between some dots that previously were disconnected."
---
Back the project at kickstarter.com/projects/sinceyesterday/since-yesterday-music-documentary/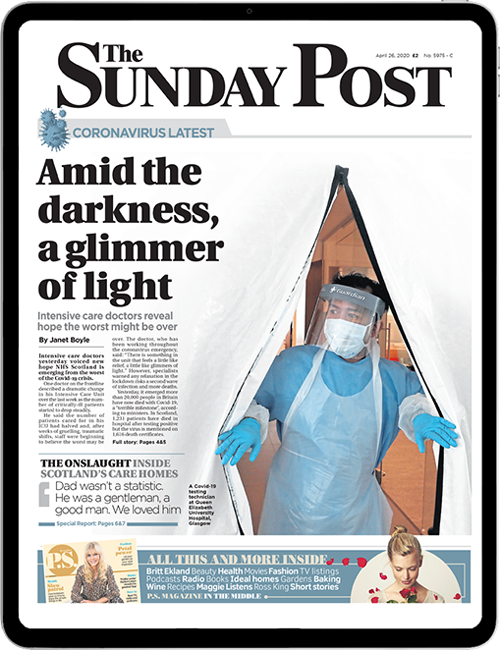 Enjoy the convenience of having The Sunday Post delivered as a digital ePaper straight to your smartphone, tablet or computer.
Subscribe for only £5.49 a month and enjoy all the benefits of the printed paper as a digital replica.
Subscribe