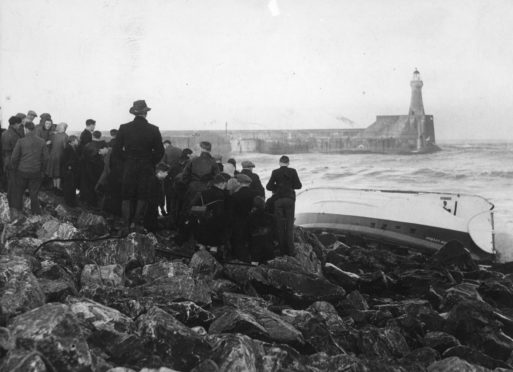 It was, the whole town had hoped, a tragedy at sea that would never be repeated. The town hoped in vain.
The loss of Fraserburgh's lifeboat 100 years ago would be followed by another two shattering losses in 1953 and 1970.
In total, 13 lifeboatmen lost their lives but the seam of community spirit running through the Aberdeenshire port means today's crew have more than a sense of service in common with their predecessors.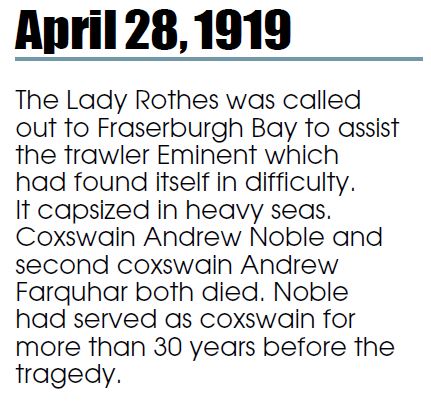 Next Sunday, a ceremony will mark the centenary of the first tragedy and, speaking ahead of it, current crew member Mark Hadden, who lost his grandad William in the 1970 capsize, reflected on the disaster's devastating impact.
It was January 21 1970 when tragedy struck, shortly after the lifeboat, the Duchess of Kent, went to the aid of a Danish fishing vessel.
Mark's dad Graeme and uncles William and Gordon were at school, on what they thought was just another day. "It was pretty wild weather and my dad was sitting in class when he was taken out and had the news broken to him," said Mark, 35, who has a young son, Luca, with his wife Nicola.
"It's not the best anybody telling you that your dad has passed, but obviously that was an awfully tough way to find out."
There was a real sense of disbelief in the tight-knit community. "From all I've learned, the town was very much still coming to terms with what happened in 1953," said Mark.
"The 1919 one was far in the past for many people, but 1953 was very recent and really fresh in the mind.
"The pavements were lined with people standing watching the hearses going to the graveyard. They wanted to show their support to everybody affected.
"People still talk about it today. It was overwhelming, but everyone pulled together.
"I think the abiding emotion was that it was awful for one tragedy, really terrible for two but for it to have happened a third time was unbelievable. People must have wondered how they could go on."
Vic Sutherland, current coxswain at Fraserburgh, said the triple loss of lives hit hard.
"For a small community, ­having three tragedies like this really doesn't bear thinking about. It's a big part of the history of our station and it will never be forgotten. There have been a lot of ­positives through the years with medals and awards for gallantry, but it's the tragic side that strikes home most."
With Fraserburgh's 1970 tragedy coming just months after disaster struck the Orkney community of Longhope, in which eight men lost their lives, the decision was taken not to risk lives with the same type of boat and the station closed.
It was eight years before it reopened with the arrival of the new Solent class lifeboat.
Mark says he was wary of asking his dad, who was a fisherman for more than 40 years, about the loss of his father but it was always keenly felt. His father has since passed away. "Each January, when the anniversary came round, he was very quiet. It was obviously a sombre day for him."
The three tragedies were commemorated with the installation of a lifesized bronze lifeboatman statue in 2010.
An appeal launched to raise the £40,000 cost of the memorial was almost 50% over-subscribed, with nearly £60,000 donated.
"We gave ourselves a couple of years to get the funds but within a few months we had not just the full amount but enough extra to guarantee maintenance for years to come," said Vic.
"It was overwhelming. We didn't just have donations from all over the UK but from Canada, Australia, China, America and many other countries."
Mark has been with the RNLI for 10 months, having decided to volunteer his services last summer.
He says that, as a family man and knowing so well what could happen, he had to weigh up carefully putting his life on the line.
"Of course I had to think about it. Every time a pager goes off, I'm well aware of the risks," he said.
"But I just want to make sure people come home safely, unlike my grandpa. I want to be there to help provide that reassurance for those going to sea.
"Maybe because I'm not a fisherman or involved with the harbour, this feels like me giving something back to the sea.
"I feel a real pride seeing his name on the memorial."
Vic's family links to the station run deep with his dad, Vic, uncles and many in-laws all volunteering over the years.
"My life has revolved round this station and this is all I've ever wanted to do," said Vic. "I'm an ex-fisherman so I know what it's like to go to sea and have even been rescued by the lifeboat myself.
"We'd run aground and the Longhope lifeboat took myself and the other three crew off. It was great to know there was someone we could turn to."
A service to mark the 1919 centenary will be held at the station memorial on April 28 with a two-minute silence observed and wreaths laid at sea.
Plans are already being laid to mark the 50th anniversary of the 1970 disaster next January.