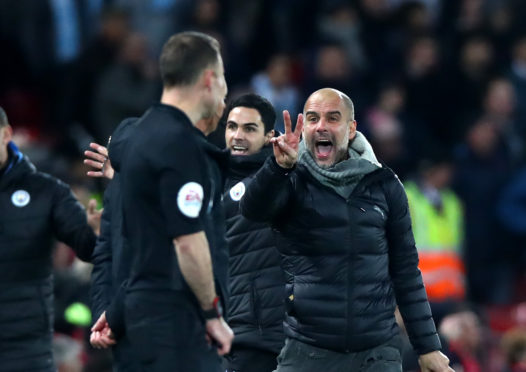 Once the incident in the England camp between Raheem Sterling and Joe Gomez stopped dominating the headlines, the subject of VAR was back to topping the sports media agenda.
It's rarely been off the back pages since it was introduced at the start of the Premier League season.
Some people weren't for it but have now bought into it. Others said it was a necessity in the modern game, but have gone back on that and claimed they want to return to the way it used to be – the referee's decision is final.
I was all for it four months ago and I'm still all for it. I've not changed my mind. However, I accept that there is room for improvement on a couple of fronts.
For sure, they need to make decisions quicker. For VAR to take more than three minutes to decide whether an incident is a penalty or not is not acceptable.
I remember they used VAR in an FA Cup game last season between Liverpool and West Brom. The first half lasted more than 50 minutes because of the length of time all of the officials debated decisions.
Liverpool had one go in their favour earlier in the season when Chelsea had a goal ruled out because a big toe of one of the players was offside.
Last weekend, an armpit of one of the Sheffield United players was offside and they had a goal disallowed away to Spurs.
Come on, do us all a favour!
We've been told that the referee will only overrule when it is "clear and obvious". Well, when you have to look at an incident eight or nine times then it can't be "clear and obvious".
So, I feel they definitely need to slacken things when it so very, very tight.
The other thing is that for all that VAR is accurate, it is not 100% factual.
Most decisions are still open to debate and down to human opinion. It is all about interpretation and will never be as clear as whether the ball is over the line or not. That is factual.
That's why I'd also like to see the final shout on the pitch left to the referee. I don't agree with another official who is not even inside the stadium, but based at Stockley Park, making the judgment.
We will see if there any significant changes on the back of Thursday's meeting between the Premier League clubs and Mike Riley, who is head of Professional Game Match Officials, the body responsible for referees.
Riley has admitted that they need to look at certain aspects and find ways of doing them better. But I do agree that substantial changes should not be made at this stage of the campaign.
Any significant alterations should be left until the close season.
By that point we will know who the League Champions are.
Sure, Liverpool opened up a nice lead of eight points at the top after their superb 3-1 win over Manchester City.
That 90 minutes also had its controversial moments and City felt they should have been given a penalty for handball by Trent Alexander-Arnold.
Pep Guardiola made his feelings known to match referee, Mike Oliver, at full-time.
Overall, Jurgen Klopp and his players couldn't be grudged the three points. In what was an outstanding game of football, Liverpool were the better side.
Neither goalkeeper was overworked during the 90 minutes, but the pace of the game, the quality on show and the execution of the passing and finishing was a great advert for the Premier League.
Things are going extremely well and Liverpool's current total of 34 points from 12 games is more than the combined tally of Manchester United and Everton. But I know Jurgen and he'll not get carried away.
Football can change very quickly and come back to bite you if you get too big for your boots.
Certainly Unai Emery at Arsenal will be hoping for a change of fortune.
He is under the microscope at the moment but can't be held responsible for every problem at the club.
Unai is a quality coach and has delivered European success at Sevilla and also acquitted himself very well at PSG. I've seen him at work and he knows the game.
Yes, he needs to win more games but some of the problems might not be within his control and a lot could be underneath the surface.
He deserves time and the January transfer window to help get things back on the right road. He is a brave coach and also decisive.
I've also heard people say that he is afraid to make decisions. Well, if that was the case then he wouldn't have left out Mesut Ozil.
Also in North London, Mauricio Pochettino is having questions asked of him.
Tottenham Hotspur haven't been as solid at the back or as clinical up front as they have been in the past two or three seasons, but sometimes you have to allow for a transitional period.
Mauricio is one of the best in the business and you should never write off someone of his quality.
Given time, both Arsenal and Tottenham will want to push up the league and get into the to four.
They will be there or thereabouts come May. That's for sure.