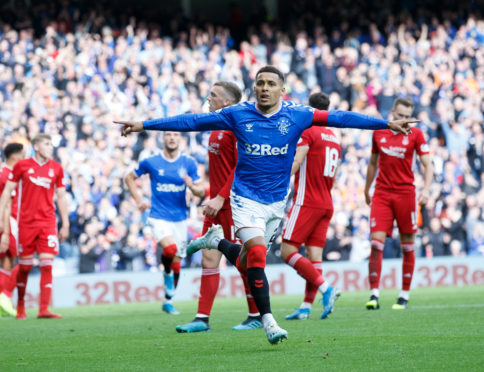 Captains are special figures in football.
They're the guys other players look to as example-setters, both on and off the pitch.
They're given the job because their manager trusts them to keep setting the standard week-in, week-out.
But what happens when a skipper stops doing the business on the park?
Can a captain be dropped?
That's what some Rangers fans are calling for after James Tavernier's midweek Europa League nightmare.
There's no dressing it up – Tav had a shocker against Young Boys.
The Gers captain made errors that led to both of the Swiss side's goals.
But the fact that both were so glaring is what's really troubling some punters.
I have no idea what James was thinking for Young Boys' first.
Initially, he does well to win the ball on the touchline in a dangerous area, but there are no passes on.
He should either fire that ball into row Z to give his side time to sort themselves out defensively, or even turn inside and fire it up the park.
Instead, he takes a terrible touch towards his own goal and is easily dispossessed, allowing a Young Boys cross that leads to the equaliser.
It was schoolboy stuff.
Then, in injury time, he misses with a lunging attempt to cut out a long ball, and Young Boys strike again – assisted by some poor goalkeeping by Allan McGregor.
I understand Rangers fans being frustrated.
I get that they think Tavernier is prone to these sorts of defensive errors.
But there's no way he should be dropped.
I'll hold my hands up – I don't watch every Rangers game.
But whenever I do watch them, Tav is usually the Gers' best player.
OK, he made mistakes on Thursday night, but there's absolutely no question about the guy's value to Rangers as an attacking player.
Maybe there's an argument he should be playing further up the park.
But I still think Tavernier has done enough for Rangers over the years to be more than worth his place, whatever happened in Switzerland.
What do Rangers fans want – Cafu at right-back?
For me, Tavernier keeps his place. It's a no-brainer.
But I don't think having the captaincy makes him immune if the mistakes keep coming.
It's a really tricky one for managers.
Dropping players is never easy. But when it's your skipper? Talk about a dilemma.
I was lucky enough to play under some magnificent captains during my career.
Mick Mills was the man at Ipswich Town and he was different class.
Then there was Steve Perryman at Spurs.
He was the nicest man in the world off the pitch, but he was the type who'd break his granny's ankles once he crossed the line – an absolute assassin!
At Manchester United, the magnificent Bryan Robson had the armband, while, on Scotland duty, it was Graeme Souness. Nuff said.
None of these guys were dropped as far as I remember, but it would be daft to imagine they didn't have rough patches.
The thing was, if they had a dodgy week or two, they were trusted to turn it around.
James Tavernier should be given the same respect.