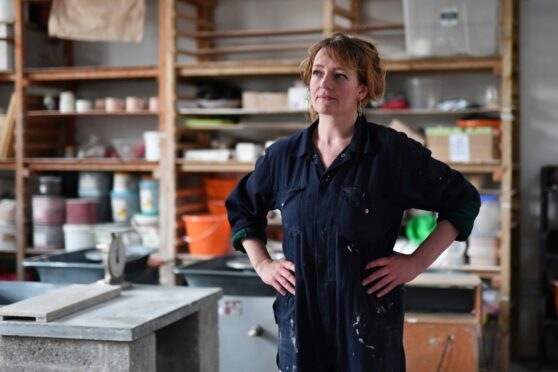 As life hurtles on with ever-increasing pace, more Scots than ever before are finding happiness in the slow lane.
While activities like yoga, reading and knitting continue to offer a reprieve from the daily hustle, a growing number of us are rolling up our sleeves and getting to grips with pottery.
According to the Scottish Pottery Association, from clay to completion, creating from clay is a process that takes many weeks but allows creators to switch off, bringing benefits for physical and mental health.
PotFest, the festival dedicated to all things pottery, takes place in Scone in Perthshire every summer, growing in size and sellers every year since its inception in 1994 and shows such as Channel 4's The Great Pottery Throw Down have further ignited the nation's passion for clay.
Pottery tutor Louise McVey, who works at Glasgow Ceramics Studio, says she specifically noticed the sharp increase in sign-ups to her class following the success of the programme.
"There was an uptake after The Great Pottery Throw Down launched, and a lot of new sign-ups to classes actually mentioned the show had led to them feeling they could try pottery themselves," she said. "The programme helps to demystify pottery and helps people realise they can do it themselves after seeing the process played out on TV.
"Though you don't see the big clean-ups or the hours of creation you do see people making mistakes and the messy parts, so it adds to that element of accessibility. It's something anyone can do."
Fiona Robertson, Scottish Pottery Association chair, agrees and believes accessibility to pottery has been key in its recent success with increasing affordability and advances in technology meaning just about anyone can embrace the activity.
"Pottery has become increasingly popular over the last five years though studio pottery (making ceramics in small studios rather than on a commercial scale) has developed steadily over the last 100 years," she said.
"Originally, the equipment was too large and expensive for individuals to afford and use in the home or studio setting but advances in technology and reductions in prices made it a more accessible activity.
"Innovations continue but while an average potter's wheel costs around £800 and a basic 40L electric kiln will cost around £1,500-2,000, you can make things with clay using just a bag of clay, your hands and tools readily found in your kitchen and fire your work in an old metal dustbin in the garden for next to nothing."
For Robertson, it's the slow process of creation in our otherwise fast, modern lives that is the key to pottery's appeal. But it was an arthritis diagnosis that first led her to the hobby, which now provides greater health benefits than she could ever have imagined.
"It is a slow, almost meditative process. Clay is unforgiving if you try to rush the process," she said. "From opening the bag of clay to having a finished piece of work, it is likely to take at least a week if you have a heated studio and work quickly.
"For most, it is a process that takes many weeks. It is a time to switch off and take the slow road. From a personal perspective, I took up pottery after being diagnosed with rheumatoid arthritis and being unable to easily paint or play golf (my previous hobbies).
"I also have a very pressured job in legal book publishing where I work to tight deadlines and needed a hobby that offered a complete contrast.
"I was a little naive about the physical demands of working with a substance like clay and there were times early on when I thought I had chosen unwisely.
"However, over the years I have adapted my practice to accommodate my arthritis and I find that working with clay, all that hand dexterity without it feeling like exercise, benefits my joints enormously.
"I need to pace myself and I have adapted tools, working positions and methods to make things easier but the pain reduction I get after a session in the pottery is remarkable.
"I have suffered on and off with depression for many years and I unexpectedly found that spending time in the pottery was the best therapy ever.
"I now call my studio my little happy place. I get lost in the moment and feel calm and grounded after a session, even when my creations have collapsed on the wheel or cracked in the kiln."
McVey also believes pottery is one of the few pursuits in the digital age which lets us access our more primal selves, as it's a process based on the natural dexterity and movement of our hands.
"People enjoy the tactile quality of clay and using our hands to get mucky and create something, rather than just buying it," said McVey.
"We have it in our DNA as humans to have our hands in mud and the earth and to be building and making as our ancestors would have done.
"I get people to close their eyes and feel the clay, and you can actually read it with your fingers and hands how thick it is. But we've lost touch of that a little bit in the age of keyboards and scrolling on our phones.
"Pottery has the power to bring those feelings of connectivity to our roots back."
The Great Pottery Throw Down, Channel 4, tonight, 7.45pm
---
I'm so lucky to have found what to do with my life'
Caitlin Foulds, 23, only took up pottery during lockdown but is now testing her skills on Channel 4's The Great Pottery Throw Down.
The show, charting 12 contestants battling to impress judges Rich Miller, Siobhan McSweeney and Keith Brymer Jones, returned earlier this month for its sixth season with Foulds, a medical student from Glasgow, taking on the challenge. She explained why pottery and being a part of the show – won last year by Aberdeen potter AJ Simpson – meant so much.
"Covid had just hit and life had drastically changed for everyone when I started to learn pottery from my dad, just before my 21st birthday," she said.
"For the first time I wasn't sure what to do with my life when exams were cancelled and university stopped for six months.
"I was fortunate to have the opportunity to learn such an amazing skill from my dad with equipment that even my late grandad had used.
"One of my favourite pieces of pottery was a very special mug I made for a lady who had had breast cancer and wanted one of my boob mugs with a closer representation to herself.
"It was such a special moment for me that she had allowed me to sculpt this for her and it was a joy to bring her idea to fruition.
"It will be a huge surprise to most folk in my life to see me on TV because I know if it was myself, I wouldn't believe it until I saw it. I'd be thinking, 'Surely Caitlin's not crazy enough to put herself under more pressure and stress – for fun?'
"I was so lucky to meet 11 other amazing potters who have a wealth of experience and knowledge of their own styles of pottery.
"We had unbelievable fun and stuck like glue that very first day of meeting each other. I couldn't have asked for a better pottery family."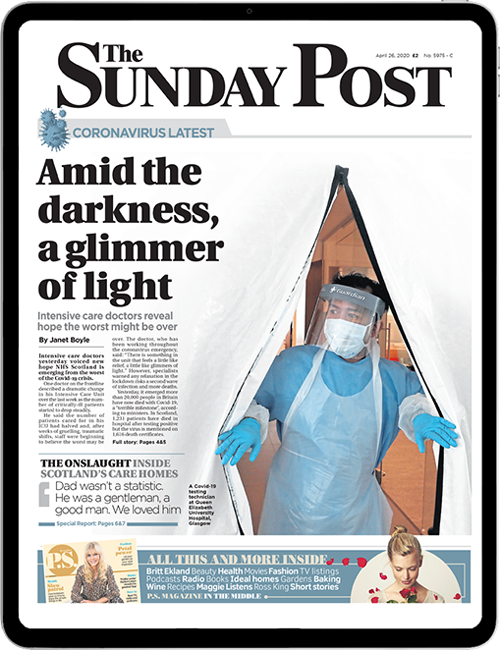 Enjoy the convenience of having The Sunday Post delivered as a digital ePaper straight to your smartphone, tablet or computer.
Subscribe for only £5.49 a month and enjoy all the benefits of the printed paper as a digital replica.
Subscribe