Four teachers at a school built on an industrial toxic dump have developed the same rare cancer, we can reveal today.
All the staff members at Buchanan High were diagnosed with bladder cancer. Three of them worked in the same corridor at the school where pupils and staff were told not to drink the tap water after it turned blue.
Meanwhile, a mum is demanding to know whether her autistic son's sudden blindness is linked to contamination at the site of the Lanarkshire school after he was found to have high levels of arsenic.
Buchanan High is a non-­denominational school for 96 pupils with additional ­support needs and shares a campus with St Ambrose High, which has 1,200 pupils.
North Lanarkshire Council says both schools are safe and there is no credible evidence to suggest a link between any ­illness and the site.
The school was opened in 2012 on a former ­landfill site used by Gartsherrie Ironworks for industrial waste, including chemicals and hazardous substances such as ­arsenic, nickel and lead.
It is understood lawyers for at least one of the teachers diagnosed with cancer has written to the council warning of legal action over the alleged link between "unknown contaminants" and their illness.
Professor Andrew Watterson, of Stirling University's Occupational and Environmental Health Research Group, who has led studies for the United Nations, said the cancer cluster has been flagged up to him.
He said: "The reported ill-health cases do merit serious investigation and it is understandable that staff, pupils and others who work on the site are anxious.
"More information must be made available and the process should be ­transparent to address all their concerns and either confirm or allay them as soon as possible.
"On the three bladder cancer cases, this seems like a big cluster very close together in the building for a very small population of teachers. Establishing if a cluster is causal or random is, however, notoriously difficult."
He said that cadmium, produced as a by-product of smelting, is known to cause cancer. "So it's possible the Gartsherrie Ironworks in the 1960s, if not before, did produce cadmium as an unintended by-product of iron and steel production. Arsenic is certainly linked to bladder cancer too," he added.
Staff at the school are now considering industrial action. Eddie Carroll of the teaching union NASUWT said: "Four ­teachers at this same school developed bladder cancer. We also have two others who have auto-immune disorders. Three of those with cancer actually worked in the same corridor."
Bladder cancer accounts for just 3% of all new cancer cases, and is most common in those aged 85 to 89.
Mr Carroll added: "The prevalence of those cancers and illnesses is above anything we would expect to find normally.
"Teachers are concerned for their health and for their pupils, too. We're on the brink of voting on strike action."
Plans to build the school on the site attracted opposition from the outset, but consultations with environmental organisations, including the Scottish Environment Protection Agency (Sepa), raised no objections and the council has always insisted the site is safe.
Concerns that tap water at the school was running blue were first raised three years ago but North Lanarkshire Council only ordered tests in October. Experts say high levels of copper in ­corroded pipework can cause blue colouration.
In February, we revealed copper levels were three times higher than normal and bugs caused by faecal matter were also found in the water supply.
Hundreds of metres of pipework at Buchanan and St Ambrose High are now being replaced.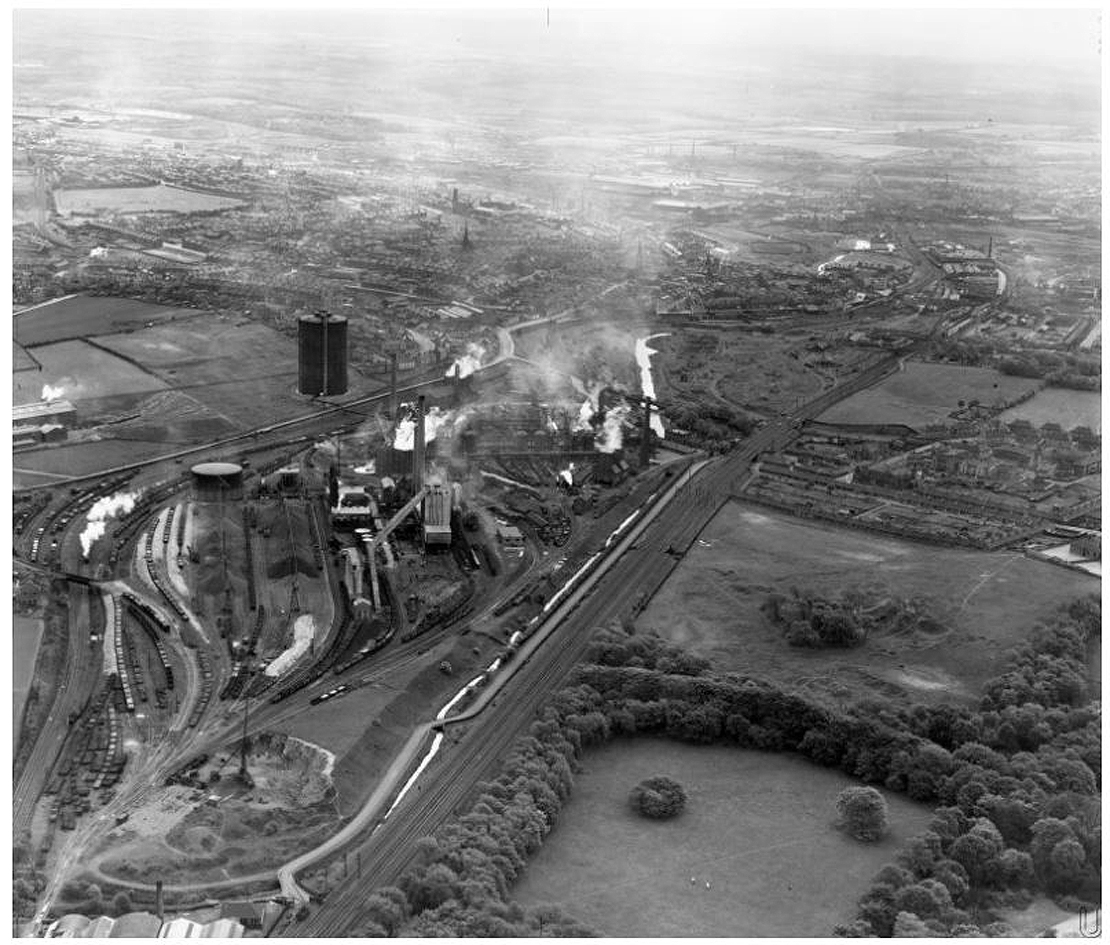 Consumption of high levels of copper can cause poisoning and stomach upsets.
Mr Carroll said: "We have asked North Lanarkshire Council for test results of the water and they have shared everything from 2018, but detail from previous years is virtually nil and they say they don't have a statutory duty to provide it."
Former health decretary Alex Neil is calling for an independent public health inquiry. He said: "People are very concerned. I'm very concerned. We want answers and the public will only be confident if those answers come from independent experts.
"An independent inquiry needs to happen sooner rather than later.
"I will be calling on Public Health Minister Joe Fitzpatrick to intervene and ensure all the available tests are carried out both on the water supplies and on the land, not just in the short term, but on a regular basis in future."
North Lanarkshire Council said: "The safety of pupils and staff is the council's primary concern.
"While it is regrettable that any pupil or member of staff suffers from a serious illness, there is no credible evidence to suggest that any such illness has been caused by environmental factors associated with the school site or copper previously being present in the drinking water supply.
"The council will continue to write directly to parents about issues of concern and is, of course, happy to discuss these with staff and trade unions at any time.
"To date, the council has replaced almost 1,800 metres of copper piping with plastic piping and all test results since November last year indicate the supply meets drinking water standards.
"If anyone has concerns about their own, or their child's, health they should contact their GP."
Coatbridge MSP Fulton MacGregor said North Lanarkshire Council had assured him officials will attend a public meeting to be held next month. He has already raised the issue at Holyrood.
Sepa said: "It is the local authority's responsibility to ensure the risks from historical contamination are addressed as the land is developed, and that the land is 'suitable for use'.
Scottish Conservatives' health spokesman Miles Briggs called on ministers to intervene. He said: "It's deeply concerning. These cases, coupled with the added concerns about the 'blue water', have prompted me to write to the Health Secretary to urge her to meet with staff and parents, and instigate an independent inquiry.
"Parents rightly want and deserve answers."
Alison Johnstone MSP, Scottish Greens health spokesperson, said: "No pupil or teacher should have to worry about the purity of the water supply when they go to school, or the potential impact on their health. Steps must be taken to give the school community the certainty they require about the water supply and, while I appreciate that pipework is now being replaced, why has it taken so long?
"If the school community feel they're not getting the answers they need then an independent inquiry should be one route open to them."
My son has lost his sight and we need to know if there is a link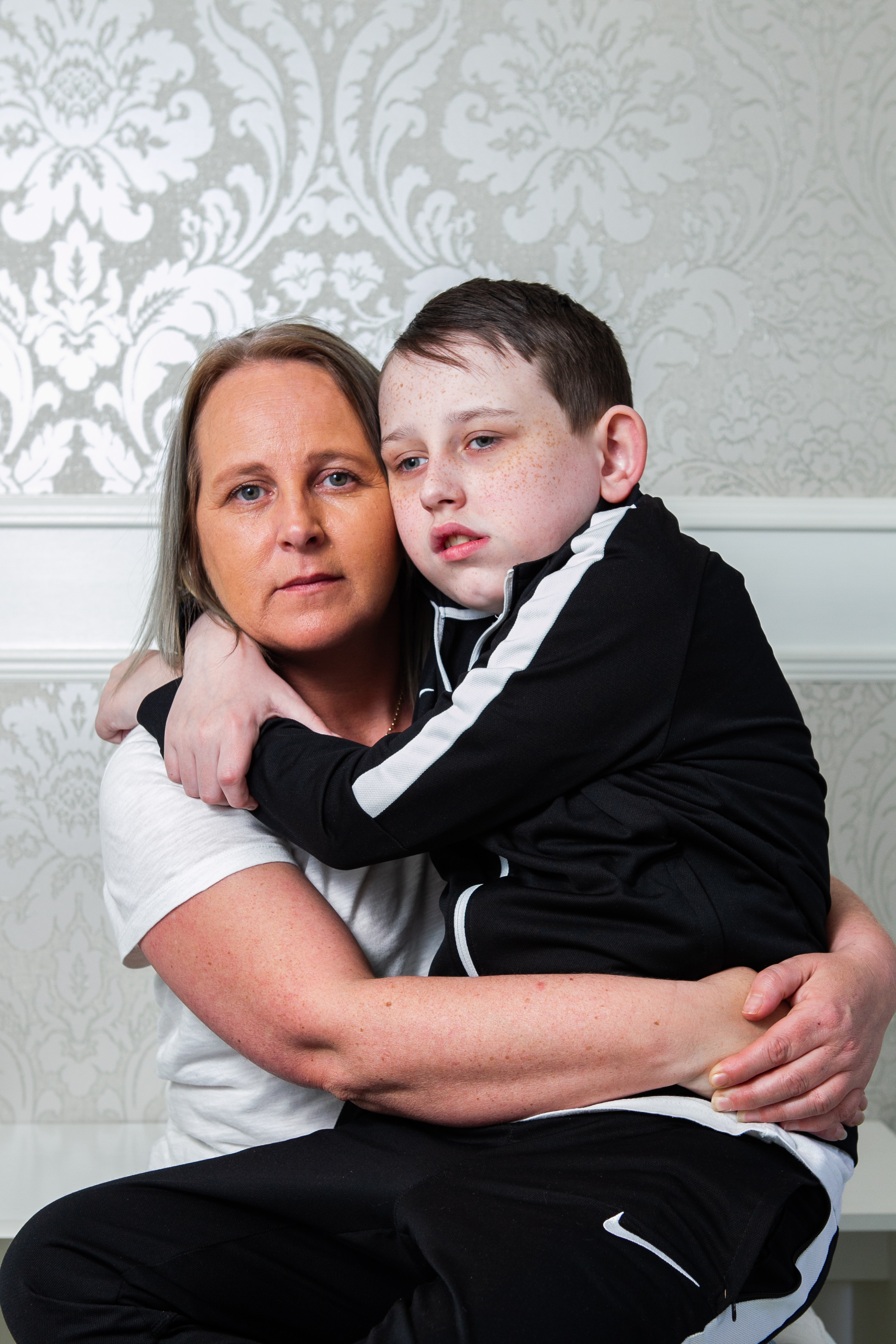 The mother of a pupil at Buchanan High is demanding to know whether her son's loss of sight is linked to contamination on the land where the school was built.
Josie Morgan's son Tommi has suffered sudden eyesight loss which has left him blind after starting at Buchanan High last summer.
Tests ordered after the condition began to develop found high levels of arsenic in his urine.
Josie, aged 41, of Airdrie, said she has met with a "wall of silence" from the authorities over 13-year-old Tommi's sudden eyesight loss and the high levels of arsenic found in his system.
Tommi's eyesight was checked before he joined Buchanan High last August and there were no issues with his vision.
His mum said: "Tommi has autism. Because of his condition, Tommi is picky about his food so I am always alert to any changes or issues, and take him regularly for blood and urine tests to ensure he stays healthy and well.
"Apart from a slight vitamin issue before he started the school there were no big concerns and his eyesight was perfect.
"By September, Tommi began saying there was something wrong with his eyes. An ulcer was found on his right eye and treated successfully. But very soon after that he began telling me he couldn't see at all.
"The GP and specialists were confounded. One doctor actually said he couldn't think of a condition where a child could see in the morning but be blind the same afternoon.
"I took Tommi to see a consultant ophthalmologist at Hairmyres Hospital, and more tests were done."
She said: "I only found out about the 'blue water' scandal in February and just happened to be seeing the consultant again that day. I told him about it.
"He immediately ordered tests to look for metals and other toxins."
A normal reading for arsenic in urine would be about 30. Tommi's test showed a reading of 80.
His mother said: "When we saw the level of arsenic in Tommi's urine was almost three times what it should be, the consultant said if there is no genetic reason and no one in our family has this, then he suspects there must be a link.
"We did a further test after Tommi had been off school for some time and the arsenic levels had dropped. We have every right to an independent inquiry. We've lost faith in the council."
Josie said the impact on her son had been devastating. "Tommi has autism," she said, "but he is a highly intelligent fun-loving wee boy who loved school, learning and computers.
"Now he's been struck blind and everything he loved has been taken away from him. It's devastating.
"We've been told there's only a very tiny chance that steroid treatment might partially restore some of his eyesight.
"I've been trying to get answers over how this has happened, only to be met with a wall of silence."
She said: "I called the head teacher and said Tommi had almost three times the normal level of arsenic, and I was asked how I thought that had happened.
"I then went to the local councillor who met with council officials and told me she'd been advised that, although arsenic had been present at the site, all the usual health and safety rules had been followed and the landfill had been concreted over.
"After hearing of the concerns of other parents, I went to my MSP and have since seen a lawyer who has written to the council on my behalf repeatedly asking for all the relevant ground tests which have so far not been forwarded."
North Lanarkshire Council say there is no evidence to suggest any link between ill-health of pupils or teachers at Buchanan High with ground contamination.
Professor Andrew Watterson, of Stirling University's Occupational and Environmental Health Research Group, was unaware of Tommi's case but said there are links between arsenic and blindness.
He said: "If there is no other explanation for the higher-than-expected readings – if it is not a blip explained by these other sources of arsenic, for example – and it continues for some time, then I would think it merits further investigation."
A leading toxicologist said arsenic was more likely to have been picked up through soil or dust.
He said: "With high arsenic levels I would be examining soil and dust."

Warnings before building began
Environment watchdogs warned North Lanarkshire that not enough had been done to monitor site contamination before building work started on the school complex.
In an 11-page report in 2010, the Scottish Environment Protection Agency (Sepa) raised concerns that monitoring of groundwater had taken place at just 10 out of 26 potential areas at the St Ambrose school site.
They also noted that surface water drains had not been identified as channels for groundwater and sources of landfill material, and demanded 56 further items of work be carried out before building started.
Officials were critical of the level of testing carried out, stating there were "potential sources of contamination that have not been assessed for their potential impact on the water environment".
In the report, seen by the Sunday Post, Sepa warned the distribution of groundwater monitoring locations was "limited" and did not "cover areas where potentials hotspots of contaminants were identified".
And agency officials warned assessments being used were inadequate for pollutants such as arsenic, benzene, chromium, boron, lead, nickel and phenol, and that a method used to calculate leaching was not suitable.
Officials were critical of risk assessments over the variation in contaminant concentrations, and whether or not "potential hot spots" posed a risk to the water environment.
They also flagged concern about the impact of copper, zinc anthracene and ammoniacal nitrogen on groundwater and bedrock at the site.
Sepa also urged checking whether lab data results had been interpreted correctly over potentially dangerous phenol, which they identified in clusters, warning this could be indicative of a source of contamination.
They also asked for further detailed risk assessment on the sports grounds.
Sepa said: "The qualitative assessment of risk undertaken is not sufficient to demonstrate low risk to the water environment."
And the agency warned "potentially significant pollutant" links had been found on site, calling for almost 60 further pieces of work to be undertaken.
The Sunday Post asked North Lanarkshire Council if all these were completed.
North Lanarkshire Council said: "The council routinely seeks advice from other agencies and this Sepa advice formed part of the normal processes for a development of this type.
"In addition, planning conditions were imposed to ensure the land was remediated appropriately and these conditions were met."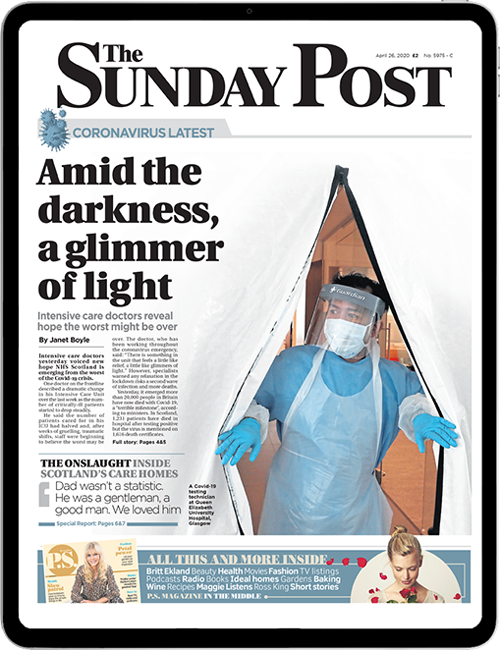 Enjoy the convenience of having The Sunday Post delivered as a digital ePaper straight to your smartphone, tablet or computer.
Subscribe for only £5.49 a month and enjoy all the benefits of the printed paper as a digital replica.
Subscribe