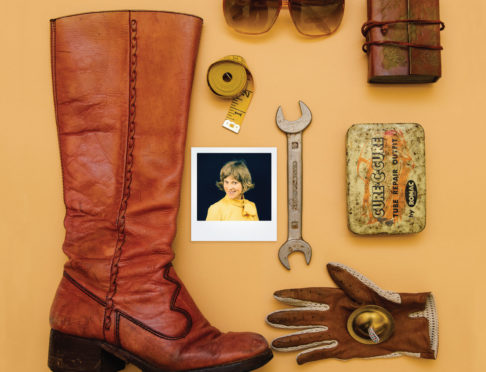 It's said good shoes take you good places.
And thanks to an innovative theatre production touring Scotland, quirky footwear is being used to provide happy times for people living with dementia.
Edinburgh-based Magdalena Schamberger – who co-created the Hearts and Minds charity, which sends clown doctors into hospitals – came up with the concept of Curious Shoes after working with dementia patients.
"Often in people with advanced stages of dementia, when you visit them they are curled up and the first thing they see is your shoes, rather than your face," Magdalena explained.
"The more extraordinary the shoes, the more their curiosity seemed to be sparked, so I decided to turn this into a theatre production.
"What I'm particularly proud of is the show is not just dementia-friendly, it was actually made for them with their input."
Magdalena, who has a theatre background, tested out costumes, colours, stories, music and sets on those living with dementia and, following a pilot run last year, Curious Shoes is now touring theatres and care homes around the country.
She says feedback from those who have seen the show demonstrates that it's still possible to engage with people with dementia, even those in advanced stages, without trying to trigger memories.
"We thought about every single aspect of the production very slowly and carefully," she continued. "It's about an hour long, a mixture of rehearsed scenes and improvisation.
"I want to change perceptions within society for those with dementia. We need to go much further than the activities currently provided. I'm very much about not focusing on memory. We know that's their challenge, so why focus on it?
"If you use your imagination it can evoke feelings. It's important for people with dementia to have access to emotions. There are really beautiful things in the show – a lot of fun but also moments where people shed a tear.
"Anecdotally, we see the difference it makes. One audience member said, 'I feel like I'm shining inside'. Others will get up and help the performers or ask if they can go with them. We've been told they'll still be talking about what they've seen on the way home or later in the day, and this is rare."
One participant, John, whose wife Ena had dementia, said: "On leaving the studio, Ena said, 'Oh I enjoyed that'.
"You may not realise how much that little statement means to me but I can assure you it is not something I hear very often."
Magdalena left Hearts and Minds 18 months ago to concentrate fully on Curious Shoes after receiving a grant from The Paul Hamlyn Foundation, and she believes it has only begun to scratch the surface. "It is having such a positive impact. Relatives say their loved ones are coming alive."
Curious Shoes is at Dundee and Edinburgh this week with more dates at magdalenaschamberger.com/projects/curious-shoes