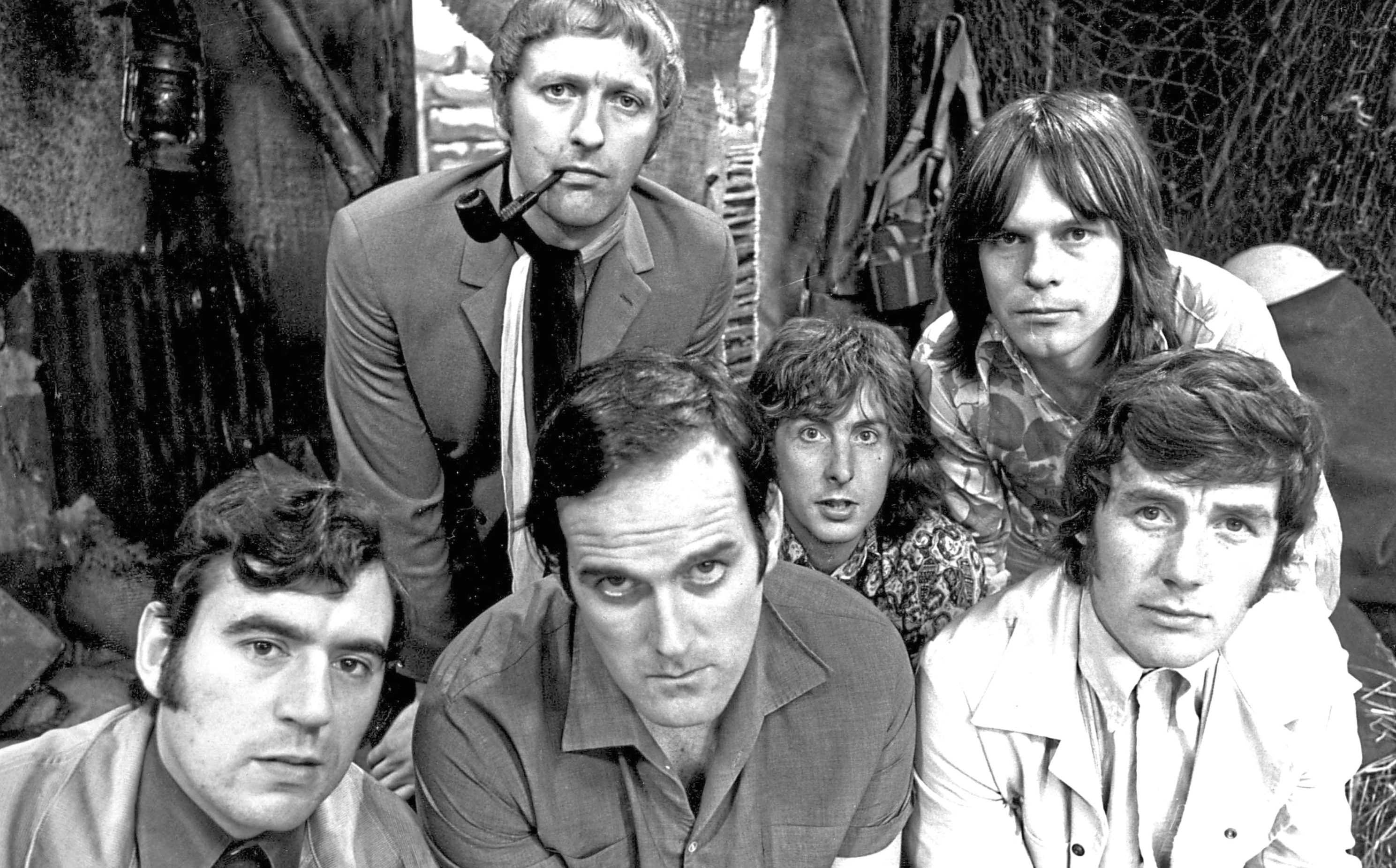 MONTY PYTHON is the most famous name in British comedy.
Not bad for someone who never existed.
The titular leader of the legendary Monty Python's Flying Circus, he was a figment of six men's imaginations, and this year, he celebrates his half-century.
Over the course of 45 episodes of the TV show, three films, various albums, books, touring stage shows and a musical, that magnificent half-dozen changed the course of comedy.
In fact, without John Cleese, Michael Palin, Eric Idle, Terry Jones, Graham Chapman and Terry Gilliam, we would be laughing, in their words, at "something completely different".
But they didn't come to us fully-formed. Far from it.
The various Pythons, as they became known, had all been working for several years before their first Flying Circus was broadcast to a largely bemused Britain on October 5 1969.
In fact, the list of radio and TV shows one or more of them had worked on reads like a What's What of UK comedy in the 60s.
From I'm Sorry, I'll Read That Again and The Frost Report, to Do Not Adjust Your Set, they'd been honing their craft and making alliances that would be unleashed under the Monty Python banner.
Cleese and Chapman met while they were both students at Cambridge, and Idle also went there, though a year later. They were all members of the famous Footlights theatrical society, which at the time also featured future Goodies Tim Brooke-Taylor, Graeme Garden and Bill Oddie.
Cleese met American animator Gilliam in New York while on tour there with Footlights.
Palin and Jones, meanwhile, met at Oxford, where they both performed with the Oxford Revue.
Though five of the six went to Oxbridge, their backgrounds were very different.
John Cleese was academically bright – he stayed on at his prep school teaching science, English, geography, history and Latin for two years until he was able to take up his place at Cambridge, where he read Law.
There, he became heavily involved in the Footlights Revue, writing and performing material.
He says: "I went to the Cambridge Guildhall, where each society had a stall, and went up to the Footlights stall, where I was asked if I could sing or dance.
"I said no as I wasn't allowed to sing at school because I was so bad, and if there is anything worse than my singing, it's my dancing.
"I was asked: 'Well, what do you do?' to which I replied: 'I make people laugh.'"
The 1963 Revue was so successful on the Edinburgh Fringe, it went to the West End, New Zealand and Broadway.
Cleese stayed in New York for a while, performing on and off-Broadway – and met Gilliam, as well as his first wife Connie Booth, with whom he'd write and star in Fawlty Towers.
Despite his success in shows like The Frost Report, Cleese's father continued to send him clippings from the Daily Telegraph advertising management jobs with the likes of Marks and Spencer.
Also heavily involved in Footlights was Graham Chapman, the son of a policeman, who was studying medicine.
He was torn between following a career as an actor and pursuing medicine – he qualified as a doctor from St Bart's, but plumped for the former when he teamed up with Cleese to write for the BBC, initially for David Frost and Marty Feldman.
Another Cambridge graduate was Eric Idle, who read English at Pembroke College.
He'd been born in South Shields when his mother was evacuated there during the war, and tragedy struck when his father, serving in the RAF, was killed in a road accident while hitch-hiking home for Christmas in 1945.
Struggling to cope with a full-time job and a child, Idle's mother sent him to board at the Royal Wolverhampton School when he was seven, and he hated it.
He said: "It was a physically abusive, bullying, harsh environment. I got used to dealing with groups of boys and getting on with life in unpleasant circumstances, and being smart and funny and subversive at the expense of authority.
"Perfect training for Python."
Named as head boy, Idle was stripped of that status after being caught watching an X-certificate film in the local cinema. He insists there was so little to do at school, boredom drove him to study hard and win a place at Cambridge.
There, he was invited to join Footlights and went on to become President in 1965, the first to allow women to join the club.
Idle recalls: "I'd never heard of the Footlights, but we had a tradition of college smoking concerts and I sent in some sketches. Tim Brooke-Taylor and Bill Oddie auditioned me for the Footlights smoker and that led me to discovering Footlights."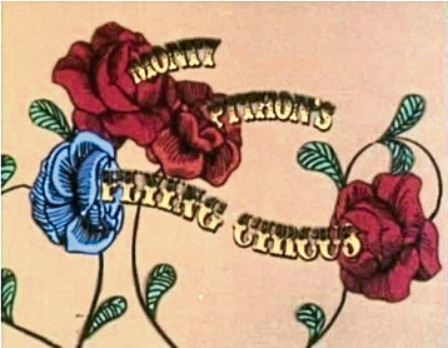 Across at Cambridge's rival, Oxford, Michael Palin was studying Modern History at Brasenose.
He'd been a keen performer in his school days, with a particular interest in comedy, and he gravitated towards the Oxford Revue, a comedy group that wrote, produced and performed shows.
It was there that he met Terry Jones, who'd been born in Colwyn Bay but left Wales when he was four and a half.
Yet another academically-gifted student – he'd been school captain – Jones read English but "strayed into History" after becoming interested in the medieval period while reading Chaucer as part of his degree.
Jones left university a year before Palin, but he'd enjoyed writing for the Revue with him, so called him for help in writing a theatrical documentary about, of all things, sex through the ages.
This was eventually abandoned, but the partnership was sealed and they began to write for the likes of Billy Cotton, Ken Dodd and Roy Hudd's BBC shows.
Terry Gilliam was always the odd one out of the group, having been born in Minnesota before growing up in Los Angeles. He was academically brilliant – surprise, surprise – being voted class president and "Most Likely To Succeed", and achieving straights As.
He graduated in Political Science, but a combination of being an avid reader of Mad magazine and what he was witnessing in America pointed him towards animation and the UK.
He explains: "I was terrified that I was going to be a full-time, bomb-throwing terrorist if I stayed in the US because it was the start of really bad times in America.
"Every night, I'd be hauled over by the cops who thought I was a long-haired drug addict, I felt like what it was like to be a black or Mexican kid, and I got more and more angry."
When the satirical magazine Help! folded in 1965, Gilliam headed for Britain and got a job on kids' TV show Do Not Adjust Your Set, where he met three future Pythons.
It was the BBC's satirical show, The Frost Report – starring David of that ilk – that is credited as first uniting the British Pythons and providing an environment in which they could develop their style.
It ran from March 1966 until December the following year, and that's when the Python story could have come to an untimely end.
After the success of Do Not Adjust Your Set, which Gilliam, Idle, Palin and Jones worked on, ITV offered them their own late-night adult comedy series. At the same time, the Beeb offered Cleese and Chapman a show.
But Cleese was reluctant to do a two-man show, partly due to his colleague's difficult and erratic personality, and having enjoyed working with Palin on How To Irritate People, he invited him to join them.
With no ITV studio available until the following summer, Palin agreed, and suggested he bring along his writing partner Jones and their colleague Idle who, in turn, proposed asking Gilliam to provide animations for the series.
But they needed a name.
Suggestions included Owl Stretching Time and The Toad Elevating Movement.
"Flying Circus" stuck when the BBC explained it had printed that name on their schedules and wasn't prepared to change it, but ideas as to what should go before it included Arthur Megapode and Baron Von Took after Barry Took, who had helped bring the group together.
Palin proposed Gwen Dibley's Flying Circus after a woman he'd read about in the paper, thinking it would be funny if she found out she had her own TV show.
They settled on Monty Python which – if one of several explanations is to be believed – came from Eric Idle putting together a tribute to Field Marshal Montgomery and "a slippery-sounding surname".
The BBC hated it, thinking it was a ridiculous name, and only gave in when the group threatened to change their name every week.
And so a legend was born.
To be continued in part two.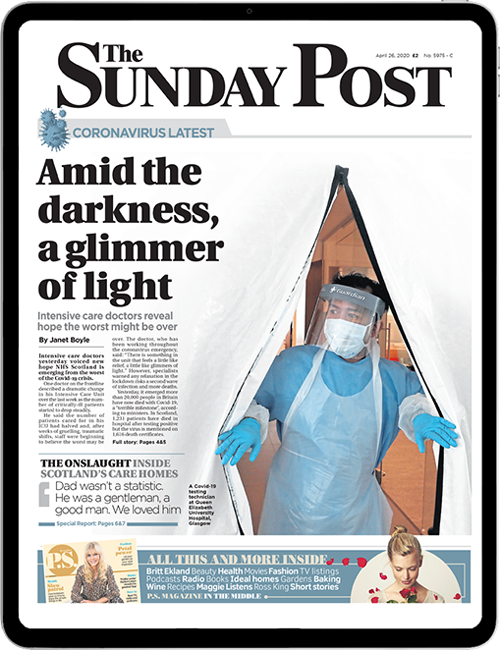 Enjoy the convenience of having The Sunday Post delivered as a digital ePaper straight to your smartphone, tablet or computer.
Subscribe for only £5.49 a month and enjoy all the benefits of the printed paper as a digital replica.
Subscribe