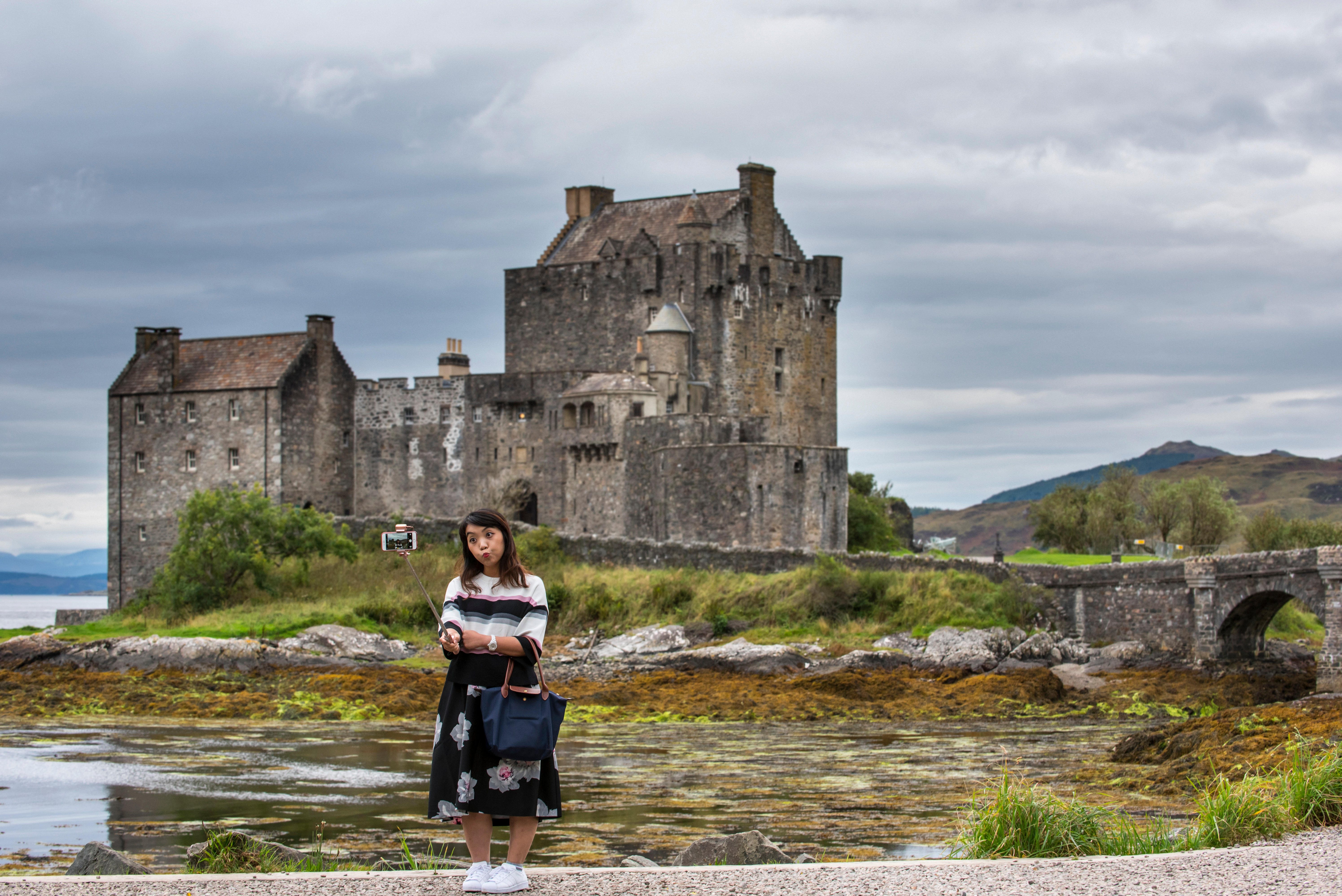 YOUNG travellers are flocking to Scotland – fuelling an £820 million tourist boom, according to visitor figures.
VisitScotland has found that travellers in their teens and 20s are taking more mini-breaks to see sights such as Dunnottar Castle in Aberdeenshire and Glenfinnan Viaduct in Argyll.
Young people, aged 16 to 34, from around the UK are also spending more cash than ever in Scotland – £821m last year, up from £663m the year before, a rise of 24%.
Malcolm Roughead, chief executive of VisitScotland, said: "This generation is one of the largest in history and represents an important market."
The tourist agency's research found that young people want "bragger's rights" – being the first in their peer group to visit unusual destinations but don't always want to splash out on a foreign holiday.
A big draw for the selfie generation are Scottish locations that have appeared in Hollywood films and in TV series, making them "braggable" on social media.
Glenfinnan Viaduct features in Harry Potter, Dunnottar Castle was the inspiration for Brave, Skye has been a location for Star Wars and Prometheus, and Outlander is filmed throughout the country.
Scotland is now a destination of choice for young people who live in the UK and whose salaries often struggle to keep up with their desire for new experiences.
Katie Johnson, director of Rockin Vans, a Scottish campervan company, said: "Young people want to spend money on experiences rather than things now and that's had a big effect on our business. Our customers are not interested in designer clothes and handbags. They want to travel. We've seen a huge rise in the number of young people coming to Scotland from the rest of the UK.
"For them, it's about getting the perfect selfie on a budget.
"We get people who go specifically to the Harry Potter bridge. They jump out of the van, get the selfie and move on.
"We have a London depot and our vans just come straight up here, one after the other.
"We could put the vans on autopilot. They drive straight past the Lake District for a whistle-stop tour of Scotland."
The number of trips to Scotland taken by young people from the rest of the UK has risen by 7% in a year, from 2.8 million in 2016 to more than 3 million last year – one quarter of total UK visitors.
The total spent last year by domestic visitors was just over £3 billion, meaning young people account for 27% of the tourist spend.
Over the next 10 years that boom will create around 15,000 new jobs, according to Lawrence Durden, who has been Skills Development Scotland's tourism industry manager for six years.
He said: "There is growth in adventure tourism, wildlife tourism and marine tourism. These are areas that are very appealing to young people who desire to do something unusual.
"My job is to make sure we support the industry so that young people coming to Scotland get a fantastic experience."
Young people from the rest of the UK are a key target for VisitScotland and the tourism body's study has identified what Scotland can uniquely offer them. The research found that young people want to do it all in 48 hours, using lists to "showcase must-dos, making the most of short breaks by coverings key themes such as art, culture and food and drink, and positioning lesser-known destinations as the new place to be".
For young people the journey is part of the trip and allows them to make their own discoveries and take "selfies that count".
The research found they will create their own adventures, showcasing intense experiences and challenges.
VisitScotland commissioned the research to mark the end of the Year of Young People 2018, in order to provide the tourism body with a "deeper, more granular understanding of young people – what makes them tick".
Scotland's tourism minister Fiona Hyslop said "outdoor and adventure activities" and Scotland's "world-renowned festivals" are also a big draw for young people.
She said: "Particularly in this Year of Young People, it's important that we work with the industry to ensure Scotland is considered as a must-visit travel destination by young people.
"I am pleased that this research identifies areas where we can improve our offering and I hope it can help the industry tap into new and younger markets."
Mr Roughead added: "Scotland is the perfect playground for young people.
"It is an exciting, contemporary destination which seamlessly blends rich history, a vibrant cultural scene and unbelievable beauty.
"This research will give us a greater understanding of what young visitors want from a holiday.
"We know that not all young people are the same, they are individuals each with their own values, beliefs and interests.
"Armed with this knowledge we can work with the Scottish tourism industry to showcase the wealth of unmissable experience that Scotland has to offer.
"There really is something for everyone."
"Scotland is great for pictures. There's so much to see."
James and Lizzie Maloney, both 29, visited Edinburgh to see where Harry Potter was written.
The couple, from Brentwood in Essex, wanted a short trip, close to home which "wouldn't break the bank".
James said: "My wife's a big Harry Potter fan and she wanted to see the coffee shop where
JK Rowling wrote the first book.
"We also did the castle and had Christmas dinner there.
"We even conquered Arthur's Seat. Lizzie was a bit reluctant to do the climb at first, but once we got to the top she was happy. The view was incredible."
The pair took hundreds of photos and posted selfies on social media.
"We got some great pictures," said James.
"Edinburgh is a great place for photos, especially at Christmas time. There's so much to see. The pictures of us at the top of Arthur's Seat got lots of likes and comments."
The selfie hotspots
Dunnottar Castle, Aberdeenshire
This spot was the inspiration behind Disney Pixar's Brave. Perched atop soaring cliffs overlooking the Aberdeenshire coast, the ruins of Dunnottar Castle are a fairytale setting. Get the best angle before crossing the narrow bit of land.
Glen Coe Mountains, Scottish Highlands
Glen Coe is one of the most recognised valleys in Scotland, and is surrounded by almost unparalleled beauty; with looming mountains and breat-taking scenery. It's also the place where Hogwarts is located in the Harry Potter films, and where James Bond took refuge with Q in Skyfall.
Loch Ness, Scottish Highlands
This 23-mile loch offers scenic views all the way around – perfect for photo opportunities. Whether it's from the banks of Dores beach, at Urquhart Castle or a water tour over the deep blue expanse, you'll get a great shot.
Fairy Pools, Isle of Skye
The enchanting Fairy Pools – crystal clear blue pools of the River Brittle – entice visitors from all over the world, and they make great wild swimming for those brave enough. And while on Skye make sure you get a snap at the Old Man of Storr.
Corryvreckan Whirlpool, Argyll
It's the third largest whirlpool in the world, with giant nine-metre waves crashing around it. The resulting maelstrom can reportedly be heard up to 10 miles away. On a good day you might also see seals, porpoises, dolphins or minke whales in the water.