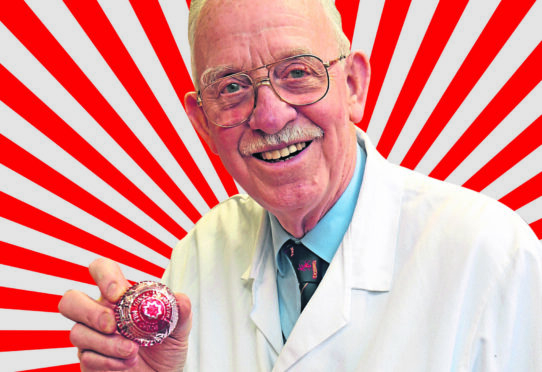 He's Scotland's most famous baker and, at 90, Sir Boyd Tunnock shows no sign of slowing down.
With 6am starts six days a week, he works hard to earn his daily bread (and produce some of the world's favourite treats, from Teacakes to Caramel Wafers) at his family's factory but here, as he talks JANE BARRIE through his day, he reveals he wouldn't have it any other way.
6am
I've been starting my days at 6am since 1949 when I first worked for my father, Archie Tunnock, in his bakery behind the shop in Uddingston, Lanarkshire, at the age of 16. My grandfather Thomas founded the business in 1890 and I took over in 1981 when my father died. Today we have a factory of 250,000 sq ft over four floors.
I'm in at 6am every day, except Sundays when I start a bit later. I drive from the house in my Rolls-Royce which still carries my father's number plate, AT 12, and park outside.
It's only 350 steps from the house to the factory but I'm not as mobile as I used to be. I turned 90 on January 25 and I walk with a stick. My knees are kind of suspect so I'm always careful. At my age you don't want to go and get an operation unless you need it!
I have a bike to get around the factory. It's 50 years old and my father had it in front of me. It's the same one – powered by a car battery. I have all my accoutrements on it too – a horn, sanitiser and a bell. I need to let people know I am coming!
6.15am
The chocolate department on the ground floor is my first port of call. We make 100 tons of chocolate a week for more than seven million Caramel Wafers and 3.5 million Teacakes.
As the dayshift arrive, I look at the chocolate and check the temperature. Then it's the second floor for the caramel. Staff are already producing wafers to start production.
I notice a liquid sugar tank that won't pump sugar up. The sugar has crystallised in the pipeline, overheated and gone into a kind of toffee. The tank has to be isolated, emptied and cleaned out. When my father started making Caramel Wafers in 1952, we were doing 150 biscuits a minute…now we do 2,400.
Before heading home for breakfast I check in on the department that makes the biscuit bases for our mallows. I'm pleased to see them shooting down the belt at 1,000 a minute. I invented the Teacake in 1956. I check the size of the biscuit base against a perfect circle I've drawn in my pocket book. We have quality controllers going around all the time but this is my own personal quality control!
I have a quick whizz past the Snowballs on the third floor then down past the Caramel Logs on the second floor.
7am
I am back in my office – the same office used by my father before me. I sometimes think it's like a museum with all its bits and bobs.
I take my coat off, change my shoes and then head home for a cup of tea and a seat and a read of the papers.
8am
Before heading back to the factory I visit our shop and buy two cakes – usually an empire biscuit and a pineapple cake. I always buy them.
I'm back at the factory by 8.15am. My cakes go home with me at lunchtime. My wife Anne and I have one each.
I'm checking newspapers and, as I sit at my desk, the office vibrates. That's the pump for the condensed milk to make the caramel working away upstairs.
Then the phone starts ringing – there's something needing done here, something wrong there.
I do another trip around the factory and by this time, of course, everything is in production and there's more to see.
9.45am
The team who run the factory – my daughter Karen, her husband Fergus and Bill Gow, a director and company secretary, come in to talk over the day. We're a family business and our turnover was £72 million last year so we must be doing something right. We have another cup of tea about 4.15pm to look at how things are progressing.
10.20am
I'm heading home again for another hour – pacing myself. It's the best way.
I check in on my cars which are kept in a heated garage. My father gave me a powder blue MG TC sports car for my 17th birthday. I also have a lovely old Lagonda from 1952. The garage keeps the cars up to standard. If you keep the moisture away they don't rust.
11.20am
Back at the factory, I'm speaking to the production manager – our export sales alone are now £12m a year.
Our quality controllers check everything. With chocolate you have an enrober man who goes around. If a biscuit is underweight the line is marked in red so adjustments can be made.
I'm also catching up on correspondence with my secretary, Margaret, who has been with us since the age of 15 (I won't say what age she is now!). I am chairman of the Salvation Army West of Scotland Advisory Board and also an elder in the local church.
1.30pm
I'm on the move again, heading home for an hour's lunch. My wife and I haven't been abroad now for 10 years but we're planning a holiday up north to Torridon.
We generally go for three or four nights at a time. I also have a yacht, Lemarac (caramel backwards), which I've had for 25 years. I'm out in that every fortnight or so. I do take a little time off!
2.30pm
I go to see my buyer who is buying our boxes. Prices have gone up so much that they have a long way to come back down.
I spend the afternoon nipping around the factory to see the various shifts and the changes.
There's a dayshift, then the 3.30pm to 9pm backshift. Then you have the nightshift. It's a continual process of getting things right.
5.30pm
I finally head home for my tea. I suppose I kind of live in the factory but I don't see it as work. It's a pleasure to be here, that's the thing.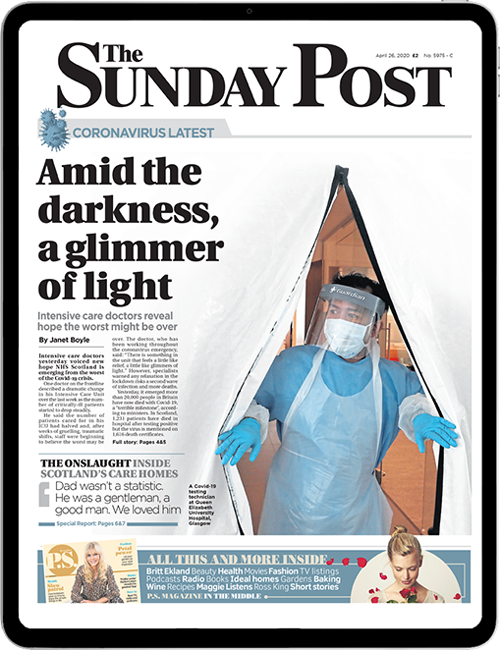 Enjoy the convenience of having The Sunday Post delivered as a digital ePaper straight to your smartphone, tablet or computer.
Subscribe for only £5.49 a month and enjoy all the benefits of the printed paper as a digital replica.
Subscribe