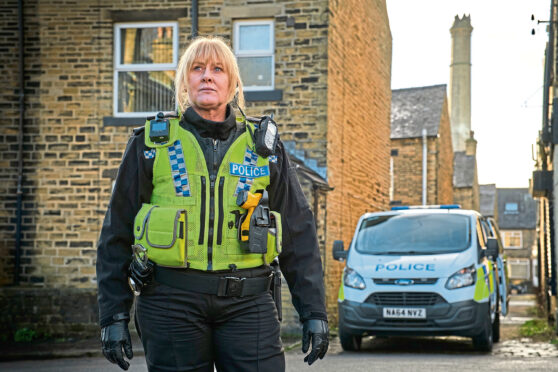 Tonight's the night for the millions of fans preparing to tune in en masse to see the final episode of the critically-acclaimed, hugely popular Happy Valley.
Hailed for the return of appointment TV in the age of streaming services, the BBC's Sunday night crime drama will end tonight when writer Sally Wainwright will close the family saga that has gripped viewers across three series.
Speculation on potential endings and plot twists have reached fever pitch this week with around 10 million fans expected to be watching how things end for phlegmatic but tormented police sergeant Catherine Cawood, played by Sarah Lancashire.
However, with so many invested in the drama series memorably set in West Yorkshire, experts warn final episodes have the potential to go either way – from the perfect to the infuriating.
Kate Davidson, screenwriter and lecturer at Napier University, is a super-fan of Wainwright's Happy Valley and believes every episode so far will have set up tonight's blockbuster finish.
"The build-up throughout this series by Sally Wainwright has been very careful," she said. "Everything that's happened has been with the feel of putting chess pieces in the right position.
"Catherine is very much alienating some people and making friends of others. Ultimately, it relates to the question of how you deal with people who are violent. Do you push people away? Or do you listen to them with compassion? Do you help them?"
Davidson believes Wainwright's job in the final episode will be to find a satisfying resolution for Cawood as she copes with the escape of Tommy Lee Royce, a murderer who raped her daughter, while addressing the bigger themes that have coloured the three series that began in 2014.
"The most important job she has to do is finish off the character arc of Catherine Cawood, that's the main job for any finale episode: trying to finish your protagonist story arc in a way that feels believable," she explained.
"It can't be forced but at the same time it has to reach a believable resolution, which can be difficult because often life doesn't reach resolution. So it's going to be difficult.
"If you look at Catherine's arc, she's always been hard and she's always been capable.
"There's a wonderful scene at the beginning of this series where she talked about how she feels more ready to bulldoze over anything. She feels more capable, she isn't putting up with nonsense.
"She's become harder and harder; how do you finish that journey satisfyingly? Are you finishing it by making her go so hard, and bulldoze through so much that she will get a comeuppance or are you reaching her to a point where she will crack and some softness will come in?"
Television finales like The Sopranos – which left the James Gandolfini's mob boss seemingly in a state of limbo, and fans arguing over what that meant – divided opinion.
Others were less successful. Game Of Thrones was the most-watched television series in the world but its finale was critically panned.
---
I'm 47. I'm divorced. I live with my sister who's a recovering heroin addict. I've two grown-up children – one dead, one who don't speak to me – and a grandson…. it's complicated

Catherine Cawood introduces herself in Episode One in 2014
---
According to Davidson, too many of the characters simply didn't seem like themselves, leaving viewers feeling betrayed.
"Danaerys, a character who suffered all these traumas and had always tried to do what was right, became a fascist leader," she explained.
"Clever Tyrion became stupid; while Bran who had shown no inclination for leadership, suddenly wanted to take the crown. It felt like none of the people in the final episode were their characters any more. If you were invested in those characters it all felt like a huge cheat."
Meanwhile Davidson pointed to drama Mad Men, about 1960s advertising executives, which finished with a Coca Cola advert, as nailing both the main characters' story, as well as the themes of the show.
"Then there was David Suchet's Hercule Poirot. His character's commitment to justice was black and white," she said.
"Slowly, over the final episodes, he began to adopt more nuanced thinking.
"Not a lot of people remember that he kills himself, after having been diagnosed with a terminal illness, in order to frame a serial killer who otherwise would never be brought to justice.
"He had realised the law was not perfect and sometimes you have to go beyond it, but it was still in terms of what was right, it was still true to his character."
Davidson predicts the end of Happy Valley, a show known for its grim tone, will come tinged with hope.
"I can't imagine it having a schmaltzy ending," she added. "It's a show about dealing with trauma and if Sally Wainwright wanted to say there's no way to escape it then that is very bleak. I can't quite seeing her doing that either. It will perhaps be something more bittersweet.
"Speaking as an audience member, I'll cry if anything happens to Catherine…"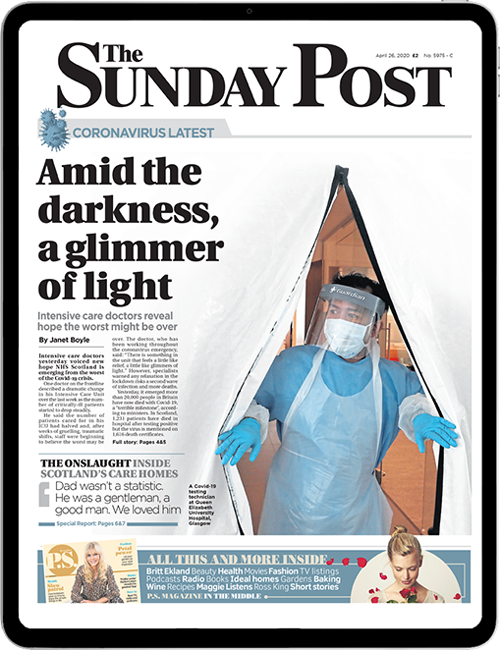 Enjoy the convenience of having The Sunday Post delivered as a digital ePaper straight to your smartphone, tablet or computer.
Subscribe for only £5.49 a month and enjoy all the benefits of the printed paper as a digital replica.
Subscribe