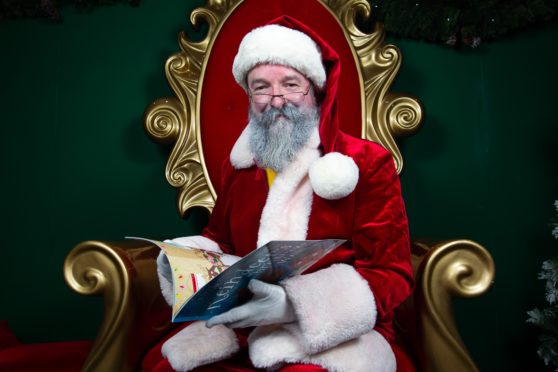 It's beginning to look a lot like Christmas at Glasgow's Snow Factor, Braehead, Scotland's only indoor skiing and ice climbing facility.
The venue put 70 elves and 12 Santas through their paces to bring Christmas magic to the young and young at hearts.
After passing through the Candy Cane forest, the sea of swirly-twirly gum drops, and past a pretty rigorous interview and routine elf check, the very best and bravest end up here.
In Santa's workshop, children create tree decorations in a swirl of glitter helped by ecstatic elves.
Then they stand to recite the Elf Oath before heading next door to Santa's room for a story and a gift.
Here, LAURA SMITH speaks to some of the team making Christmas dreams come true.
---
The terrorism specialist
For Iain Harris, 56, 15 years as a counter-terrorism police officer in London was child's play compared to his latest challenge as Santa.
"Did I think after retiring from the police force I'd end up being Santa? Absolutely not.
"I feel like a swan, floating serenely on top and paddling like mad underneath.
"I was with the Ministry of Defence for 15 years based in London, Wiltshire, and Aberdeenshire.
"I took early retirement two years ago. My former colleagues will get a real kick out of this.
"There are four ages of man: you believe in Santa, you don't believe in Santa, you pretend to be Santa, and then – at 56 – you become Santa.
"I think it's all about having the voice and presence. My mother putting me through those hated elocution lessons has paid off.
"We've been told the elves are our minders as, no matter what happens, we can't break character because, to the kids, it's real.
"In the event of an emergency, we ditch the jacket and cover ourselves with a big black cape so nobody sees Santa!
"I also work for the Good Morning Service, a charity that supports over-55s living in isolation.
"I've been there for 18 months and it's helped me return to civilian life."
---
The actor
Harvey Lancaster's role is a far cry from the 27-year-old freelance performer's previous acting work.
"I've gone from being a warrior in Outlaw King to an elf in Santa's workshop!
"We were filming across Scotland in November. It was brutal. Half the extras dropped out as it was so cold, so I ended up being a Scottish warrior, English soldier, a blacksmith, henchman, and a peasant.
"I never went to Santa's grotto as a kid so it's nice to be on the other side. I would've loved to have been Santa but I'm a bit too tall, skinny and clean-shaven.
"But elves are more fun and mischievous.
"You get to be a bit ridiculous and an exaggerated version of yourself. It's very liberating.
"The most important thing is to make sure the kids have fun as we guide them through making tree decorations and bags of food for the reindeer and then writing their Christmas lists – we're trying to order the chaos."
The philosophy student
Philosophy student Alex Hales, 32, has found her dream job as one of five Head Elves.
"I dress up every Christmas to the point where my nieces and nephews think I'm a real elf.
"I jumped at the chance to be an elf for Christmas. To get the job we had to send in a tape of us reciting the Elf Oath, which I did in full elf costume!
"As Head Elf, I coordinate the other elves and make sure they are always excited and stay in character. To the kids, we are real elves, so that's the brief.
"Our job is to keep them happy while waiting for Santa. We help them pick their elf names and take the Elf Oath.
"The best thing is seeing the kids go away happy and excited to have seen Santa.
"If we make them feel like we did as kids at Christmas, we've done our job. "I love everything about Christmas.
"The saddest day of the year for me is when I take down my decorations. "But then I just start thinking about next Christmas.
---
The professional
Mum-of-two Jenna Givens, 32, has fully committed to her role as an elf – she even has a backstory.
"My name is Jingle, I'm 3,200 years old and I live in the Candy Cane Forest.
"I've been a professional elf for five years. I got into it through my children's party business.
"At Christmas, I dress up with my two boys Killian, three, and Kieran, eight. As Jingle, Twinkle and Candy, we visit kids in their homes and nurseries.
"I've been in elf mode for ages. We've been making advent calendars and Christmas baubles at home since September.
"The most important thing about the job is that kids leave here excited about Christmas.
"The whole point is for them to believe in the magic, especially the ones on the cusp of not believing.
"It's an absolute privilege to work beside Santa and to be an elf. "I still believe in the magic."
The elf oath
Put your fingers on your nose and repeat after us…
This elf oath I pledge today,

Is to live life the elfish way.

Singing, laughing, dancing and play.

Every day is Christmas Day