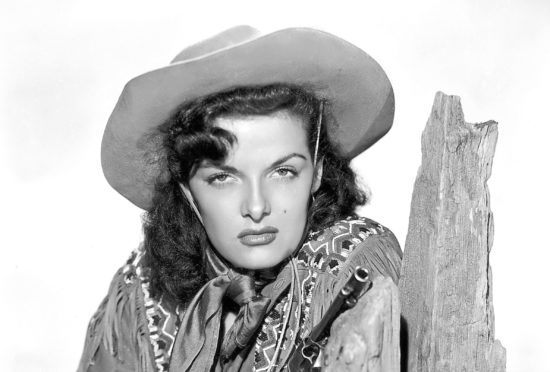 After the outrage and success of breakthrough movie The Outlaw, Jane Russell did not appear in another film until 1946.
The Outlaw had been held back so long over censorship issues that this one actually came out first, but it went miles over budget and was a box office flop.
Young Widow saw her play Joan Kenwood, a journalist who cannot forget her husband's death in the Second World War and struggles to get on with her life.
Joan meets a young bomber pilot who tries everything he can to charm her, eventually loses patience and tells her to get over the man she's in love with, only to be horrified when she reveals he's her dead husband.
The pilot later saves the life of a lady who falls on to the subway tracks, and a proper romance starts to happen.
At the movie's end, he has to go off to war again, and she finally reveals she will wait for him – you might think a film like this, in '46, would have been just the job, but it failed to draw the audience numbers its budget required.
Thankfully for Jane Russell, it wouldn't be long before The Outlaw finally got its full release and made her a superstar.
Not that any of this stopped her from trying other things – the next year, Jane tried to launch a musical career, too, singing with the Kay Kyser Orchestra on radio shows and even recording two singles with them.
As Long As I Live and the quirkily-titled Boi-n-n-ng were the songs in question, and she also made a 78rpm album with Columbia Records, by the name of Let's Put Out The Lights.
It comprised mostly torch ballads and, though she would later say it was "horrible and boring to listen to", her cinema fans also admired her singing style.
Jane would also record Kisses And Tears in 1950, with Frank Sinatra, so clearly her voice got the approval of those who knew their stuff.
Still, it was cinema where she would inevitably make the biggest splash.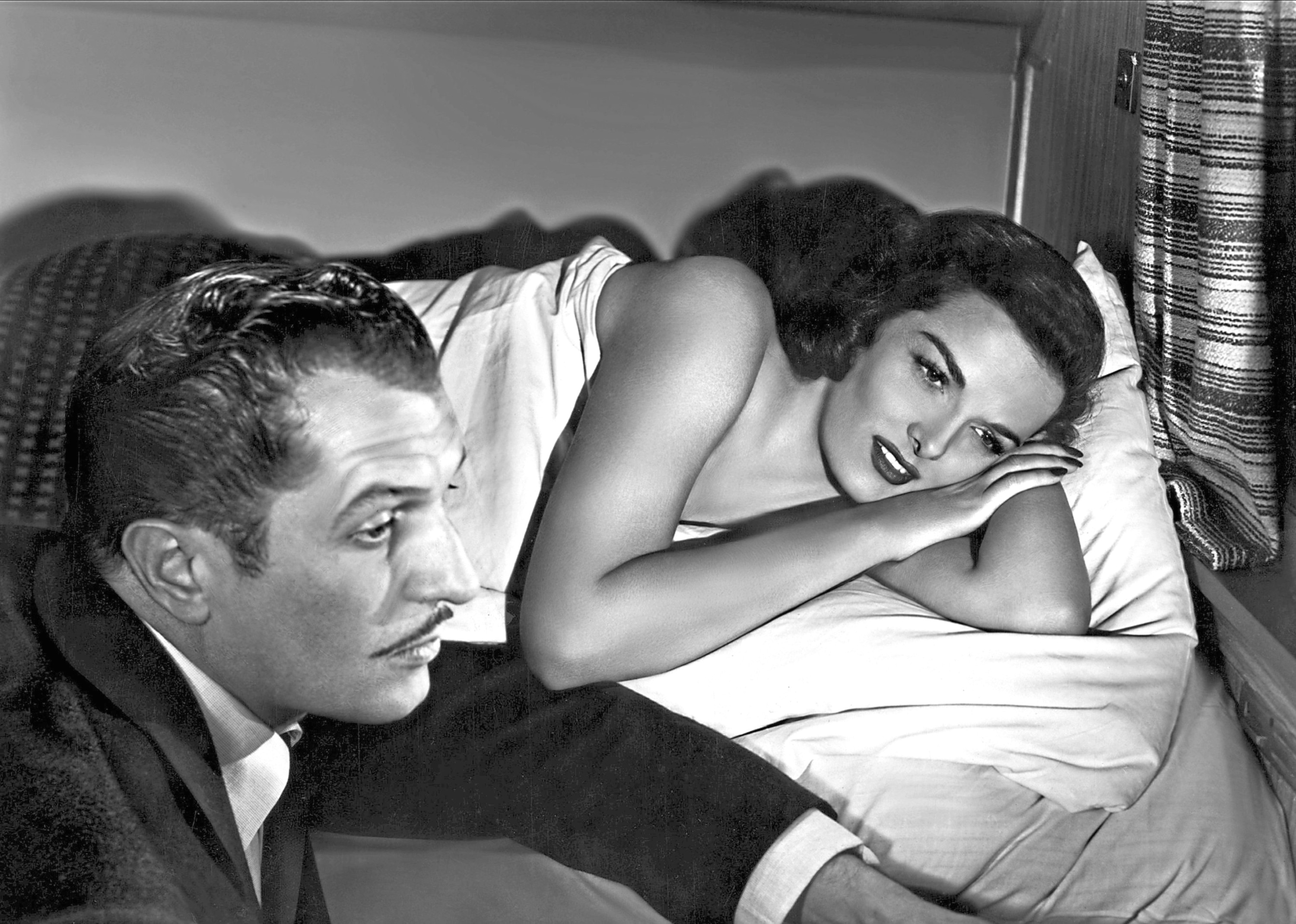 Within months of her musical sojourn, Russell was back on the big screen with one of her best-known hit movies, The Paleface.
She played Calamity Jane, starring opposite Bob Hope, and the pairing gave Paramount Pictures a big hit.
Filmed at Conejo Valley Airport, California, which was the location for several big films but is no longer in use, it would even have a sequel a few years later.
Bob Hope's version of the song Buttons And Bows even won the Academy Award for Best Original Song, and Russell played Calamity Jane to perfection.
In the story, she is helped get out of jail by government agents who want her to sort out some men selling illegal weapons to an Indian tribe.
The last agents they sent to sort it out wound up deceased, but they believe Calamity Jane's deadly skills are just what is needed, even if they have to break her out of jail to do so.
Along the way, she meets up with Peter "Painless" Potter, played by Hope, a travelling dentist whose many errors leave lots of patients in lots of pain, despite his nickname.
The gun smugglers, meantime, mistakenly believe Peter is the agent they want to kill, which leaves Jane free to knock them off one by one.
For reasons most of us would find hard to fathom, Jane starts to fall in love with the hapless dentist, but they are both captured and their captors have hideous ideas about how to dispose of them.
They tie Peter to a couple of trees, hoping to tear him in two, but instead the trees act like a giant catapult and send him flying through the air to unexpected freedom.
Jane is tied to the stake for burning but Peter comes to the rescue just in time, and they flee their many pursuers, blowing them up with dynamite along the way, as they head off for their honeymoon.
A very silly, very successful movie, and one that came at just the right time to boost Jane Russell's career even further.
Her next big hit was as one half of a great duo – "the hottest combination ever to hit the screen" according to some – but the making of it was a nightmare.
His Kind Of Woman saw Jane opposite Robert Mitchum, and it proved to be a very watchable pairing. They would make more movies together, but none as complicated and drawn-out as this one.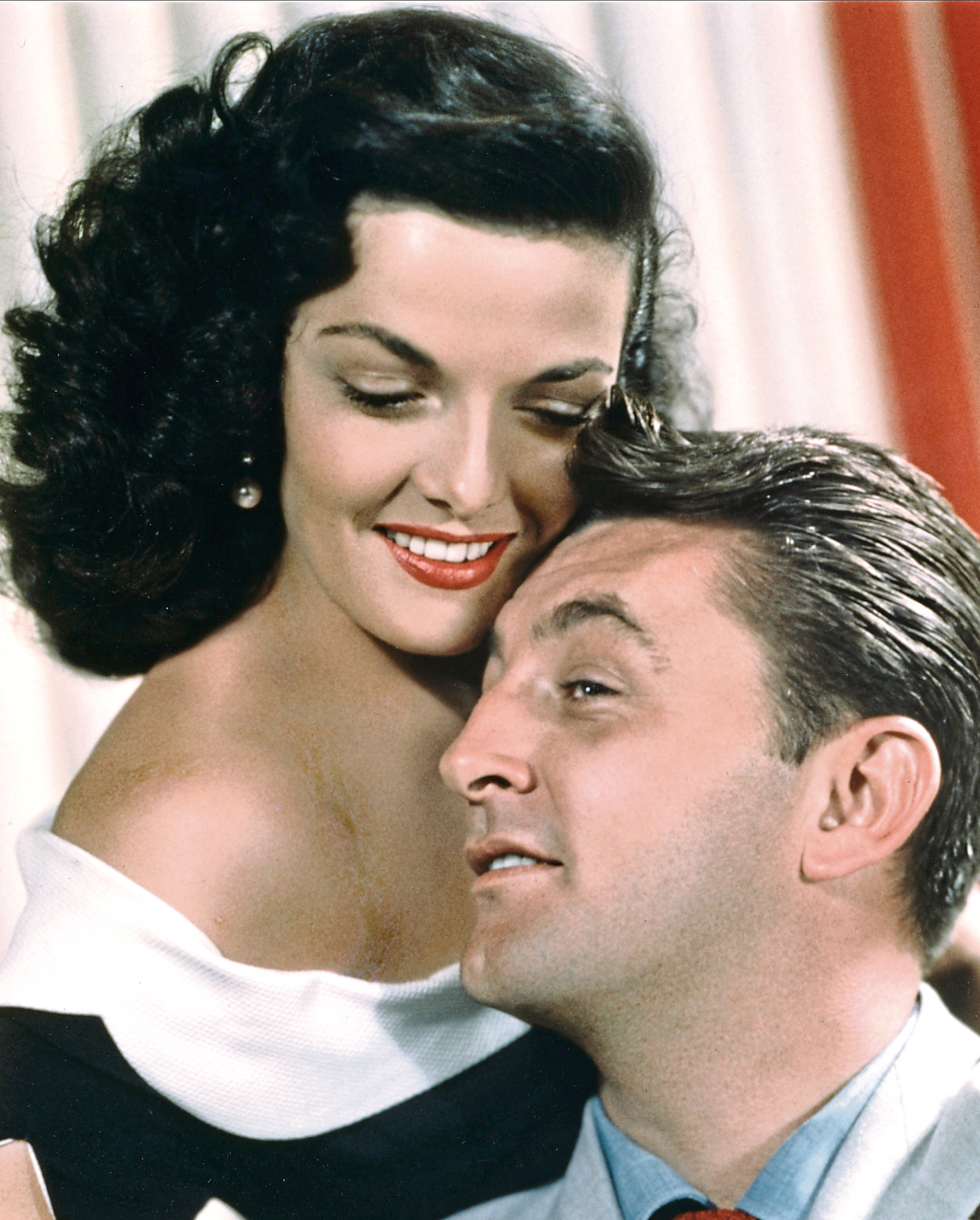 It took so long to make, in fact, that its third star, Vincent Price, had a party on set to celebrate the one-year anniversary!
This was because, after original director John Farrow had delivered what he felt was the finished film, Howard Hughes stepped in and demanded a large amount of additional scenes, reshoots and other changes.
It would take ages, require a second director, Richard Fleischer, and cost a fortune, although the film was still a big success for all involved when it eventually saw the light of day.
You might not have guessed it, if you had witnessed the sometimes strained chemistry between Mitchum and Russell, or some of the more aggressive acts on set.
Tough guy Mitchum referred to himself as the Tall Dog, and started calling Jane Hard John, after observing her religious beliefs and strict old-school morals.
It angered her, and not just on this occasion, that people seemed to assume she should be a lot naughtier than she was, just because of her famous figure.
Grilled about the topic by a journalist, she acidly responded, "Christians can have big breasts, too."
You can gauge how tense it got as filming went on, and on and on, by the fact that Mitchum apparently exploded on the penultimate day of a fight scene, getting into a real fight with stuntmen who had got a bit too realistic.
In fact, next time you watch a repeat, take a close look at Mitchum's fight scene with Raymond Burr – they reckon Burr actually knocked Mitchum out, and it certainly looks very realistic.
When the whole thing was finally done to Howard Hughes' liking, he had a massive billboard on Wilshire Boulevard featuring the two main stars, fireworks shooting out of it on all sides.
England, however, did not approve when the same image appeared on posters in London, as the powers-that-be reckoned far too much of Jane's cleavage was on display.
All of which, needless to say, was simply great extra publicity and got more bums on seats in cinemas around the world.
Hughes was still obsessed with Jane Russell's chest when her next movie was made.
Originally to be titled It's Only Money, Hughes changed it to Double Dynamite! Despite its daft title, it ought to have been a hit when you consider the cast.
Alongside Russell were the unlikely duo of Frank Sinatra and Groucho Marx, and on paper the musical comedy had all the right ingredients.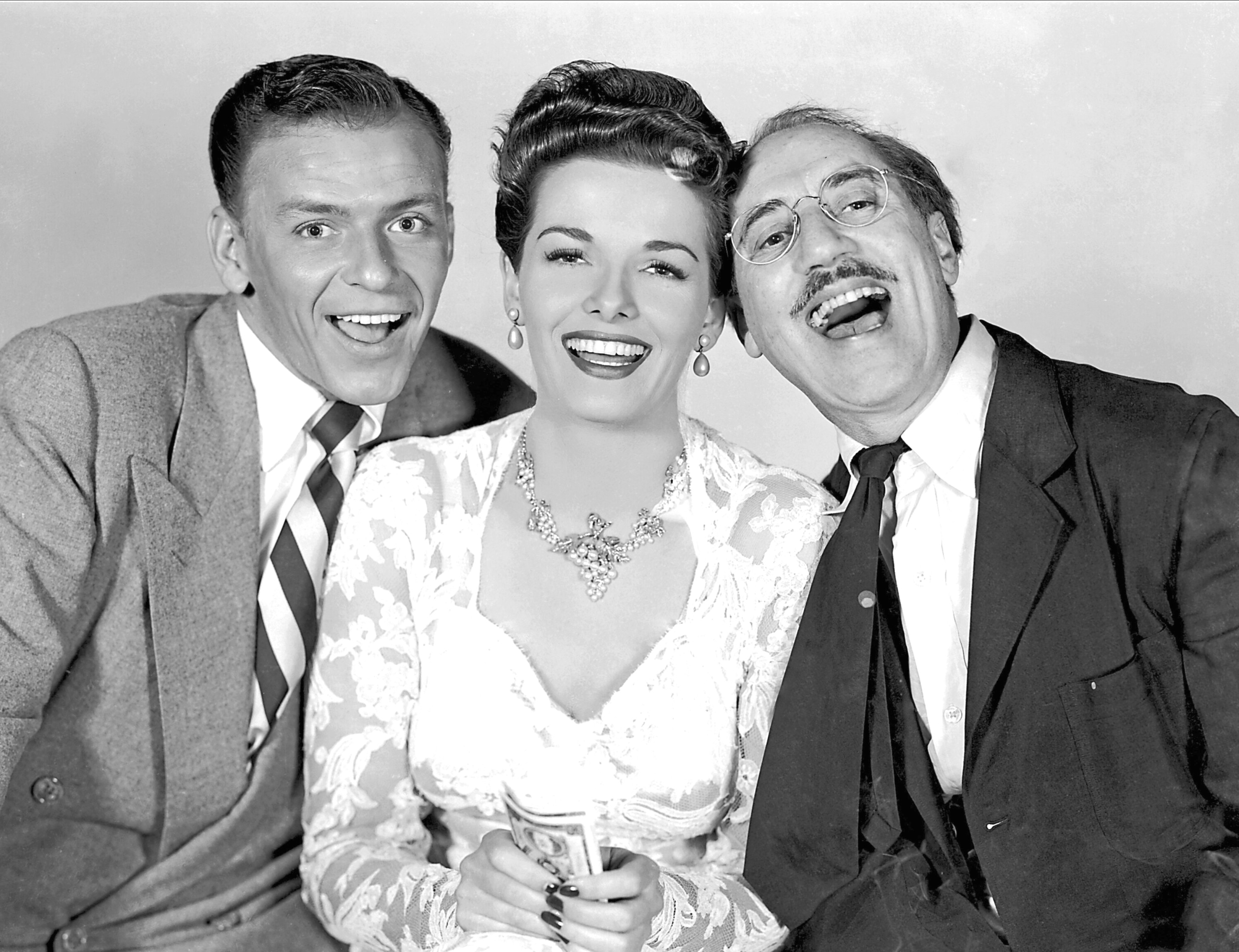 Humble teller Johnny Dalton (Sinatra), asks his boss for a rise so he can afford to marry his sweetheart, Mildred "Mibs" Goodhue, played by Russell.
Emile J Keck (Marx), his pal and a waiter at a local Italian restaurant, supports his plan despite not getting the rise, and jokingly suggests he rob a bank for the money.
The silliness begins when Johhny saves a local bookie from a beating in an alleyway. The grateful bookmaker promises him some money, which is placed on one horse after another until Johnny has a very large amount of cash.
Emile, however, suspects Johnny took his advice and really did rob a bank, and it just so happens that the nearest bank has just been robbed of a similar amount.
Mibs, also believing he has robbed the bank, finds some of the cash and takes it to the bank, who immediately inform the cops.
Fleeing to Mexico, they are stopped by police who, thankfully, know Johnny was given the money and added to it with some good bets on the horses.
Mibs, however, is arrested, as the missing money has been tracked to her by bank auditors.
Sadly, the whole thing was criticised for being a bit dull, with its trio of stars accused of standing still and just raking in the money.
Her follow-up, The Las Vegas Story, was another film about money, specifically about winning and losing it at the Last Chance Casino.
This time, Victor Mature, Hoagy Carmichael and the return of Vincent Price supported Jane, but no amount of big names could save it.
It lost $600,000, and her next one with Robert Mitchum, Macao, lost more, with the critics starting to turn against the kind of roles Jane was being given…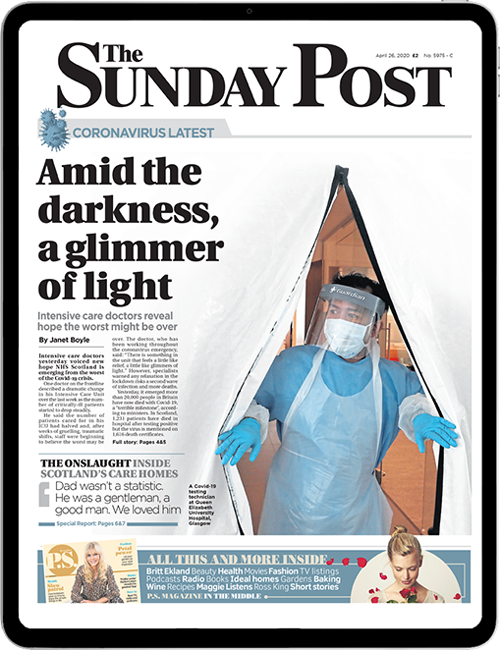 Enjoy the convenience of having The Sunday Post delivered as a digital ePaper straight to your smartphone, tablet or computer.
Subscribe for only £5.49 a month and enjoy all the benefits of the printed paper as a digital replica.
Subscribe