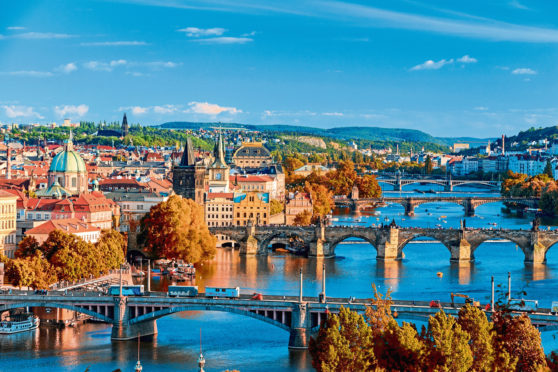 Stay
If you're hoping to see as many tourist attractions as possible on your visit, find a hotel or apartment in Prague 1, which covers most of the medieval heart of the city.
The Old Town has lots of traditional, characterful accommodation, just a 20-minute walk from the major sites.
For a stay with a difference the boutique Questenberk hotel is certainly an experience.
The building dates back to 1620, features 27 boutique rooms, and is located within the historic Hradcany district.
Eat
No visit to the Czech capital would be complete without sampling the local delicacies – which usually involve meat, and lots of it!
Try vepřo knedlo zelo, a traditional roasted pork dish, served with pickled cabbage or opt for a warming plate of Guláš or goulash.
Hearty, Czech food with a twist is served up at Lokál. The classic beer hall, which has four locations around the city, has a daily-changing menu filled with fresh, local ingredients, and the smoked meat is even made in their own butcher's shop.
For a lively atmosphere, reserve a table at Restaurace U Veverky, a highly-rated traditional pub with a bar in the front and two dining halls in the back.
Drink
Known for their outstanding beer, you'll want to say cheers with a locally-brewed pint.
The Discover Prague Brewery Tour (discover-prague.com) takes you to three of the city's historical breweries, tasting a range of Bohemian beers along the way, while learning about the history of hops.
See
With an excellent and cheap public transport system it's easy to hop between Prague's hotspots.
Start your tourist trip at the 9th Century Prague Castle complex, where you'll see architectural gems, palaces and Romanesque-style buildings, as well as views across the Vltava River.
Don't miss Johann Kracker's 1770 Apotheosis of St Nicholas fresco, painted on the ceiling of St Nicholas Church, before wandering down to the gothic Charles Bridge, which connects the Old Town and Lesser Town. Gaze up at the Baroque statues and chat with the local artists, who line the walkway.