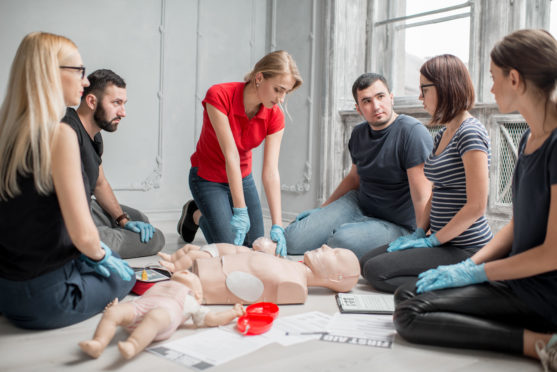 They'd possibly be the most important 150 minutes Scots pupils spend in the classroom.
Learning CPR only takes two-and-a-half hours, and charities today urge schools to help ensure every child is given the simple skills that could save a life.
Ross Cowie, who launched his charity Lucky2BHere after being brought back to life following a cardiac arrest, says making CPR training as much a part of learning as traditional subjects like maths and English would save hundreds of lives.
His charity has supplied hundreds of defibrillators to groups around Scotland but, after all 32 local authorities agreed in theory to provide CPR training, he is urging them to redouble their efforts to ensure every school teaches every pupil emergency response skills.
Just before Christmas 2006, Ross collapsed after a quiz night in Portree, Skye.
His life was saved by a fluke. The only ambulance in the north of the island happened to be just a two-minute drive away.
"They got me back with the defibrillator," says Ross of the crucial moments in which his life was saved.
He was helicoptered to Raigmore Hospital in Inverness, where his survival continued to hang in the balance.
Ross suffered another 13 cardiac arrests, but survived. The specialist who led his treatment, Professor Stephen Leslie, is now a trustee of his charity.
As he recovered, Ross couldn't help but dwell on the fact that, had paramedics not been so close to hand, he would have lost his life, and set about addressing the survival lottery.
He first encouraged friends and relatives to run a half-marathon, raising enough cash to install a defibrillator in the Skye Camanachd clubhouse, Portree. He continued undertaking his own research, only to be shocked by what he discovered.
"In Scotland," he says, "the chances of surviving a cardiac arrest are little as one in 20. In Denmark, it's one in four.
"The key difference is emergency life support training – in Denmark, anyone can do something before an ambulance gets there.
"Here, the great majority of people would not know what to do, even though they wanted to."
By 2009, Ross had founded the charity, initially focused around his home area.
"At that time, there were hardly any defibrillators in the whole of the Highlands," he recalls.
"Even ones in places like bus stations were locked and you had to phone someone for the key – which defeats the purpose."
One of the charity's first defibrillators was donated to Poolewe village hall, in Wester Ross. Soon, it would save the life of a singer who collapsed on stage in the venue.
As word spread, Ross started to take requests from further afield. From that point, he set three rules for supplying defibrillators.
First, the initiative must come from local groups. Second, they'd raise funds to make a donation and, third, they must train people to use the devices, with help from the charity's volunteers. Ross continues to run Lucky2BHere from an office in Portree, with one assistant.
Trained volunteers share their skills for free, under European Resuscitation Guidelines.
So far, Lucky2BHere has supplied 600 defibrillators.
Word continues to spread. Ross reveals a letter he has just received from a school in Johnstone with a cheque for £1,400 raised by pupils.
His ultimate aim is to make defibrillators universally available.
Ross believes it is crucial to get emergency life support training into every Scottish school.
Last year, the Western Isles Council showed it could be done by training every student. Now every school in its jurisdiction is equipped with a defibrillator.
Ross was recently contacted by Scottish Championship football club Inverness Caledonian Thistle, which has pledged to train all its staff, including players and manager John Robertson.
The former Heart of Midlothian striker said it was "a life skill that can prove hugely important".
Ross is delighted by such successes, but knows there is a long way to go.
With a firm focus on schools, he lay down a challenge to politicians. In April came a commitment from every Scottish local authority to provide CPR training in all secondary schools, following a campaign by British Heart Foundation Scotland.
The charity's interim head, David McColgan, said it was now a question of implementation.
"We don't mind how they do it," he said. "But what we want is a sustainable and systematic approach, so that they are doing it not just this year, but in five years' time."
Just as Ross stresses his gratitude to his "amazing" volunteers, the phone rings in his Portree office. It's an inquiry about a defibrillator. All over Scotland, awareness is growing that survival should be more than a matter of luck.
The Scottish Government said: "Since publishing our Out-of-Hospital Cardiac Arrest (OHCA) Strategy in 2015, bystander CPR rates have increased to 55.5% in 2017-18 compared with 49.9% in 2016-17.
"One in 12 who experience an OHCA survive to leave hospital compared to one in 20 before the strategy was introduced.
"Save A Life For Scotland partners, including the Scottish Government, have now equipped more than 495,000 people across Scotland with CPR skills – just 5,000 short of our ambitious goal of training 500,000 by 2020.
"We welcome the efforts of all our partners to help introduce CPR to everyone, particularly our young people."
Luckily I'd seen CPR on TV. I called 999 and they talked me through it
A former teacher who saved the life of a telephone engineer who suffered a cardiac arrest in her home is backing the campaign to teach Scots pupils life-saving skills.
Swift action by retired head teacher Heather Bain – while being coached by a 999 operator – saved Billy Kerr after he collapsed mid-conversation.
At first Heather, from Kelvindale in Glasgow, thought Billy had fainted but soon realised he was not breathing.
"I thought he had fainted but could not wake him and reached for the phone to dial 999. Luckily I was able to make the call because Billy had just reconnected the line before his cardiac arrest.
"The 999 operator told me I would have to give 500 deep chest compressions and I prepared myself for a long desperate attempt to save him.
"I remembered seeing CPR on TV and visualised it as the 999 operated talked me through it.
"As a retired head teacher I think it is a wonderful idea to teach every pupil CPR…even basic knowledge for five-year-olds at home with a parent or grandparent who becomes ill.
"Saving a life is the best thing you can ever do."
Ambulance paramedics arrived but it took them 21 minutes to get Billy breathing on his own again.
He was taken to Queen Elizabeth University Hospital and stabilised before being transferred to the heart unit at Golden Jubilee National Hospital in Clydebank.
Billy, 62, from Strathbungo, Glasgow, revealed that doctors gave him little chance of survival.
"If Heather had not given me CPR I would have stayed dead," he said.
"Doctors had put me into an induced coma but I had been out for so long they told my wife Johan that, if I recovered, I would almost certainly be seriously brain damaged.
"My chance of survival was put at 3%.
"Amazingly I pulled through and managed to breathe on my own after they brought me out of the induced coma.
"The doctors were stunned that I showed no signs of brain damage. Subsequent tests have confirmed this."
Billy is now back at work as an engineer with Openreach, a division of BT.
He says tests failed to uncover the reason for his cardiac arrest.
Heather's life-saving work has been recognised by the British Heart Foundation.
She has been given one of the charity's coveted CPR Hero awards.
David McColgan, British Heart Foundation Scotland's interim head, said: "Heather and Billy's story is a powerful reminder of why CPR skills are so important.
"Many more lives could be saved in Scotland every year."
Lesley Ann Keith, Billy's manager, said: "I went to see Heather to thank her for saving Billy's life.
"His workbag was where he'd left it and his van, still parked outside her house.
"It was really emotional.
"I asked what we could do to repay her and all she asked us to donate to a good cause.
"So we raised money for the British Heart Foundation – more than £2,500.
"We trained out managers in CPR and it spread. Now CPR training is included as part of our induction for trainees across the whole of the UK."
---
Every second counts when lives hang in the balance

David McColgan, British Heart Foundation Scotland's interim head
CPR stands for cardiopulmonary resuscitation. This rather daunting title describes the simple but potentially life-saving steps we should all be
familiar with.
It's where a person presses up and down on the chest of someone who is having a cardiac arrest and gives a series of rescue breaths. This life-saving procedure helps to pump blood around their body when their heart can't.
When someone has a cardiac arrest, every second counts. There are around 3,500 out-of-hospital cardiac arrests in Scotland every year but only one in 12 survive. In countries where CPR is more widely taught, survival rates as high as one in four have been reported.
Our poor survival rate is partly down to the fact that too few bystanders have the expertise or confidence to perform CPR and it's why we launched our Nation of Lifesavers Campaign in 2018.
Before then, there was no systematic approach taken to provide this training by any local authority. However, all that changed in April this year when BHF Scotland announced that every council had committed to training pupils before they leave secondary school.
Taking a grassroots, localised approach means the delivery and model is suited to the local environment.
Since April this year we've seen Dundee City Council launch its Hearts and Minds strategy aimed at delivering CPR and mental health training in schools.
Other schools have implemented sessions where pupils receive training in a focused week of learning.
BHF Scotland has also provided free Call Push Rescue CPR training kits to every school, meaning up to 50,000 pupils will be trained annually.
CPR will become a core part of academic life, with all young people – irrespective of background or ethnicity – learning these vital skills, turning Scotland into a nation of lifesavers.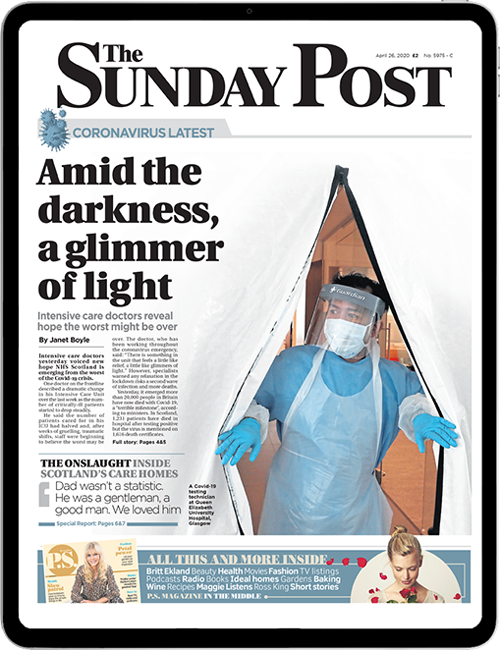 Enjoy the convenience of having The Sunday Post delivered as a digital ePaper straight to your smartphone, tablet or computer.
Subscribe for only £5.49 a month and enjoy all the benefits of the printed paper as a digital replica.
Subscribe