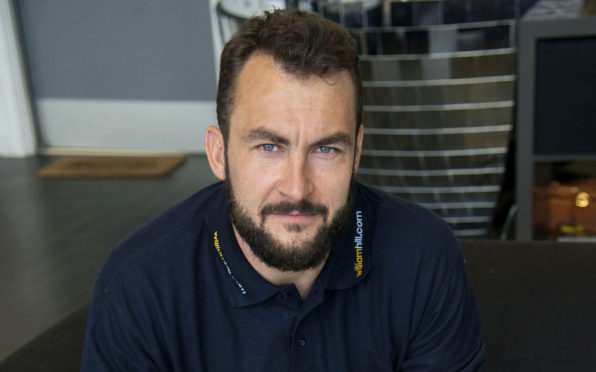 David Preece reckons goalkeeping is having a global renaissance.
That's why he's stunned by Scotland's dearth of top-level talent between the sticks.
Scotland's current number one, David Marshall, has been a magnificent servant since his debut against Hungary in August 2004.
For years he was in a three-way battle with fellow top-class stoppers, Allan McGregor and Craig Gordon, for the coveted No. 1 spot.
Now the 34-year-old is holding off Portsmouth's Craig MacGillivray and Sunderland's Jon McLaughlin, who has been dropped by his club after a tough start to the season.
It's a far cry from the days when Scotland's goalkeeping riches were the envy of the world.
But former Aberdeen star Preece reckons a new generation could be inspired by the current breed of global superstar goalies.
"It surprises me, to be honest, if there's a lack of depth," he said.
"The old joke in England was always that Scottish goalkeepers were dodgy. But the truth is, Scotland has had a long tradition of excellent keepers.
"Certainly, since the late '80s and early '90s, the national team has been very lucky to have guys like Jim Leighton, Andy Goram, Neil Sullivan, Craig Gordon, Robert Douglas and Allan McGregor.
"David Marshall's in there too – and he's still in the national team.
"But a lack of depth at the top level will be a concern to Scotland.
"It's strange because I actually think goalkeeping in general is having a bit of a renaissance at the moment.
"I'd say the standard at the top clubs is the highest it's ever been, certainly in the Premier League.
"There's no shortage of poster boys either, people like Alisson Becker at Liverpool and Manchester United's David de Gea – players kids can look up to.
"And these guys, along with the likes of Bayern Munich's Manuel Neuer and Ter Stegen or Barcelona, have changed what it is to be a goalkeeper.
"It's not a position you stick kids in now because they can't play outfield. To play the position at the top level now, you need to be an excellent football player.
"I'd think that has all made being a goalkeeper a more attractive proposition for kids, so hopefully, going forward, Scotland will see the benefit of that."
Preece has spent this year as goalkeeping coach under English gaffer Ian Burchnall at Ostersunds in Sweden.
After a heroic run-in, Burchnall steered the club to top league (Allsvenskan) safety.
But after the Swedish Football Federation denied the club a licence to play in the top tier next season amidst financial uncertainty, their future is up in the air.
The club have appealed. Now, all there is to do is wait.
"We're feeling positive about it," said Preece."We've been assured the club has financial backing, but it rests on staying in the Allsvenskan, rather than dropping into the Superettan, which is the second tier.
"We've not been able to book our pre-season training camp for February, which is essential because of the weather where we are in Sweden.
"There's uncertainty for players too. There are good young players at the club – players other clubs would certainly have a look at – and they're unsure what's happening.
"Then there's the recruitment side of things, which, like everything else, is dependent on what happens.
"We'll get an answer one way or another on December 18, but only one club has not appealed successfully under these circumstances, so we're hopeful."