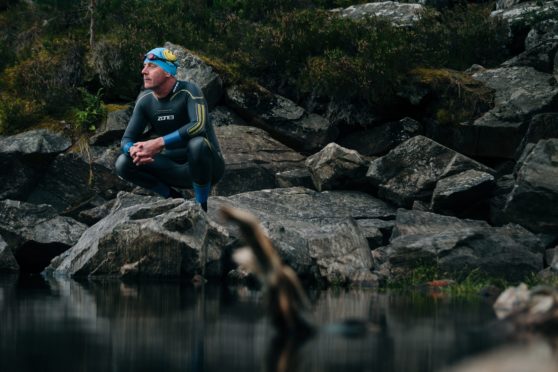 Breaking the surface of a freezing lochan, Colin McKinnon catches an icy breath and thinks of his son.
He will think of Brett often, and imagines the little boy he describes as fearless, loving wild swimming as much as his dad.
His son, though, was lost in the Dunblane tragedy and, for Colin, swimming in the rivers and lochs of Scotland is a passion that has literally saved his life as he struggled to come to terms with the terrible loss.
Brett was just six years old when he was killed along with 15 of his classmates and his teacher in the primary school shooting in 1996.
In the years that followed, 55-year-old Colin struggled to endure, suffering from post ­traumatic stress disorder, depression and anger issues.
Three years ago, as the 20th anniversary of his son's death loomed and a number of personal pressures took their toll, Colin suffered a nervous breakdown.
Medical support helped but, he says, wild swimming around Scotland – a hobby he discovered by chance – brought him back from the brink.
He swims in open water near his home in Alness, Ross-shire, but travels all over Scotland and, he says, thoughts of Brett are never far away.
He said: "I always think of Brett when I'm swimming. What would the wee fella think of this? It's ­difficult to imagine what he would be like but I like to think he would have wanted to come with me.
"I feel safer thinking about Brett when I'm out in the water, as if I can deal with what has ­happened a bit more.
"I also think in a way it makes me braver. There's nothing that could ever hurt me as much as losing him, so being out wild swimming does not phase me."
The tone of Colin's voice grows softer when he talks about his beloved second-born child.
"I think a lot about what he'd be like now, what he'd like to do, where he'd be.
"He was so funny, and so full of life. I had to have eyes in the back of my head when we had him on days out. He was fearless and nothing phased him.
"I remember on one trip to the shows he insisted on going on the ghost train, even though his older brother wasn't keen.
"He was only five and off he went by himself, and came out of the end laughing his head off. He wasn't afraid of anything."
On the day of the tragedy, Colin was due to have Brett and big brother Colin to his house for a sleep-over, as he did every Wednesday since his split from their mum.
But, just after nine on that morning, Colin heard a radio news bulletin that made him stop in his tracks: a shooting at Dunblane Primary.
"I drove at a horrendous speed, and I remember with each radio report, the number of casualties got bigger and bigger," he said.
"I was doing the maths. I was telling myself what had happened was terrible, but that my boys would be fine."
But when Colin arrived, his life changed forever as police confirmed Brett was among the victims.
"It was like everything stopped at that moment," he recalled. "Things were going on around me, but I wasn't part of it. My life had stopped.
"I can remember almost pleading with myself, 'this is a nightmare, I'll wake up any moment now'. From that moment on, things just got worse."
The hours and days that ­followed were some of the worst times of Colin's life and, even after support for PTSD and depression, he admits the next two decades of his life were "up and down" as he tried to come to terms with ­losing Brett.
In 2016, as the ­anniversary of the tragedy approached, he hit rock bottom and had a nervous breakdown and was admitted to hospital.
Medical intervention helped get Colin back on the right path, but it was getting in the water that really accelerated his recovery. He said: "I've learned all sorts of techniques to relieve myself of guilt and to deal with those images that come back to haunt me time and time again.
"While they work to an extent, it is nothing compared to the way I feel when I've been for a swim.
"I have a focus, and confidence, and I am no longer ashamed of the struggles I have had with my mental health, which for years I really was. Even after what I had been through, I kept all of my treatment a secret from everybody.
"But now, my mind is clear, and I can think through any stressful situation rationally. I can admit my mental health needs regular attention to keep me where I want to be, just like my physical health.
"Whatever happens to my body when I'm in the water – whether it's the cold or the fact I need to be mindful of my breathing, or simply just the exercise – it has such a positive effect on my mental health."
Studies of the activity prove Colin is not alone in feeling the benefits. Wild swimming has become popular around the world with people for similar reasons.
Colin, who swam competitively as a child, rediscovered the hobby after chatting with an open-water swimmer who invited him along to join her and some friends.
He said: "That first time, we swam round the perimeter of Loch Achilty. That was it, I was hooked.
"I don't know the science behind what it does to me, perhaps it is the rush of adrenalin, but I am different person when I come out than I was when I went in.
"People are always asking me about the freezing Scottish water. It probably puts people off trying it. But, honestly, I think it's one of the big pluses.
"When you first get in, ­everything else in your mind subsides, while you concentrate on surviving the cold water. By the time your body is getting used to it, you are much calmer.
"It's quite something being so close to nature and it's incredibly freeing being in there, especially because on swims you often see things you wouldn't see from a boat or from the shore.
"My favourite place is in the Cromarty Firth. There are two headlands with cliffs and there's really small caves that can only be accessed by swimming out. You can swim right through them and it's just breathtaking."
Now Colin makes sure he goes out swimming at least twice a week, treating it as an essential part of his health regime.
He said: "I usually swim an hour or more in summer. But in winter I swim without a wetsuit for shorter dips and it can have an affect in as little as 10 minutes.
"It has such an affect on my mood that my partner Wendy knows exactly when I need to get out and go for a swim.
"I would truly recommend it to anyone who just wants to clear their head or take a bit of time to themselves."
"Wild swimming has absolutely saved my life."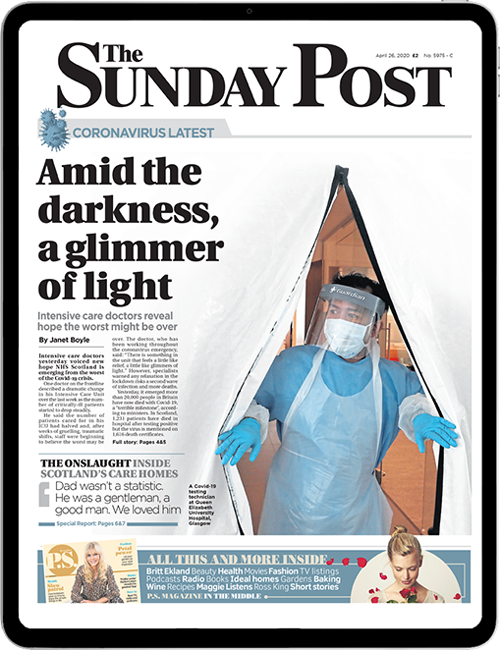 Enjoy the convenience of having The Sunday Post delivered as a digital ePaper straight to your smartphone, tablet or computer.
Subscribe for only £5.49 a month and enjoy all the benefits of the printed paper as a digital replica.
Subscribe