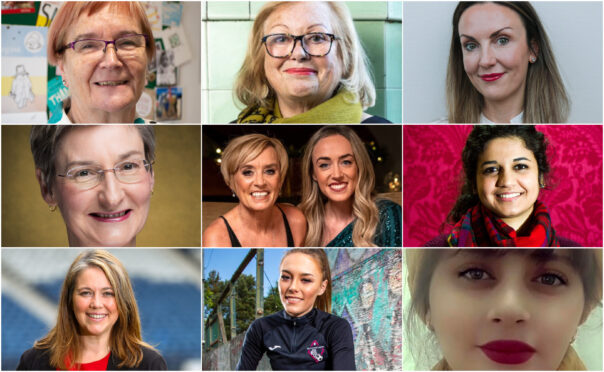 As 2022 draws to a close, we asked some of the most inspirational and influential women in Scotland to choose who they considered to be their own Woman of the Year.
Here's who they picked.
---
Mahsa Amini will never be forgotten. Her death is a constant inspiration
Roza Salih was delighted at recently being included among the world's most inspirational and influential women of 2022, writes Russell Blackstock.
The Kurdistan-born refugee, politician and human rights activist was included in the 10th edition of the BBC's global list of awe-inspiring women. Now the Glasgow SNP councillor has revealed her own choice of most inspirational woman of the year.
Mahsa Amini died in a hospital in the Iranian capital, Tehran, in September. The 22-year-old fell into a coma after being arrested by the country's so-called morality police for allegedly wearing her headscarf in an improper way. Witnesses described her being beaten by police after her arrest.
Since then, in a rolling wave of protest, Iranian people have taken to the streets with demonstrations spreading to 20 cities, including Tehran, as pressure mounted on the regime. Women were seen removing their hijabs in protest – an illegal act and one of defiance against the authorities.
The family of Amini – who knew her by her Kurdish name, Zhina – spoke of a shy young woman about to start university. Her father, Amjad Amini, said: "She wanted to study microbiology. She wanted to be a doctor – that was a dream that never came true."
Her aunt, Aliya Aili, travelled from her home in Norway to visit the family last summer and recalled how her niece repeatedly instructed her to properly cover herself and show her where the veils and headscarves must sit, telling her aunt: "They are very strict." She said it was clear she feared the morality police.
Salih greatly admired Amini's bravery and legacy. "Her death ignited a revolution in Iran where people are calling for a change of the laws and the regime," she told The Sunday Post.
"It all started with what happened to Zhina and she will never be forgotten. Her death made me realise that, under different circumstances, it could have been me. Zhina was just an ordinary young woman enjoying visiting her capital city when she was arrested by the police and died. That would be like me visiting Edinburgh and the same thing happened. It is unthinkable."
For Salih, a Kurdish woman living in a democracy, Amini's death made her realise she had a responsibility to continue to speak out for women's rights.
She added: "She is a continual source of inspiration for me to keep campaigning for all women to have equal rights all around the world."
For her passion and ability to see the best in people, my woman of the year…it's my mum
Years of intense training and perseverance finally paid off for Eilish McColgan who had a stellar summer on the track, and claimed her first major title at the Commonwealth Games in Birmingham, writes Laura Smith.
After the track star, from Dundee, stormed to victory in the 10,000m, winning the same medal as her mum Liz McColgan in 1986 and 1990, Commonwealth silver in the 5,000m and silver and bronze medals at the European Championships followed.
For many Scots sports fans, she is the woman of the year but McColgan says her mum was her inspiration this year and every year. She credits her success this year to her mum – with Liz being a constant and steadfast support since she began coaching her daughter at 13.
While a celebrated athlete in her own right, it is Liz's work as one of the UK's few female athletics coaches and her positive impact not only on her daughter but the many young people she coached over a decade, that impresses her daughter.
"I was desperate to join the Dundee Hawkhill Harriers, my mum's old club. There weren't many long-distance coaches then so my mum got involved and became one of their main endurance coaches for about 10 years," Eilish said.
"She volunteered and committed all of her time, coaching three days a week but also setting programmes for all the kids and driving us to competitions and races across the country at weekends.
"She's so passionate not just about helping athletes reach the top levels but also encouraging all kids to keep fit and active. She sees ability in people. As much as mum trained us hard and pushed us to improve, she also made it fun and inspired us to do better.
"I don't think she realises the impact she had on athletes she coached at a young age. She worked with a tough age group where many stop the sport. When I speak to people now they say she really instilled belief and confidence in them. When a top athlete volunteers their time and money to help you improve, that really does inspire and motivate you."
Eilish McColgan: I get trolled about how I look, but women say I'm a huge inspiration
In 2012, Liz, who will appear with her daughter on STV's Hogmanay special, made the decision to move with her husband John to Doha, capital of Qatar, partly due to a lack of paid coaching opportunities in the UK. This is something her daughter hopes will one day change.
"There are no paid roles for female athletics coaches in the UK and I can't think of a single female coaching staff member I worked with in British Athletics," she said.
"At the Rio Olympics we didn't have a single female member on the athletic staff. All the head coach jobs are held by men. We're very far behind in that regard. Female coaches are a minority across all disciplines in athletics and many end up working privately or move abroad for paid roles.
"Mum didn't want to leave the family but it's been a great decision for her.
"She set up the Doha Athletics Club and now coaches 100 kids from around the world. She's continuing to do what she loves but is paid for it and that's the way it should be.
"There are so many female athletes doing well that it makes sense to have more female coaches but there's limited opportunities for paid coaching roles in the UK. Hopefully we can keep breaking down barriers to change that."
Fearless and brave, Tyler Rattray called out misogyny
As the chief executive of Scottish Women's Football, Aileen Campbell has met many inspirational and trailblazing women just one year into the role, writes Laura Smith.
Yet there is one player whose bravery, Campbell says, had a profound impact on both women's football and wider society – Tyler Rattray.
In February, Rattray led her team as it severed links with Raith Rovers FC over its signing of striker David Goodwillie, ruled a rapist in 2017.
"Tyler was brave, courageous and fearless in calling out misogyny," said Campbell. "It was a brave thing for a young woman to do. As a captain, she showed great leadership and empowered the rest of her team to take a stance.
"Tyler refused to compromise on her morals and ethics and so stood up to a decision she felt was detrimental to her sport. She had played for Raith Rovers for 10 years, so it was a big decision, but she was driven to do what was right."
While the men's club was widely condemned, Rattray, 23, and her team were praised for taking a stand. They gained support from former Raith Rovers fan and bestselling crime writer Val McDermid, who has since helped them form their own club, McDermid Ladies.
"Tyler and McDermid Ladies importantly showed that, as teammates, their support for one another carries off the pitch and there's a strength and support you can draw from one another," Campbell added. "Having spoken to Tyler at the time, she was overwhelmed with the attention, not always positive, but I'm sure she'd say the solidarity of her teammates helped her through it."
Rattray's actions earned her the inaugural Val McDermid Award at the Scottish Women's Football Awards in June. Campbell recalls the hairs standing up on the back of her neck when Rattray received a standing ovation from players.
A standing ovation for Tyler Rattray, winner of the inaugural Val McDermid Award #SWFAwards pic.twitter.com/r4nARDxFwo

— The Sunday Post (@Sunday_Post) June 4, 2022
"Everyone wanted to pay tribute to what she had done and show their appreciation," recalled Campbell. "At Scottish Women's Football, it's not just about 90 minutes on the pitch. We want to use our football as a force for good; as a platform to bring about positive change for women and girls across the country and Tyler embodies that.
"It's been a great year for women's football with the Lionesses' success at the Euros, and the Women's Premier League final being shown on Sky Sports. Women's football has never been more visible and we're seeing role models on TV but what Tyler and McDermid Ladies reminded us is that important role models are also found closer to home, at a grassroots level.
"Hopefully, 2023 will be an equally important year for women in football and we can build on what Tyler did, to encourage our players to be role models, to be inspiring, to be fearless and to be brave on the pitch and off it as well."
A tireless, distinguished campaigner, Agnes Tolmie does great things
Named lawyer of the year at the 2022 Scottish Legal Awards, Laura Connor has enjoyed a busy and successful 12 months, writes Russell Blackstock.
Connor, who was also recently made an equity partner at Thompsons, one of Scotland's largest law firms, leads the team handling the biggest mass action in a Scottish court, with 2,500 claimants taking action against car manufacturer Volkswagen over diesel emissions.
The firm is also leading the case against Scottish tea company James Finlay on behalf of more than 1,000 Kenyan tea pickers who claim they have been left with devastating health problems, while Connor has also been hailed for her tireless work on behalf of victims of historic abuse.
The 39-year-old has chosen another campaigner, Agnes Tolmie, as her own woman of the year for her work as chair of the Scottish Women's Convention.
Tolmie spoke at the Scottish Parliament in solidarity with the women and families of Ukraine following Russia's invasion in February.
She has been an active voice in the women's movement for more than 30 years, campaigning for equal pay and women's representation in political and public life. She is a past chair of the STUC Women's Committee. Tolmie is currently chair of trade union Unite's Scotland Women's Committee and a member of UNI Global's World Executive Board and their World Women's Committee.
"Agnes is at the centre of women's rights in Scotland, and beyond, has been for a long time," said Connor. "To see the way she continues to work tirelessly in this field has been a big inspiration for me this year.
"I have been fortunate to get to see what she does, which is great things. She continues to make sure women have a strong voice and fights for equal opportunities."
One of the qualities Connor most admired in Tolmie was her ability to remain calm and friendly while under pressure.
"She is one of the hardest-working people there is, yet she still has time for everyone," said Connor.
"This is not an easy thing to do for someone as busy as she is.
"In 2022 Agnes continued to set a standard for the rest of us to follow. There are not many like her."
The incredible, impactful work of Marian Scott finds facts and changes the world
While the number of women pursuing careers in science, technology, engineering and mathematics is rising, women are still a minority. Yet there are many who have, for decades, quietly pioneered essential research in Scotland's labs, writes Laura Smith.
Among them is Glasgow-based environmental statistician Marian Scott, professor of environmental statistics at Glasgow University, whose work over the past 40 years, says professor Dame Muffy Calder, former Chief Scientific Adviser for Scotland, deserves far wider recognition.
"Marian doesn't get enough credit for her work," said Calder, vice-principal and head of the college of science and engineering at Glasgow University and a member of the Prime Minister's Council for Science and Technology.
"As our foremost environmental statistician, Marian has a long record of conducting research into water and air quality, with links to health and wellbeing.
"She plays a big role in environmental science and provides the statistical expertise needed to quantify that science. Marian is the person that scientific agencies or government bodies turn to for high-quality, impartial scientific advice."
Scott, 66, has been Professor of environmental statistics in the department of statistics at Glasgow University since 2000.
Calder said: "Marian is hardworking and highly respected. She has done so much incredible work but she is also very humble. She just quietly gets on with things."
Scott's innovative statistical modelling and methodologies have led to increased accuracy in processing the data around air and water pollution to allow agencies like the Scottish Environment Protection Agency and the UK Environment Agency to more effectively evaluate and monitor pollution levels. She has developed modelling data on radioactivity, to improve the accuracy of radiocarbon dating in labs around the world.
More recently, Scott developed statistical methods to allow the level of pain in animals to be quantified. Her Glasgow Composite Measure Pain Scale is now the gold standard for assessing acute pains in dogs in clinical settings and is recommended by the World Small Animal Veterinary Association.
Calder added: "Her work is hugely significant because it's not only science, but it's the application of science and the impact.
"Water quality, air pollution, radioactivity, and pain in animals are four big examples where she's made such a difference to help experts change how they approach their problems."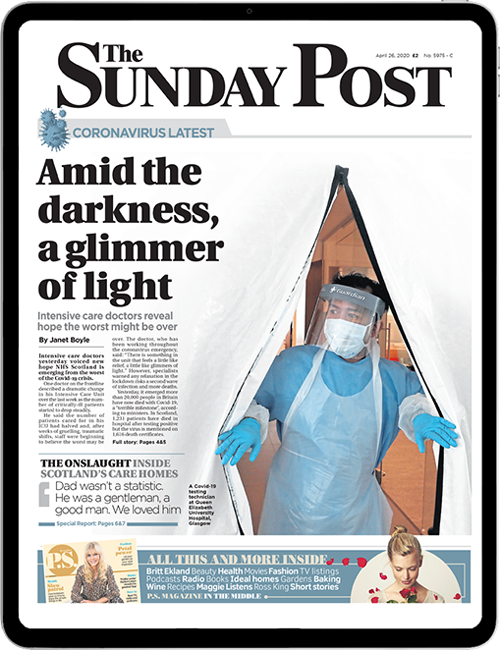 Enjoy the convenience of having The Sunday Post delivered as a digital ePaper straight to your smartphone, tablet or computer.
Subscribe for only £5.49 a month and enjoy all the benefits of the printed paper as a digital replica.
Subscribe