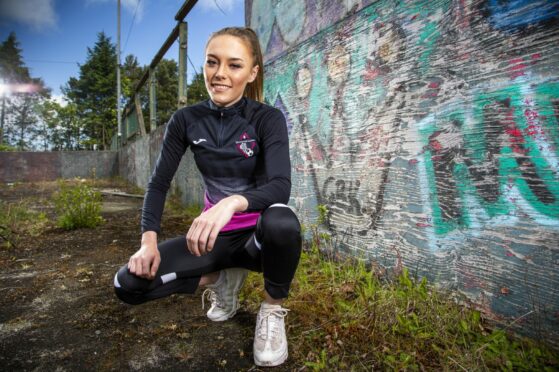 The whizz-click snapping of a battery of cameras was enough to reaffirm Tyler Rattray's suspicion that even on the pitch there was no escape from the attention.
The captain of McDermid Ladies, formerly Raith Rovers Women, had found herself in the eye of a media storm after leading her team as it severed links with the Fife club in protest at the signing of unrepentant rapist David Goodwillie.
"I was just a wee lassie from Glenrothes," she says now. "I had no idea what was coming."
The decision of the women's team to walk away from the Kirkcaldy club was one of the most eye-catching protests in a wave of criticism and concern led by best-selling novelist Val McDermid and joined by Nicola Sturgeon and Gordon Brown, as many fans and some officials said the transfer was beyond the pale.
As captain, Rattray, 23, went viral after announcing on social media that after 10 years at Raith Rovers, she was leaving, disgusted by the signing. Her departure was the cue for other players to join, with the team rebranded as McDermid Ladies when the crime writer immediately offered sponsorship after withdrawing it from the senior side.
After such a turbulent times, her principled stance was recognised last night at the Scottish Women's Football Awards where she was named winner of The Val McDermid Award, which was set up to recognise outstanding contributions in challenging inequality, pushing boundaries and promoting the women's game.
The SWFA judges said last night: "There could only have been one winner of this special award. Tyler Rattray's leadership and brave, steadfast resolve in confronting Raith Rovers' appalling decision is an example for us all."
McDermid Ladies were not as successful on their debut after their first game against Livingston ended in 4-0 defeat but the club itself and its origins cannot be seen as anything other than a celebration of values and principles.
As the captain and figurehead, Rattray was the centre of attention: "I was totally unprepared for that. My phone was going nuts. My mum's and my coaches, too. It was constant, really bonkers. I turned my phone off so I didn't see it all coming through. My mum and a lot of the other girls did the same. It was very strange.
"That first game we played as McDermid Ladies, every time I touched the ball all I could hear was the cameras clicking and going mad. We tried to ignore the photographers and play our normal game but it was incredibly difficult. All we are is a group of girls who like playing football. That was what was important to us. I didn't want to leave Raith Rovers but I had no choice. When I heard the news that day, I left on the spot. Now, though, it is all about us as a team and what we represent.
"We are role models for other young girls who are coming through and that is what we want to focus on. That and being the best possible team that we can be. We were all unanimous about this and we want to move forward now in our own right. We did what we felt was right and now it is all about us as a team and building strong foundations for the future."
A shameful silence: The woman raped by footballer David Goodwillie on why Scotland's outrage is many years too late
Some suggested Goodwillie should be given another chance but, according to McDermid, that would demand contrition and an understanding of the consequences of his actions.
She said: "Because of the kind of books I write, I understand redemption and rehabilitation and I believe in those things, but the first step on the journey is acknowledging what you have done, taking responsibility and trying to pay restitution, however that may be. You actually have to do something to show you are fit to be rehabilitated. It is not a gift. It is something you have to work for."
And she believes that Tyler deserves acclaim for the bold step she took in leading the charge as they parted ways with their connection to Raith.
"It really was a big thing for them," she said. "They had been the first team to be affiliated to a men's team in Scotland and they had been playing all their games in the stadium. There was absolute solidarity. It has been stressful, particularly for Tyler. I am no stranger to the media interest, but for someone like Tyler I think it would have been incredibly unsettling. She showed a lot of courage.
"For the first few games I think she struggled to hold it together but they – and we – were all behind her. And that is the thing, these are just a bunch of ordinary women. They are going about their daily business but loving football. When they come together they are greater than the sum of their parts.
"I have stood in the wind and rain and the snow and it is inspirational. We have had a great time! There is a hard core of support and beyond that there is a wider support. We have just started selling replica shirts and they have already sold out the first run they had made. What these girls have done has been recognised on a scale that it is difficult to explain.
"One of the things that staggered me is how many people who have come up to me to talk about this and to say how important it was – and to applaud the women and what they have done."
McDermid was reluctant for the team to take her name. But the most important aspect is not what they are known as, but what they represent.
"I had said it wasn't appropriate as it was not about me but rather it is a movement," said the writer. "I discovered later that Tyler had explained the name was an expression of solidarity.
"They were all together on this and they had one another's back and thought that I was out on a limb on my own. I was very proud and humbled by that and they have gone forward in that spirit.
"The energy and enthusiasm they have shown has been tremendous. It is a great social thing and it is a way of building bonds. I played hockey at school and those friendships carry on all the way through life. It build bonds of support when girls are often at their most vulnerable.
The Sunday Post view: Tyler doing what was right when she quit was an example to us all
"We see the trolling on social media and how self-conscious girls can be made to feel about their appearance.
"To have support in a game like football and being part of a dressing room can be a huge thing in terms of building their confidence. The women's team generated so much support in the town and beyond. I'd love to see them win the league and go beyond. Their spirit suggests there will be no barriers to what they can achieve."
Scottish Women's Football Awards: Ceremony celebrates spectacular season as game goes from strength to strength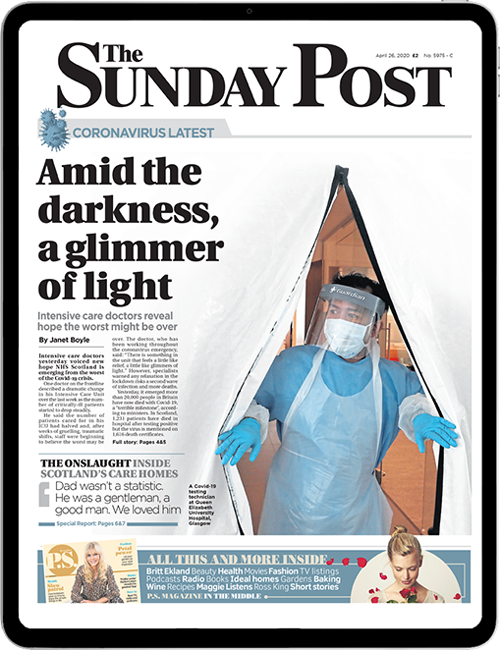 Enjoy the convenience of having The Sunday Post delivered as a digital ePaper straight to your smartphone, tablet or computer.
Subscribe for only £5.49 a month and enjoy all the benefits of the printed paper as a digital replica.
Subscribe