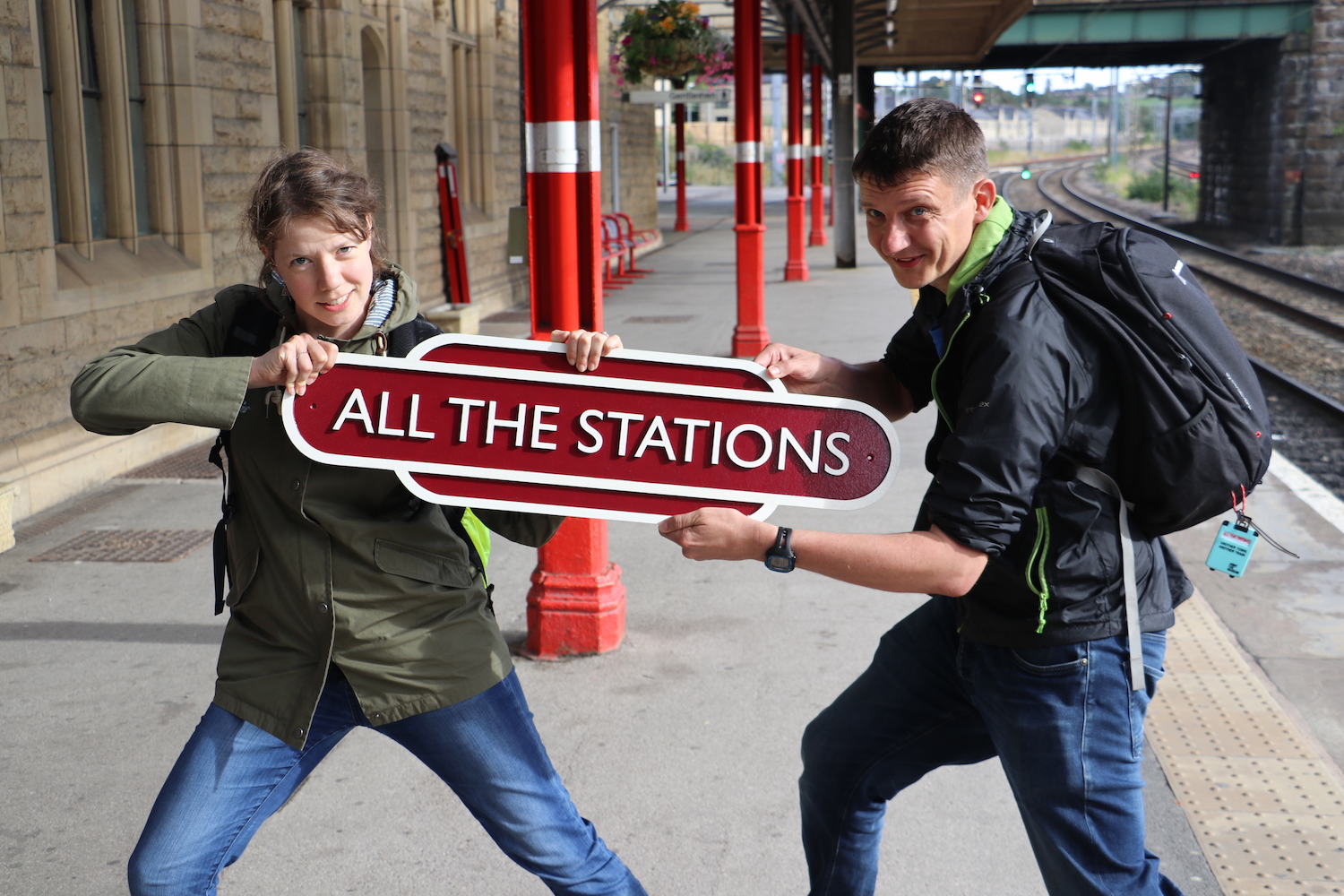 LAST year, Vicki Pipe and her partner Geoff Marshall visited all 2,563 railway stations across the UK for a YouTube series.
Now, they've put together a book based on their experiences.
Vicki told Ross Crae the Honest Truth about their remarkable railway adventures.
---
What does your love of railways stem from?
I currently work at London Transport Museum where I've learnt about the impact of public transport on people's lives and I'm passionate about sharing those experiences with others.
Geoff has been interested in railways from a young age. Over the years this has led him to undertake similar challenges – he is a two-time World Record Holder for travelling to every London Underground Station in the fastest time.
Why did you decide to visit every one of the UK's stations?
We both love the railways. For Geoff, it's understanding the intricacies of the network; how timetables are created and what service patterns are like across the country.
For me, it's about how the railway affects people's lives; how they shape communities, influencing decisions about where we live and who we connect with. The aim was to uncover these stories and share them with as many people as possible.
What did you learn along the way?
We learnt a lot about the enormous complexity of the rail network and were surprised by how old systems like semaphore signalling are still in operation and integrated alongside state of the art technology.
We also learnt how passionate people are about their local station or railway line, and how fiercely they will support it.
What was your favourite stop in Scotland?
We fell in love with the station at Corrour, on Rannoch Moor. The signal box there has now been converted into an Airbnb and the station house is a wonderful café, shop and restaurant.
The surrounding countryside is simply stunning – lochs and mountains as far as the eye can see.
What's your favourite tale you heard along the way?
We loved hearing stories about local communities rallying around their local stations and lines. After the almost guaranteed threat of closure, we were ecstatic to hear Breich station (West Lothian) is now undergoing redevelopment.
Stations like the beautiful Wemyss Bay are defined by their 'Friends' group who look after and bring so much life and character to them (as well as delicious tea and cake in their cafes).
How much work went into planning the journey?
We spent around eight months planning the project. This included launching a Kickstarter campaign to fund the journey – we are forever thankful to our 1,563 backers who made the trip possible.
We had a small team who supported us along the way from editing videos, planning the route, organising press interviews, setting up our website as well as giving us moral support when we needed it.
What inspired you to write the book?
We were approached by September Publishing whilst still travelling last year and were immediately excited about the prospect of being able to share our experiences in a different medium.
It's given us the opportunity to go into more detail about some aspects of our journey, something we weren't always able to do because of the immediacy of the YouTube videos.
What's in the book?
The book is both an insight into our journey – what we learnt about the railways and discovered about the country – as well as a guide for other would-be adventurers.
In the final chapter, we detail five example journeys that people can take for themselves, highlighting places to stop and explore, things to look out for along the way and the cheapest ways to travel.
What makes a railway trip a perfect family adventure?
When you travel by train everyone can get involved – no one is stuck behind the wheel or glued to the map. You get to see incredible landscapes (especially in Scotland where the trains go places that cars simply cannot access) and most importantly there is the opportunity to meet other people and share stories.
What's your top tip for travelling by rail?
Always build in time for a spontaneous stop in a random place. Some of the best moments of our trip happened when we decided to reroute or alight somewhere unexpected.
Usually this was because of a tip-off from a follower, fellow passenger or member of train staff – they always have the best local knowledge and recommendations of places to visit, as well as areas to avoid.
Do you think the rise in rail prices is putting people off using trains?
The cost of travel can definitely be a challenge, but there are lots of ways you can save money. If you can, always book in advance, the earlier you book the cheaper the fare.
Railcards can give you a 1/3 off tickets during off-peak times.
A GroupSave option gives discounts for groups of three or more (though not available everywhere) and some popular tourist attractions give two-for-one entry with a rail ticket (check daysoutguide.co.uk).
What's the next adventure you have planned?
We are currently planning to visit All The Stations in Ireland. There are only 198 stations so the journey won't take as long as last year, but we can't wait to explore another country's railway system, to meet new people and to see the differences and similarities with the network in Great Britain.
The Railway Adventures: Places, Trains, People and Places is out now from September Publishing