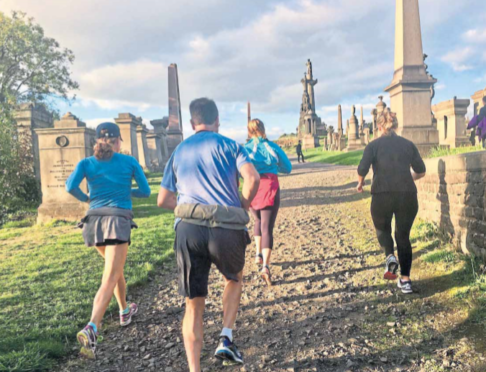 I've visited George Square in Glasgow countless times, yet I've never looked up high enough to spot a historic city emblem.
As my guide, Sean Reid, points to a rooftop on a steeple above Merchants House, I can make out a sculpture of a ship on a globe.
He tells me it is a symbol of the worldwide trade, especially in sugar and tobacco, that started in the 17th Century and took off in the 18th Century.
Sean elaborates a little more to explain the importance of Glasgow's location at the heart of a lucrative trading era and, importantly, subsequent reinvestment by the merchants for the benefit of economic growth, such as in land and shipbuilding.
Then, he asks if I am ready to go.
Turning, we leave George Square behind where we had arranged to meet, and set off at a comfortable running pace, heading eastwards along George Street.
Before I have the chance to get out of breath we stop again. This time, it is to gaze at a modern artefact, a mural by graffiti artist Smug.
It depicts St Enoch and her young son, St Mungo, and is a companion piece to another painting, this time of a modern-day St Mungo, just around the corner on High Street.
As we jog on, heading for Glasgow Cathedral on Castle Street, Sean tells the story of St Mungo, official name Kentigern, who is the patron saint and founder of the City of Glasgow.
The saint is said to have restored life to the pet robin of another Scottish saint, St Serf, which had been killed by his classmates. The robin is included in both murals.
"You'll see later on that the robin pops up in all kinds of places," says Sean. "It's still an important symbol in the city's coat of arms."
While I was sure I knew my home city well, I am discovering many fascinating new facts and sights through Sean's tour.
At the same time, I am also enjoying the physical benefits of running five miles through Glasgow's streets and parks.
Sean has considerately matched my pace, rather than me feeling as though I need to keep up with him. In any case, we stop so many times to look at buildings, monuments and landmarks that it never feels arduous.
A project manager in financial services by day, Sean has been leading Aye Run tours as a hobby for a year.
"I am interested in Glasgow's history and I'm a keen runner so a combination of the two seems like a good idea," he says. "It's a fun way to show people around my city."
It's believed the first city-based running tour was conceived in America. Some 15 years ago, a New York chiropractor, Michael Gazaleh, was working in a small gym when a customer from outside the city asked for someone to run with him. Michael volunteered and took him on a tour of his favourite sights. That led to City Running Tours, which now operates in 14 American cities.
In 2013, running tour companies in Barcelona and Copenhagen merged to form Go! Running Tours. It got together with other organisations and now offers tours in 60 cities worldwide.
Recently, Scotland has seen more than half a dozen running tour companies springing up in towns and cities.
One of the first, Edinburgh's Run The Sights, was set up by Ali Wylie in 2015.
Its website promises that the runs will exercise your heart and brain at the same time – a perfect way to describe these cultural excursions.
Back in Glasgow, we run past Glasgow Cathedral to the Necropolis. Sean receives most bookings from tourists, as well as some curious local runners.
"It's great to run with visitors, showing them the key sights and revealing the history of Glasgow," he says.
"It's also good to run with people who live in Glasgow, especially when you tell them something new about a building or statue they've walked past for years and never looked at twice.
"I can plan a tour to suit different fitness levels and different interests and I usually meet people at the hotel or wherever they are staying."
We are still running around the hilly paths of the Necropolis and Sean points out graves, memorials and mausoleums that remember famous Scots.
My favourite is a memorial to Glaswegian William Miller, known as The Laureate of the Nursery and author of the nursery rhyme Wee Willie Winkie.
Running downhill, singing the rhyme in my head, we rejoin the city streets and pick up the scent of Wellpark Brewery, home to the world-famous Tennent's Lager.
We trot past a series of bright artworks on the perimeter walls, and I recognise a few from TV adverts of my childhood.
I feel a further bout of nostalgia as we run past Barrowland Ballroom, a place I've been to many times for gigs through the years. It's a famous institution in this east end area, known as The Barras.
"That's Glasgow dialect for 'barrow'," Sean reminds me. "It relates to the market's early years when fruit and veg were transported by barrows.
"Come, let's run along to see Album Pathway."
Another Glasgow gem – and lesser known – is the path in Barrowland Park that resembles the spines of record sleeves stacked on a shelf.
It records the artists who have graced the Barrowland stage since its conversion to a music venue in 1983.
Running through light rain, but still chatting cheerily, we make our way to Glasgow Green, past a beautiful terracotta fountain, along to the stunning Templeton building, formerly a carpet factor, and back towards the city centre via a pathway along the River Clyde.
The river forms another poignant reminder of the city's once great industrial heritage as a shipbuilding capital.
"Linking different strands of Glasgow's history together in one running tour is very satisfying," says Sean.
And I agree, it really is.
There are many more highlights on the city centre tour, and Sean also offers a West End tour.
---
See ayerun.com for more information.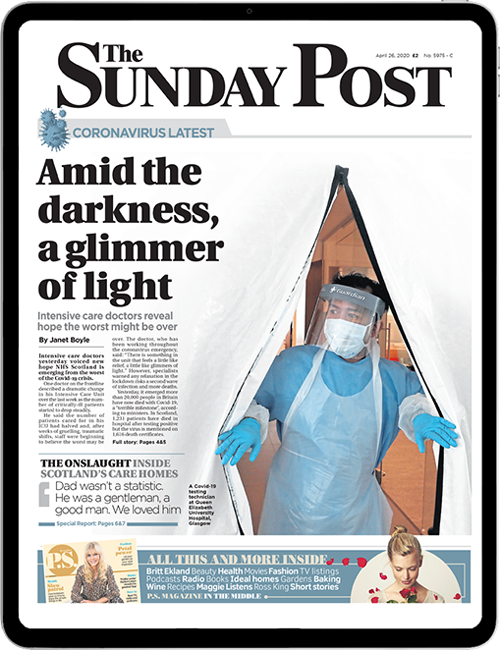 Enjoy the convenience of having The Sunday Post delivered as a digital ePaper straight to your smartphone, tablet or computer.
Subscribe for only £5.49 a month and enjoy all the benefits of the printed paper as a digital replica.
Subscribe