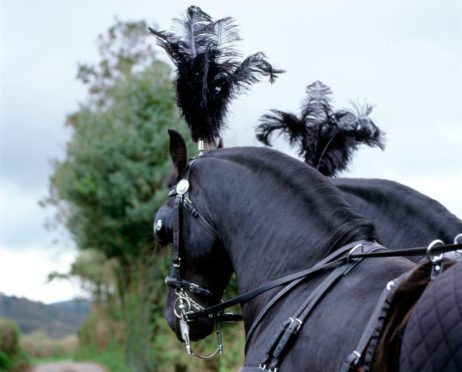 The death of a loved one leaves families devastated as they struggle to come to terms with crippling grief.
And for many, dealing with that anguish is made even more distressing by the rising cost of funeral expenses.
More and more cash-strapped Scots are forced to use savings, or get into unmanageable debt, to ensure their loved one gets a fitting send off.
A basic funeral in Scotland now costs £3,537 on average, according to a report released last week by financial firm Royal London.
And a new survey has found more than a fifth of Scots can't cover the cost of a funeral following the unexpected death of a relative, and 19% of those surveyed would have to go into debt.
The poll by YouGov, carried out last week on behalf of the Scottish Government, also revealed that younger people are hardest hit by funeral poverty, with 60% of 18 to 34-year-olds saying they would be unable to pay for a funeral.
Mhoraig Green, head of social policy at Citizens Advice Scotland (CAS), said: "There was one particular case only recently where the person's mother, father and brother had all died within six months – all unexpectedly.
"The person had no means of paying for one of these funerals, never mind three, and the grief he was going through was obviously made much worse by the financial stress.
"It was a terribly distressing case for our advisers to witness, but it is only one of many similar situations that happen across Scotland every day."
The Scottish Government survey also found that three quarters of Scots who were polled are not aware of any financial assistance to people on low-income benefits.
From tomorrow, Scotland's new social security department will be in control of a benefit that helps the bereaved pay for funerals.
Previously overseen by the UK Government, the new Funeral Support Payment is expected to offer grants to 40% more people, taking the number of payments to 5,600 a year in Scotland.
Most applicants are likely to receive around £700, and payments will be increased annually in line with inflation.
The new Scottish system is more flexible than its predecessor, meaning more people will potentially qualify for help. And some people who were refused a grant from the UK Government may also be entitled because applications can be accepted up to six months after a funeral.
Social Security Secretary Shirley Anne-Somerville forecasts that more than £6m will be handed out in the first year.
The new benefit is designed to remove barriers and has been backed by the National Association of Funeral Directors (NAFD).
Director of NAFD Paul Cuthell said: "The streamlined application procedure will be of great benefit to bereaved people and the fact that it is index-linked to inflation is a significant step in the right direction towards ensuring that people receive an appropriate level of support when they need it."
However, the UK's unregulated funeral industry, which is estimated to have an annual revenue of £2bn, has previously been criticised by charities who work with people in funeral poverty.
A 2016 report by Citizens Advice Scotland found rising costs has left families in "extremely difficult circumstances at a time when they are particularly vulnerable".
Funeral poverty either forces the bereaved into debt, which creates even distress and compounds grief, or they suffer guilt because they have had to opt for a cheaper funeral.
Ms Green said the poll findings are unsurprising.
"It should be shocking, but sadly it is not to us," she said. "We see first-hand how people often struggle just to pay their regular bills like food, fuel and rent or mortgage. Adding the costs of a funeral to this can be extremely difficult, especially if it is unexpected.
"That's why we welcome the new Funeral Payment, particularly as it is to be up-rated every year in line with inflation – an important change which we called for.
"It will not solve all the problems of bereavement, but it will help many families at this most difficult time in their lives."
Kathryn Bradley, of not-for-profit funeral directors Caledonia Cremation, said: "There are lots of occasions where our clients have had a relative in the morgue for months because funeral directors won't do anything until they get a deposit. One gentleman lost his father and his body was in the morgue for four months until we stepped in and helped him apply for the benefit."
The CAS report also uncovered a postcode lottery of cremation and burials costs.
South Lanarkshire Council announced last week that it is to introduce a cut-price cremation to help families cope with rising funeral costs.
The 15-minute service, available from next April, will cost £391 and Michael McGlynn, the local authority director who is responsible for the change, has insisted crematoria staff will offer "the same dignified level of service" provided during a longer service.
But Peter Kelly, director of the Poverty Alliance, believes councils should not have to offer cut-price funerals, saying: "It's simply not right that anyone should be unable to afford to pay for a funeral.
"This new Funeral Payment will enable people across Scotland, especially young people – who the polling suggests would find it particularly difficult to suddenly cover funeral costs – to say goodbye to their loved ones in the way any one of us would expect."
Brian Sloan, Age Scotland's chief executive, welcomed the new benefit, saying: "We hope this payment will not only help with the financial burden but that it will also streamline the application process, removing intrusive questions that many applicants found upsetting.
"It's also good news that it will increase each year in line with inflation. But there's still a considerable gap between the average payment and actual cost of a funeral. We'd like to see this reviewed in future years to help people avoid getting into debt paying for a modest, yet respectful, funeral for their loved one."
---
How will my family pay for a funeral?
Pensioner Billy Cargill, 81, doesn't know how his loved ones will pay for his funeral.
The retired lorry driver has spent the last four years paying for his son, Alan's funeral, after he took his own life in 2015, aged 40.
Billy and his partner, Margaret Gay, 69, from Kilmarnock, borrowed money from friends to cover the costs of the £4,000 funeral.
Billy said: "We have no savings.
"We're pensioners. I'm worried about how my family will pay for my funeral when I go."
When Alan died, his next of kin was his 18-year-old son, and he couldn't afford to pay for a funeral.
Billy and Margaret told friends of their plight, and they offered an interest-free loan, and the couple are paying the money back in instalments.
Margaret said: "It's appalling that so many people in Scotland have to go through that hurt when they're grieving.
"It's very sad."
---
Billy was supported by Down to Earth, a helpline for people struggling with funeral costs run by the charity Quaker Social Action. downtoearthsupport.org.uk
---
These payments offer dignity, fairness and respect.

-By Shirley-Anne Somerville MSP, social security secretary
Coping with the death of a loved one is one of the most tragic events any of us face.
It is a difficult time that can be made even harder if there are financial pressures around finding the money to pay for a funeral.
Many families on low income or benefits struggle to get by on a month-to-month basis, so don't have the option of putting money aside.
And with the average basic funeral in Scotland costing more than £3,500 this can have a real impact on family finances, forcing families into debt.
Tomorrow sees the start of the Scottish Government's sixth benefit – the Funeral Support Payment – which replaces the Department for Work and Pension's Funeral Expense Payment in Scotland.
As we introduce this new payment, we are taking the opportunity to do things differently. We are taking time to talk to and – more importantly – listen to many individuals who have experienced funeral poverty and the previous benefit.
Our new payment will help towards burial or cremation costs, some travel costs, and a further £700 flat rate for people who do not have funeral plans.
And we have committed to increasing the £700 flat rate yearly, in line with inflation, something the UK Government hasn't done since 2003.
We have made changes to eligibility so that around 40% more people will be able to access this support compared to the UK Government's former scheme.
And we removed barriers for this benefit by simplifying the application process and giving people more options in how they would like to apply, including online for the first time.
This new payment complements work we have undertaken to tackle Funeral Poverty including our guidance on Funeral Costs which encourages providers to make the costs of their services more transparent and accessible.
By building our new public service with people at its heart, we ensure they get the financial support they are entitled to.
If we provide this support to people during the most difficult periods of their lives, we can ensure we will deliver a service with dignity, fairness and respect.