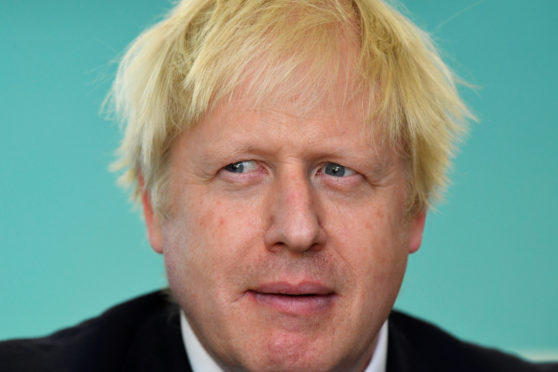 Last week I took part in a diversity summit which included Nicola Sturgeon, Eddie Izzard and Martina Navratilova in its impressive speaker line-up.
The audience was predominantly women but there were so many topics covered that it wasn't just a female agenda.
The day featured a really interesting mix of presentations and conversations with guests who were able to open up about their personal experiences and working lives to really highlight the challenges that still face us today.
I was doing media interviews when the First Minister spoke so I didn't actually get to hear her talk, but I know the issue of Prime Minister Boris Johnson's colourful choice of language came up with his use of phrases like "big girl's blouse" and "girly swot".
On one level I look at that and think it's not deliberately sexist, it's more the sort of language you might associate with a stereotypical public schoolboy who has a flippant attitude to a lot of things. "Big girl's blouse" seems less about the girl and more about the idea of something floaty and flowery. It was his comment about veiled Muslim women looking like "letterboxes" that was of far greater concern to me.
Nicola Sturgeon had the perfect response when she said: "I have to say – as somebody who is very proud to have been a girly swot – the world might be a better place right now if there were more girly swots in charge."
I did get the chance to hear Eddie Izzard though and as I watched him share his experiences dressed in a skirt with knee-high stiletto boots and full make-up, I thought what a masterstroke it was to bring him in as someone who has combatted significant prejudice.
He's a similar age to me and I gained so much from hearing about his journey and challenges – and also the internal conflicts he experiences as someone who might wake up one morning identifying as a man, and the next identifying as a woman. It is the days where he feels somewhere in between that create most anxiety.
Until we listen to the experiences of others, we can never hope to understand and, more importantly, find solutions.
The organisers, Aberdeen Standard Investments, commissioned a poll before the event to log attitudes to diversity. A quarter of respondents thought men and women would never be treated equally across society.
That is the great fear – and it's an outcome we must not accept.
One of the main goals from the day was to not only raise issues and create talking points, but to discuss practical solutions in the workplace and in our daily lives.
Major change must come from the top, and there has been a lot of research suggesting that diverse leadership and workforces result in better productivity and return on investment.
All the speakers, including me, said we will play our part, but we are stronger together and we need many others to take that brave first step in the workplace in stepping up and speaking out.
It's a daunting prospect for a lot of people who won't want to rock the boat for fear of losing their jobs, but wherever we see inequality we have to call it out until it has no place left to hide.