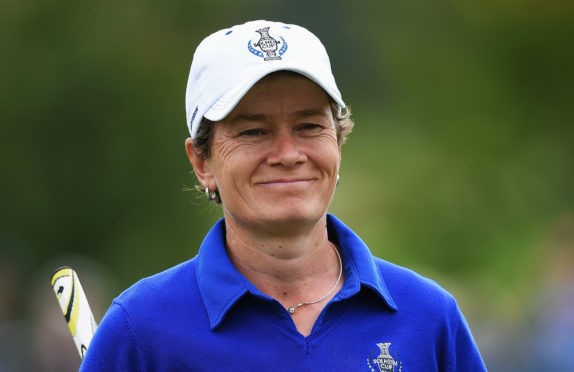 Golf can be a very rhythmic sport – when you're out there on the green, your mind is on every swing of the club and tap of the ball. You're focused, determined.
It's only really once time has passed, and you can look back at your achievements, that you really appreciate how far you've come.
When I think of my career highlights, my mind returns to August 2009, the month I became the first Scot to win the Women's British Open. Lifting the trophy, after finishing three-under-par, would have been special enough on its own. But what makes the moment even more memorable was the fact that I had a tiny 11-week-old baby waiting at home.
At the time, it didn't feel like a particularly unusual achievement. Sophie, now 10, was my second daughter, so not only was it an easier birth, I was also able to get back to playing a little bit quicker than I had with her sister, Katie, now 12. But I guess with hindsight it really was quite amazing to go out and win.
I had turned up at the tournament thinking that finishing in the top 20 would be a great result. In a way, going in with lower expectations probably helped me to relax a little bit more and spurred me on to the final. Like most working mums, I was just getting on with it.
I'm really lucky I was able to combine family life with going out on tour, mostly because my husband, Graeme, was my caddy for about 15 years. I wouldn't have been able to play professionally for as long if he hadn't been right there beside me.
It was great fun to be out on the road together – obviously, it had its ups and downs, but it was fantastic travelling around with the kids when they were little.
We were fortunate the Tour had day-care, too. No matter where we were in the world, two ladies would set up the nursery with the same layout every week so, to the kids, it always looked like they were in the same place.
There are challenges to working and raising a family, but it was our choice and that's what we wanted to do. You just adapt.
My daughters haven't shown a huge amount of interest in following in mum's footsteps just yet. At the moment, swimming is really their main sport – but I wouldn't say I had an instant love affair with the game either.
I first started playing golf when I was about seven or eight, going along with my dad and two older brothers to the little kids' course we had near our home in North Berwick.
I played lots of different sports, with badminton really becoming my main focus and golf my summer pursuit, until I was around 15.
As I got better, I started to go further afield to play in girls' competitions. There weren't a huge amount of girls playing locally but it was amazing once I started competing how many people I met with the same passion for the sport.
It was always in the back of my mind that I could turn golf into a full-time career, but at 18 years old, you don't really know what the future will hold. I wanted to go to university to make sure I had something to fall back on, as I knew very few people actually make it in professional sport.
Then when I was half way through my degree I won the Scottish and British Amateur title in the same year. It was at that point I realised I wanted to see if I could be good enough to compete against the pros, pushing myself to the next level.
I turned professional in 1995 and it's safe to say a lot has changed in the last 25 years!
One of the biggest changes has been to just how many nationalities are now involved in women's golf. When I first started the tour was about 80% Americans, with a few Europeans and maybe the odd Japanese player. Now, there are 27 different nationalities on the Tour.
Over the last 10 years women's sport in general has also really raised its profile, which is just fantastic. There are a lot more role models for young girls to look up to in the sporting world, and if we want more women to enter sport we just have to keep chipping away.
This month, when the 2019 Solheim Cup tees off at Gleneagles, it will be a very special moment for our sport. When I first played in the tournament in 1998 I never envisaged I would ever be named as the European team captain. To have the opportunity to lead a team on home soil is more than I could ever have asked for – we just have to win it now.
The Solheim Cup takes place from September 9 to 15 at Gleneagles. Visit solheimcup2019.com
Catriona Matthew, 50, Solheim European team captain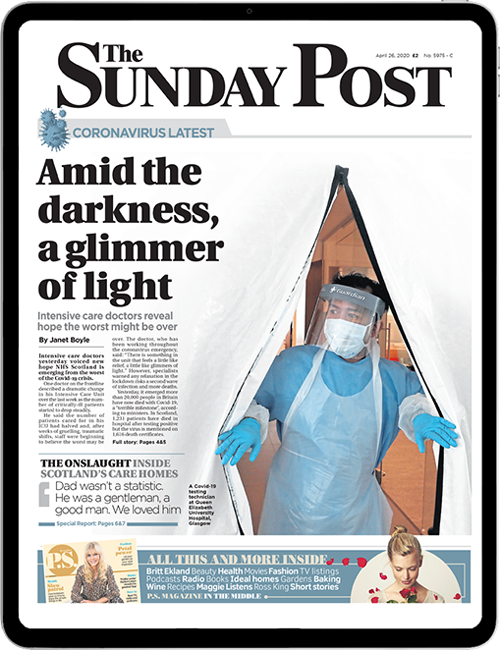 Enjoy the convenience of having The Sunday Post delivered as a digital ePaper straight to your smartphone, tablet or computer.
Subscribe for only £5.49 a month and enjoy all the benefits of the printed paper as a digital replica.
Subscribe