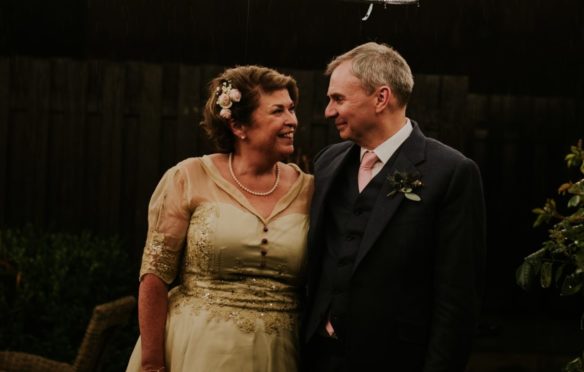 I first met John White when we were at college in 1979. We took summer jobs – he worked in the TSB and I worked in Goldbergs clothing store in Glasgow. At break time we'd meet for romantic lunches.
But one day we were at a restaurant and I took the mickey out of him for never having heard of ratatouille. He was really offended and stormed off.
He never spoke to me again. I tried to smooth things over, saying it was silly, but even years later when I saw him once in Prestwick Airport, he totally blanked me. I was hurt but I put him firmly out of my mind and got on with my life.
Looking back, the odds had been against us from the start. We came from very different backgrounds – my dad was a dentist, I'd been privately educated and travelled a lot, and while John grew up in a loving home, there wasn't a lot of money around.
My mum hinted that John wasn't what she expected for her daughter. I should have been stronger and held on to him instead of listening to others.
I was very career driven and moved to London when I was 26 and took a job as a learning and development consultant, helping organisations shape the culture of their business. But while my career was a big success my love life was a disaster.
Over the years I had various romances and I even lived with someone for 10 years, but I was reluctant to walk down the aisle.
Then, in 2014, me and my partner had a very bad break up and I gave up my share of our home so I could walk away.
Not long after, my dad died. My poor mum was crippled with osteoporosis and dementia so I moved back to Scotland to live near her. Around that time I decided to start a blog about my experiences. It was a huge change coming back home and caring for a parent with dementia, but writing it down was cathartic.
Then, out of the blue, I got an email from John, who'd come across my blog through a mutual friend.
It was cheeky and to the point. He wrote: "I guess you're living in a big house with a rich husband and a squad of kids", and I simply answered "None of the above".
I heard nothing for six months, then he emailed again saying he lived in Yorkshire now but was coming to Scotland to see his sister and would I like to have lunch with him.
We arranged to meet up in a café in Edinburgh.
The minute I saw him I knew that we were meant to be together. But it wasn't straightforward – John was married with two adult children and, although he said his marriage was ending, neither of us would contemplate an affair.
Six months later we met up again in Edinburgh and when John said he was getting a divorce I told him to get in touch when everything was sorted out.
He moved to Manchester for work after his marriage ended and we stayed in touch. We would talk on the phone for hours. Two years later he was offered a job at RAF Brize Norton, in Oxfordshire, and asked me to join him, but it was impossible for me to leave my mum.
Then a close friend stepped in and simply said: "You've never had happiness. Go to be with John and I'll look after your mum". I can never express my gratitude to her, freeing me to follow my dream and transform my life.
Sadly, mum died in 2016, but I know she was happy I was following my heart. Eight months later, John and I got married in front of 50 guests.
I walked down the aisle to This Guy's In Love With You by Herb Alpert and we exited to Come What May from our favourite movie, Moulin Rouge.
At 54, I didn't want to wear white so decided on a gold gown instead. My bridesmaids wore gold too.
We asked our best friends, who were both at college with us, to speak about us both individually during the service. My friend Sara read Love Is A Temporary Madness from Captain Corelli's Mandolin. John's best friend read The Apache Wedding Blessing.
We're together all the time now and we've even started an interior design business together. I never ever believed I could find love like this.
He's the bit that's been missing all my life and I've never been loved so truly – it's an amazing, freeing thing and it's transformed my life.
I've struggled with my mental health in the past and that's all gone, because of the confidence John gives me. I remember saying to myself: "You're going to have to look after yourself, no one else will" and then John called me and our lives changed forever.
Sometimes we wish we never had that fight 40 years ago but mostly we're just really glad that we got this second chance together.
As told to Joan McFadden